Gastenboek


Druk oponderstaande knop om een berichtje achter te laten in mijn gastenboek


01-02-2010

Bereken je BMI
De Body Mass Index
(BMI)

De Body Mass Index geeft een indicatie maar is geen maatstaf voor uw gezondheid.
De BMI houdt ondermeer geen rekening met de spiermassa of het beenderengestel.
Om zekerheid te hebben over het al dan niet correcte lichaamsgewicht of gezondheidstoestand is het nodig om uw huisarts of andere deskundigen te raadplegen.
Cfr. : http://www.netonline.be/lifestyle/bmi.asp
De Gezondheidsraad heeft een BMI van 30 als grens gesteld waarboven men spreekt van obesitas (vetzucht met grote gezondheidsrisico's).
Cfr. : http://www.voedingswaardetabel.nl/bereken/bmi/
Bereken je Body Mass Index (BMI)
Voedingscentrum, 15-01-2010
De Body Mass Index (BMI) geeft de verhouding weer tussen je gewicht en de lengte van je lichaam.
De BMI zegt iets over het risico dat je gewicht oplevert voor je gezondheid.
Het gaat er bij de BMI niet om wat "mooi" is.
Je kunt dus een goede score hebben bij je BMI en toch vinden dat je te dik bent.
Je BMI zegt ook niets over het percentage lichaamsvet.

Je kunt
je BMI berekenen
met de calculator die je vindt op :
http://www.voedingscentrum.nl/nl/eten-gezondheid/gewicht/gezond-gewicht/body-mass-index.aspx
Deze BMI-meter geldt voor kinderen, pubers en volwassenen tot ongeveer 70 jaar.
Voor kinderen tot 2 jaar heeft het berekenen van de BMI geen zin.
Voor mensen boven de 70 jaar is de BMI niet betrouwbaar genoeg.
Bij hen spelen meer factoren een rol in de relatie tussen gewicht en gezondheid.
Voor ouderen geldt daarom : blijf op gewicht, beweeg veel en val alleen af na overleg met de huisarts.
Sommige bevolkingsgroepen, zoals Aziaten en hindoestanen, hebben een duidelijk andere lichaamsbouw dan Europeanen.
Dat betekent dat zij al bij lagere BMI-scores een verhoogd gezondheidsrisico hebben.
Dit kun je het beste met je huisarts bespreken.
Je kunt je BMI ook zelf berekenen :
- noteer je gewicht in kilo's en je lengte in meters
- deel je gewicht door je lengte en
- deel de uitkomst nogmaals door je lengte.
Cfr. : http://www.voedingscentrum.nl/nl/eten-gezondheid/gewicht/gezond-gewicht/body-mass-index.aspx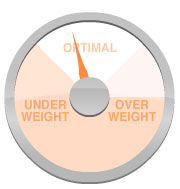 Cfr. ook :
BMI-index - Ben ik te dik of te dun?
.../...
• Onder de 18,5 : ondergewicht.
• Tussen de 18,5 en de 24,9 : normaal gewicht.
• Tussen de 25 en de 29,9 : overgewicht (je loopt niet echt een risico, maar je mag niet dikker worden).
• Tussen de 30 en de 39,9 : zwaarlijvigheid (obesitas) (verhoogde kans op allerlei aandoeningen zoals diabetes, hartaandoeningen en rugklachten; je zou 5 tot 10 kg moeten vermageren).
• Boven de 40 : ernstige zwaarlijvigheid (je moet dringend vermageren want je gezondheid is in gevaar).
.../...
Cfr. : http://www.gezondheid.be/index.cfm?fuseaction=art&art_id=3323

Bereken je Body Mass Index (BMI)
Ben ik te dik ?
Veel mensen vragen het zich af.
In dit filmpje bekijken we een aantal methodes die je kunnen helpen bij het bepalen van jouw ideale gewicht.
We leggen ook uit wat de Body Mass Index of BMI is en hoe je die kan berekenen.
Cfr. : http://www.animatedexplanations.com/Animation.aspx?animation=29

Queteletindex
De queteletindex (afgekort QI) of body-mass index (BMI) is een index die de verhouding tussen lengte en gewicht bij een persoon weergeeft.
De BMI wordt veel gebruikt om een indicatie te krijgen of er sprake is van overgewicht.
Cfr. : http://nl.wikipedia.org/wiki/Queteletindex



01-02-2010 om 15:48 geschreven door Jules
0 1 2 3 4 5 - Gemiddelde waardering: 0/5 - (1 Stemmen)
Tags:afvallen, bewegen, BMI-index, BMI, Body Mass Index (BMI), Body Mass Index, diabetes, gewicht, gezondheid, hartaandoeningen, lichaamsvet, obesitas, ondergewicht, overgewicht, QI, queteletindex, queteletindex (QI), rugklachten, zwaarlijvigheid


31-01-2010

Host range and cellular tropism of the human exogenous gammaretrovirus XMRV
Host range and cellular tropism of
the human exogenous gammaretrovirus XMRV

Stieler K, Schulz C, Lavanya M, Aepfelbacher M, Stocking C, Fischer N, Institute for Medical Microbiology and Virology, University Medical Center, Eppendorf, Martinistrasse 52, 20246 Hamburg, Germany – Journal : Virology. 2010 Jan 26 - © 2009 Elsevier Inc. - PMID: 20110097
Recently, the first human infection with an exogenous gammaretrovirus (XMRV) was reported.
In its initial description, XMRV was confined to prostate stromal fibroblasts, although subsequent reports demonstrated XMRV protein expression in prostate epithelial cells.
Most recently, XMRV has been detected in blood cells of patients with chronic fatigue syndrome.
The aim of this study was to elucidate the transmission routes and tissue tropism of XMRV by comparing its host range, receptor usage and LTR functionality with other MLV isolates.
We demonstrate using pseudotype experiments that XMRV Env mediates efficient infection of cells from different species.
We show that replication competent XMRV infects various human cell types, including hematopoietic cell lines and prostate stromal fibroblasts.
XMRV-LTR activity is significantly higher in the prostate cancer cell line LNCaP and in prostate stromal fibroblasts, compared to other cell types tested and could be one factor contributing to efficient viral spread in prostate tissue.
Cfr. : http://trophort.com/bio-network/story.php?id=974388
Cfr. also :
31-01-2010 om 12:28 geschreven door Jules
0 1 2 3 4 5 - Gemiddelde waardering: 0/5 - (0 Stemmen)
Tags:CFS, chronic fatigue syndrome, prostate, XMRV-LTR activity, XMRV


29-01-2010

The Brain Boosting B-12 - Hydroxocobalamin
The Brain Boosting B-12

Hydroxocobalamin

ProHealth, Inc.
Hydroxocobalamin (hi-DROX-oh-koe-BAHL-a-min) is a natural and uniquely powerful form of vitamin B-12.
Clinical studies and practice have shown it can help to improve cognitive functioning, fight fatigue, promote heart health and more.
Vitamin B-12 is an essential nutrient needed to make red blood cells that carry oxygen throughout the body, the myelin sheath that surrounds nerve cells and various proteins.
It also plays a role in fat and carbohydrate metabolism.
Yet, despite its importance to overall health, vitamin B-12 deficiency is relatively common.
It is estimated that up to 15% of the general population may be deficient in B-12 - and more among those with chronic illnesses.
Dietary sources of vitamin B-12
Vitamin B-12 is produced exclusively in the digestive tracts of animals.
Therefore, the richest dietary sources of B-12 are organ meats like liver or kidney.
Other good natural sources include meat, fish, eggs and dairy products.
Although some food products like cereals and some beverages may be enriched with B-12, they do not contain adequate amounts to be used as the sole dietary sources.
In order for the B-12 obtained from food to be absorbed it must attach to a protein called intrinsic factor, which is secreted in the stomach.
Unfortunately, a number of things can inhibit the secretion of intrinsic factor, which in turn blocks the absorption of B-12 and results in a vitamin B-12 deficiency.
Causes of vitamin B-12 deficiency
A deficiency of vitamin B-12 is not usually caused by insufficient dietary intake but rather by a lack of intrinsic factor secretion.
Without intrinsic factor, vitamin B-12 cannot be absorbed.
This situation can occur with :
digestive disorders such as celiac disease, Crohn's disease, bacterial overgrowth in the small intestine or a parasite;

surgery to remove or bypass part of the stomach or the part of the small intestine called the ileum;

certain medications, particularly diabetes medications like metformin and long-term use of proton pump inhibitors (such as Prilosec, Prevacid, Nexium etc.) commonly prescribed for heartburn, acid reflux and GERD;

vegetarian or vegan diets, since B-12 is found almost exclusively in animal foods;

pernicious anemia - a decrease in red blood cells that develops when the body lacks the intrinsic factor necessary to naturally absorb vitamin B-12 from food.
Symptoms of vitamin B-12 deficiency
Early symptoms of a B-12 deficiency may be overlooked, diagnosed as another illness or attributed to "just getting older" because many of them mimic classic signs of aging.
Of course, this isn't surprising since low serum levels of vitamin B-12 are fairly common in elderly patients. (1)
Some of the symptoms of a vitamin B-12 deficiency may include :
fatigue

weakness

memory loss

cognitive functioning problems

diarrhea or constipation

loss of appetite

shortness of breath

beefy, red, smooth and sore tongue

sore mouth and/or bleeding gums

numbness and tingling of hands and feet

poor sense of balance

depression

confusion

insomnia

vision problems

loss of hearing and tinnitus

pale, possibly yellowish pallor in light-skinned individuals; blotchy pigmentation in dark-skinned individuals.
A B-12 deficiency can be difficult to diagnose because serum blood levels of B-12 may test normal.
Having circulating B-12 in blood doesn't mean it is being utilized properly by the body's cells.
Some doctors suggest that a test measuring methylmalonyl coenzyme A levels in the urine (cfr. : http://www.labtestsonline.org/understanding/analytes/mma/test.html -) gives a more accurate reading of B-12's availability in the body.
Which vitamin B-12 is better - Hydroxocobalamin or cyanocobalamin ?
The name vitamin B-12 is used for a group of cobalt-containing enzymes called cobalamins (it's the cobalt that gives B-12 its red color).
There are several members of the cobalamin family, but cyanocobalamin and hydroxocobalamin are two of the best known :
cyanocobalamin is the type of B-12 found in most supplements and in prescribed injectible forms - largely because it is inexpensive and the most stable form of B-12

however, studies have found that hydroxocobalamin raises B-12 levels higher and lasts longer than cyanocobalamin. (2)(3)
Another interesting fact - cyanocobalamin contains cyanide.
It's actually a cyanide molecule attached to a cobalamin.
Although the amount of cyanide is miniscule enough that it is not thought to be harmful to most people, it could be dangerous for those who have cyanide metabolism defects or kidney failure.
There is also the possibility that it could be toxic if taken in extremely large doses.
On the other hand, hydroxocobalamin has a high affinity for cyanide.
It pulls the cyanide out of the mitochondria of the cell and combines with it to form cyanocobalamin, which is then excreted in the urine.
In 2006 hydroxocobalamin was approved by the FDA as an antidote for cyanide poisoning.
Since cyanide is present in cigarette smoke (and essentially reduces the cells' ability to use oxygen), hydroxocobalamin would be a good option for smokers seeking a B-12 supplement.
Hydroxocobalamin's relationship to fibromyalgia and chronic fatigue syndrome
Many of the symptoms fibromyalgia and ME/CFS patients report are also symptoms of a B-12 deficiency - cognitive functioning problems, memory loss and fatigue to name a few.
Is that merely a coincidence or is there a connection ?
A 1997 study of 12 patients with fibromyalgia and ME/CFS showed that most of them had little or no detectable B-12 in their cerebrospinal fluid - despite the fact that all had normal B-12 blood levels, yet, conversely, they had high levels of homocysteine in their cerebrospinal fluid. (4)
Homocysteine is an amino acid, too much of which can be toxic to nerves and blood vessels and may result in increased pain sensitivity and/or heart disease :
when there is not enough vitamin B-12, homocysteine levels increase

as B-12 levels rise, homocysteine levels decrease.
ME/CFS specialist and researcher Dr. Paul Cheney, MD, PhD, utilizes large doses of hydroxocobalamin as part of his treatment protocol.
He believes it is a potent brain detoxifier and says data suggests that megadoses in the range of 10,000 mcg or more per day, given before bedtime, may be effective.
He also notes hydroxocobalamin is superior to cyanocobalamin as a detoxifier of the brain. (5)
Another researcher, Dr. Martin L. Pall, PhD, hypothesizes that elevated levels of nitric oxide and peroxynitrite (affecting brain function and pain sensitivity) may be the common etiology of ME/CFS, fibromyalgia, multiple chemical sensitivity and post-traumatic stress disorder. (6)
He believes hydroxocobalamin's ability to "mop up" excess nitric oxide may be why it has proven to be so useful in treating those illnesses. (7)
Hydroxocobalamin's effect on other conditions
Studies have shown hydroxocobalamin to have positive effects on a variety of different diseases and disorders.
In these examples, hydroxocobalamin :
improved cognitive function in older cobalamin-deficient persons (8)

inhibited HIV-1 infection of normal human blood monocytes and lymphocytes (9)

showed remarkable improvement in asthma wheezing.(10)
There are also individual or small case reports indicating a possible correlation with B-12 deficiency in some cases of infertility, dementia, diabetic neuropathy, neuromyelopathy, multiple sclerosis, autism, motion sickness and even psychosis to name a few.
Shots or pills - Is there a difference ?
Most hydroxocobalamin studies have used the intramuscular injection form.
However, that requires patients to return to the doctor's office for every dose (unless they learn to do it themselves).
Therefore injections are a more time-consuming, expensive and - let's face it - painful way to go.
But are they more effective ?
Two studies addressing that question concluded that oral supplementation with large doses of B-12 was as effective, if not more effective, than injections :
a 1997 study showed that oral supplementation with 2,000 mcg per day was three times as effective as injections in increasing B-12 levels in pernicious anemia patients (11)

another study done in 2005 concluded that 2,000 mcg doses of oral B12 was as effective as intramuscular administration in vitamin B-12 deficient patients. (12)
When it comes to oral supplementation of B-12, sublingual tablets are the best option because they are absorbed directly into the mucous membrane and don't have to go through the digestion process, which is often the cause of the deficiency to begin with.
How much is enough ? ... too much ?
There is no set upper dose limit for hydroxocobalamin because there are no known toxic effects, even at extremely high dosages.
Many of the studies used 1,000 or 2,000 mcg/day.
Dr. Cheney generally prescribes 10,000 mcg/day for ME/CFS patients.
Dr. Susan Solomon, MD, recommends at least 5,000 mcg/day sublingual for chronically ill patients.
Dr. Sarah Myhill, MD, usually starts with 5,000 mcg/day for ME/CFS and then adjusts the frequency according to the response.
In summary
Clinical research and practice strongly supports the use of hydroxocobalamin as a safe and highly effective method for correcting a vitamin B-12 deficiency.
References
Cfr. : http://www.prohealth.com/ep/EP012910/index.cfm

Cfr. also :
Blood parameters indicative of oxidative stress are associated with symptom expression in chronic fatigue syndrome
Richards RS, Roberts TK, McGregor NR, Dunstan RH, Butt HL - Redox Rep 2000;5:35-41
Cfr. : http://www.websciences.org/cftemplate/NAPS/archives/indiv.cfm?ID=20002828

Changes in the concentrations of amino acids in the cerebrospinal fluid that correlate with pain in patients with fibromyalgia - Implications for nitric oxide pathways
Larson AA, Giovengo SL, Russell IJ, Michalek JE - Pain 2000;87:201-211
Cfr. : http://www.ncbi.nlm.nih.gov/pubmed/10924813

Cobalamin used in chronic fatigue syndrome therapy is a nitric oxide scavenger
Pall ML - Journal of Chronic Fatigue Syndrome, 2001;8:39-44

Elevated nitric oxide/peroxynitrite mechanism for the common etiology of multiple chemical sensitivity, chronic fatigue syndrome and posttraumatic stress disorder
Pall ML, Satterlee JD - Annals of the New York Academy of Science, 2001;933:323-329
Cfr. : http://www.ncbi.nlm.nih.gov/pmc/articles/PMC1241647/

Elevated peroxynitrite as the cause of chronic fatigue syndrome - Other inducers and mechanisms of symptom generation
Pall ML - Journal of Chronic Fatigue Syndrome, Volume 7, Issue 4 December 1999 , pages 45 - 58
Cfr. : http://www.informaworld.com/smpp/content~db=all~content=a903658237

Investigation of erythrocyte oxidative damage in rheumatoid arthritis and chronic fatigue syndrome
Richards RS, Roberts TK, Mathers MB, Dunstan RH, McGregor NR, Butt HL - Journal of Chronic Fatigue Syndrome 2000;6:37-46
Cfr. : http://www.informaworld.com/smpp/content~content=a903578180&db=all

Specific oxidative alterations in vastus lateralis muscle of patients with the diagnosis of chronic fatigue syndrome
Fulle S, Mecocci P, Fano G, Vecchiet I, Vecchini A, Racciotti D, Cherubini A, Pizzigallo E, Vecchiet L, Senin U, Beal MF - Free Radicals in Biology and Medicine 2000;15:1252-1259
Cfr. : http://www.ncbi.nlm.nih.gov/pubmed/11118815



29-01-2010 om 23:27 geschreven door Jules
0 1 2 3 4 5 - Gemiddelde waardering: 0/5 - (1 Stemmen)
Tags: cerebrospinal fluid, confusion, cyanocobalamin, depression, fatigue, fibromyalgia, hydroxocobalamin, insomnia, ME/CFS, memory loss, nerve cells, numbness, red blood cells, shortness of breath, tingling, vitamin B-12 deficiency, vitamin B-12, weakness



Vertaling Canadese criteria ME/CVS
Myalgic encephalomyelitis/Chronic fatigue syndrome - A clinical case definition and guidelines for medical practitioners - An overview of the Canadian consensus document
Myalgische encefalomyelitis/Chronische vermoeidheidssyndroom - Klinische definitie en richtlijnen voor medisch personeel - Een overzicht van het Canadese consensusdocument
Vertaling Canadese criteria ME/CVS
Steungroep ME en Arbeidsongeschiktheid, 29-01- 2010
In Nederland lijden naar schatting 30.000 tot 40.000 mensen aan het Chronisch Vermoeidheids-syndroom(CVS), ook bekend onder de naam ME.
Deze ziekte heeft ingrijpende gevolgen voor het leven van de patiënten.
Over de ziekte is nog lang niet alles duidelijk, al is de laatste jaren wel veel vooruitgang geboekt.
Dit blijkt bijvoorbeeld uit de meer dan 4000 wetenschappelijke publicaties, die inmiddels over ME/CVS zijn verschenen.
Een behandeling die de ziekte kan genezen is echter nog steeds niet beschikbaar.
De Steungroep is zeer blij met de vandaag verschenen vertaling van het zogenaamde Canadese Consensusdocument ME/CVS – 'Myalgic encephalomyelitis/Chronic fatigue syndrome - A clinical case definition and guidelines for medical practitioners - An overview of the Canadian consensus document' - cfr. : http://www.mefmaction.net/documents/me_overview.pdf -&- http://www.amazon.com/Myalgic-Encephalomyelitis-Chronic-Fatigue-Syndrome/dp/0789022079 -, ook bekend onder de naam Canadese criteria (cfr. : http://www.me-cvsvereniging.nl/me-cvs-nieuws/pivot/entry.php?id=38 -).
Dit document bevat niet alleen duidelijke criteria voor het stellen van de diagnose van deze ziekte in de klinische praktijk, maar biedt artsen en ander medisch personeel, die met ME/CVS-patiënten te maken hebben of krijgen, handvatten om deze mensen zo optimaal mogelijk en op grond van individuele kenmerken en ziekteverschijnselen te beoordelen en te begeleiden.
De veel gebruikte Fukuda-diagnosecriteria, die bedoeld zijn om patiënten met ME/CVS te selecteren in wetenschappelijk onderzoek, schieten in de dagelijkse praktijk te kort omdat typerende kenmerken van de ziekte, zoals lange hersteltijd na inspanning, niet als zodanig worden benoemd.
In deze Canadese criteria is dit wel het geval.
Daarnaast is het document gebaseerd op ervaringen van behandelaars, die duizenden ME/CVS-patiënten in hun praktijk hebben gezien en tevens onderbouwd met een groot aantal relevante wetenschappelijke publicaties.
De totstandkoming van deze vertaling is een initiatief geweest van een aantal patiënten, opererend onder de gelegenheidsnaam MEtrans.
Middels een financiële bijdrage van de ME/CVS-Stichting Nederland, de Steungroep ME en Arbeidsongeschiktheid en enkele particulieren kon een professioneel vertaalbureau ingeschakeld worden.
Behalve de initiatiefnemers hebben ook de auteurs, met name Marjorie van de Sande, een aanzienlijke bijdrage aan de totstandkoming geleverd.
Wij zullen als Steungroep dit document de aandacht geven die het verdient om zo ook in Nederland bij te dragen tot een betere kennis van ME/CVS.
Dat dit hard nodig is blijkt uit de talrijke ervaringen van patiënten, die ook bij ons nog dagelijks binnenkomen, waaruit blijkt dat de ziekte niet serieus genomen wordt, afgedaan wordt als een gedragsprobleem of zelfs geheel ontkend wordt.
Bestellen
Bestel 'Myalgische encefalomyelitis/Chronische vermoeidheidssyndroom - Klinische definitie en richtlijnen voor medisch personeel - Een overzicht van het Canadese consensusdocument' (32 pagina's) door 6 euro (inclusief verzendkosten) over te maken naar rekeningnummer 6833476 t.n.v. de Steungroep ME en Arbeidsongeschiktheid te Groningen, onder vermelding van bestelcode 'CAN'.
Cfr. : http://www.steungroep.nl/index.php/nieuwsenagenda/280--januari-2010-vertaling-canadese-criteria-mecvs-warm-aanbevolen

Cfr. ook :
De vertaling van het Canadese Consensusdocument ME/CVS
Cfr. :
- http://www.steungroep.nl/index.php/overige-informatie/baisinformatiemecvs/283-vertaling-van-de-canadese-criteria-mecvs
- http://www.steungroep.nl/docs/ME%20Overview.pdf

Het persbericht van de Steungroep ME en Arbeidsongeschiktheid en de ME/CVS-Stichting Nederland
Cfr. : http://www.steungroep.nl/index.php/nieuwsenagenda/persberichten/282-29-1-2010internationale-richtlijn-chronisch-vermoeidheidsyndroom-mecvs-nu-ook-in-het-nederlands



29-01-2010 om 19:58 geschreven door Jules
0 1 2 3 4 5 - Gemiddelde waardering: 5/5 - (1 Stemmen)
Tags:Canadese Consensusdocument ME/CVS, Canadese criteria ME/CVS, chronische vermoeidheidssyndroom, Marjorie van de Sande, ME, ME/CVS-Stichting Nederland, ME/CVS, myalgic encephalomyelitis, myalgische encefalomyelitis, Steungroep ME en Arbeidsongeschiktheid


28-01-2010

Slapeloosheid & osteopathie










Osteopathie

Gezondheid
in goede handen

C. Newiger (door Rob Muts, directeur van het College voor Osteopathische Geneeskunde Sutherland in Amsterdam, vertaald uit het Duits, bewerkt en geschikt gemaakt voor Nederland) – De Driehoek, februari 2008 - ISBN10 : 9060306783 – ISBN13 : 9789060306789
Osteopathie is een geneeswijze met respect voor de mens en de natuur.
De osteopathie maakt gebruik van uitgebreide kennis van anatomie, fysiologie en pathologie.
De mens is een biologische eenheid waarin systemen elkaar wederzijds beďnvloeden.
Bij optimale gezondheid verkeert het menselijk lichaam in dynamisch evenwicht; is de gezondheid niet optimaal, dan kunnen er klachten ontstaan.
Osteopathie is een manuele onderzoeks- en behandelmethode van alle weefsels en organen van het menselijk lichaam.
Manueel omdat de osteopaat het onderzoek en de behandeling met zijn handen uitvoert.
De beweeglijkheid en de onderlinge relaties worden nauwkeurig onderzocht naar aanleiding van de klachten en symptomen.
Het is goed mogelijk dat een osteopaat op een plaats gaat behandelen, die niet direct met de klachten verbonden is.

Cfr. : http://www.bol.com/nl/p/nederlandse-boeken/osteopathie/1001004002732418/index.html
Cfr. ook :
- http://www.college-sutherland.nl/index.php?section=15&page=74
- http://www.integraalmedischcentrum.nl/index.php?section=12&page=145

Slapeloosheid
Mijn probleem is – zoals velen met mij – slapeloosheid.
Ik heb al van alles geprobeerd, ben een kapitaal kwijt aan melatonine, Valdispert, valeriaan, 5-HTP en maca, maar helaas zonder het gewenste resultaat.
Zelfs de slaappillen van de dokter helpen maar 3˝ uur.
Ik bezoek nu een acupuncturist en een psycholoog.
Ondertussen ben ik ten einde raad.
Hebt u nog andere oplossingen ?
Manuel van Tintelen, osteopaat :
Slapeloosheid kan vele oorzaken hebben : psychosociale, emotionele en lichamelijke factoren kunnen van invloed zijn.
Pijn of ongemak in het lichaam kunnen het ontspannen gaan liggen om in te slapen bemoeilijken.
Soms is dan behandeling van deze lichamelijke pijn noodzakelijk voor een goede nachtrust.
Langdurige stress, wat iedereen in het leven wel meemaakt, kan invloed uitoefenen op met name de buikorganen.
Deze organen worden zo in hun functioneren beďnvloed dat ze minder beweeglijk worden.
Elk orgaan beweegt gedurende elk moment van de dag.
Door stress neemt deze beweging af.
Door het verminderde bewegen worden de banden en vliezen rond deze organen stijver.
Deze stijfheid kan er weer voor zorgen dat er pijn ontstaat en een verminderd goed functioneren van de organen.
Mensen voelen zich letterlijk niet lekker in hun vel zitten.
Ze worden stressgevoeliger, prikkelbaarder, zwaarmoediger et cetera.
Lichaam en geest zijn één.
Osteopathie onderkent deze eenheid.
Een ervaren osteopaat voelt waar het probleem vandaan komt.
Dit voelt hij door met zijn of haar handen het lichaam te onderzoeken op vastzittende organen, spieren en gewrichten.
Een goede osteopaat voelt het verschil tussen lichamelijk vastzitten en emotionele blokkades en kan vervolgens de juiste behandeling toepassen.
Hij zal losmaken wat vastzit.
Door met de handen de lichaamsweefsels weer soepel te maken wordt er ballast uit het verleden 'overboord gegooid'.
Het klinkt misschien allemaal wat zweverig, maar osteopathie kan heel goed met beide benen op de grond uitgevoerd worden.
Lichaam en geest beďnvloeden elkaar.
Denk maar aan uitdrukkingen in de Nederlandse taal als 'iets op de lever hebben' of 'de buik ergens van vol hebben'.
Juist de lever en de darmen zijn vaak aangrijpingspunten voor de osteopaat om slapeloosheid 'te lijf te gaan'.
Ook de soepelheid van de schedel speelt vaak een belangrijke rol bij het slapen.
Mensen die met 'veel in hun hoofd zitten' krijgen een minder soepele schedel.
Een schedel moet soepel zijn om de hersenen goed te kunnen laten functioneren.
Is de schedel niet soepel, dan kan slapeloosheid ontstaan.
Bot is ook een weefsel en kan als aangrijpingspunt voor een osteopathsiche behandeling dienen.
Ik heb als osteopaat goede ervaring met het combinatie van een behandeling bij de psycholoog met osteopathische behandeling.
Zoekt u een osteopaat bij u in de buurt ?
Bel 040 - 221 76 30 (NVO) of zie www.osteopathie.nl -.

Cfr. : http://www.gezondnu.nl/vragen/psyche/artikel/99/slapeloosheid

Osteopathie

Osteopathie is een behandelmethode gericht op klachten die ontstaan uit storingen in de beweeglijkheid van weefsels in het lichaam (bot, wervel, gewricht, spier, orgaan, fascia).
Een verminderde beweeglijkheid van deze weefsels veroorzaakt een verstoorde doorbloeding en/of zenuwgeleiding in deze weefsels.
Zo geraakt het lichaam uit evenwicht wat kan leiden tot allerlei klachten.

Osteopathie gaat bij de behandeling uit van het zelfhelende vermogen van ons lichaam.
Ons lichaam tracht voortdurend een ideale balans te behouden.
Wordt deze balans verstoord dan kan dit tot kwalen of ziektes leiden, welke zich aandienen in een zowel acute als chronische vorm.

Osteopaten zijn opgeleid om de oorzaken van een verstoorde balans in het lichaam te vinden en manueel te behandelen, zodat het zelfhelende vermogen geactiveerd en geoptimaliseerd wordt.
Osteopathie baseert zich hierbij op de anatomie, fysiologie, neurologie, pathologie, …

Cfr. : http://www.ostejo.be/osteopathie1.htm



Professioneel osteopaten
© Osteomatics
Een professioneel osteopaat is een geregistreerd osteopaat die enkel en alleen de osteopathie uitoefent.
U kan een lijst van professionele osteopaten terugvinden onder www.professioneleosteopaten.be -.
De Groepering, Nationaal en Representatief voor de Professionele Osteopaten (GNRPO) groepeert alle beroepsverenigingen met een registratielijst van professionele osteopaten.
Het GNRPO onderhoudt contacten met overheidsinstanties en zorgverzekeraars en regelt de kwaliteitsbewaking van het osteopathische beroep : www.osteopaat.be -.
Uw levenskwaliteit
Osteopathie is een functionele behandelingswijze waarbij herstel van de beweeglijkheid van verschillende lichaamsstructuren centraal staat.
Beweeglijkheid betekent hier verschuifbaarheid, uitrekbaarheid en samendrukbaarheid van weefsels in de ruime zin van het woord.
Bij al deze lichaamsbewegingen worden meer dan alleen gewrichten bewogen; het zenuwstelsel, de organen en ook bloedvaten en bindweefsels moeten vrij beweeglijk zijn.
Zoniet leidt dat vaak tot functieverlies en pijnklachten van uiteenlopende aard : ontstekingen, zwellingen, slijtage, stijfheid in de nek, de rug en andere gewrichten, hoofdpijn, buikpijn, slechte doorbloeding, slechte vertering ...
In bovengenoemde gevallen kan u een professionele osteopaat raadplegen.
Professionele osteopaten zijn opgeleid om de onderliggende factoren, meer nog dan de klacht zelf, op te sporen en te behandelen.
De oorzaak van de klachten ligt namelijk niet altijd op de plaats waar pijn wordt waargenomen.
Bijgevolg zal een professionele osteopaat het hele lichaam onderzoeken en niet alleen de pijnregio.
De professionele osteopaat verbetert deze gestoorde beweeglijkheid door toepassing van osteopathische manuele technieken.
Daarvoor volgt de professionele osteopaat een gedegen opleiding waar hij onder meer manipulaties aan gewrichten, spiertechnieken, circulatie activerende handelingen, bindweefseltechnieken, zenuwweefsel beďnvloedende technieken, ... leert aan te wenden waar nodig.
De therapie richt zich zodoende op de onderliggende oorzaken van de klachten waardoor de functies van de verschillende lichaamssystemen zich herstellen en progressief daaruit volgend de klachten verbeteren en verdwijnen.
Voor welke klachten kan men bij de professionele osteopaat terecht ?
Voor de meeste klachten, spontaan ontstaan of ten gevolge van overbelasting of een ongeval, kan een goed opgeleide professionele osteopaat een behandelingsstrategie uitwerken.
Zowel bij pasgeborenen en kinderen, bij sporters en mensen die zware arbeid verrichten, als bij volwassenen en oudere patiënten kunnen aangepaste en veilige technieken worden toegepast.
Er zijn ook klachten die een professionele osteopaat niet mag behandelen.
Een competent professionele osteopaat herkent deze contra-indicaties en verwijst dan eventueel de patiënt voor onderzoek naar een geneesheer die verdere differentiatie kan doorvoeren.
Voor volgende klachten worden osteopaten geconsulteerd (de behandeling is oorzaakgericht maar in sommige gevallen eerder ondersteunend) :
Rugpijn : lumbago, artrose, rugblokkades, hernia discalis

Nekpijn : torticollis, nekblokkades, whiplash, uitstralende pijn in de schouder

Ledematen : kniepijn en enkelpijn, frozen shoulder, PSH, elleboogpijn, ontstekingsverschijnselen (vb: tenniselleboog, golferselleboog), ingeklemde zenuwen (vb: carpal tunnel), slechte doorbloeding ter hoogte van de ledematen

Hoofdpijn : migraine, spanningshoofdpijn, pijn aan het kaakgewricht, chronische sinusklachten, duizeligheid, oorsuizingen

Sportletsels : tendinitis, spierkrampen, spierscheuren

Organen : slechte spijsvertering, oprisping, maagpijn, buikkrampen

Urinesysteem : bedwateren, blaasverzakking, incontinentie

Bezenuwing : tintelingen, krachtverlies, zenuwinklemmingen

Baby's : huilbaby's, reflux, darmkrampen, asymmetrie in schedel, torticollis e.a.

Kinderen : orthodontie, klachten bij het zicht, ADHD, ADD, dyslexie, dyscalculie, autisme

Psychisch : overspanning, depressie, angst, hyperventilatie.
Praktisch
De eerste consultatie bestaat uit een kennismakend gesprek waarbij algemene gegevens en uitgebreide vraagstelling omtrent de klachten en de medische voorgeschiedenis van de patiënt aan bod komen.
De professionele osteopaat dient te weten hoe lang je de klachten reeds vertoont en hoe de klachten zijn uitgelokt.
Hij ondervraagt je naar het karakter van de pijn en wanneer de pijn precies optreedt en wanneer jij het sterkst de klacht opmerkt.
Deze informatie wordt aangevuld met een verdere vraagstelling in verband met de verschillende lichaamssystemen.
Ook gegevens van voorgaande onderzoeken zoals radiografieën, echografie, CT-scan, NMR, ... kunnen nuttige informatie aanbrengen.
Er wordt dan een uitgebreid lichaamsonderzoek doorgevoerd.
Zowel inspectie (kijken) als palpatie (voelen) spelen in dit algemeen lichaamsonderzoek een belangrijke rol.
De professionele osteopaat kan weliswaar gebruik maken van een stethoscoop, reflexhamer, tongspatel, bloeddrukmeter en andere eenvoudige meetapparatuur die hem voor het klinisch onderzoek zinvolle informatie kunnen bijbrengen.
Aan de hand van de gegevens bij de vraagstelling, het provocatieonderzoek en het bewegingsonderzoek stelt de professionele osteopaat door middel van een 'oorzaak en gevolg' denkwijze zijn behandelstrategie samen.
De behandeling bestaat uit het losmaken van minder beweeglijke lichaamsstructuren en wordt door de meeste mensen als aangenaam ervaren.
Ook deze behandelingstechnieken zijn manueel en houden geen gebruik van technische apparatuur in.
Na de behandeling, die gemiddeld tussen 30 en 60 minuten duurt, legt de professionele osteopaat in eenvoudige termen aan de patiënt uit wat het probleem is.
Ook zal hij, indien aangewezen, een aantal richtlijnen meegeven aan de patiënt.
De patiënt wordt tevens ingelicht over het vermoedelijke aantal behandelingen en de te verwachten evolutie van het klachtenpatroon.
De gemiddelde verwachtingen liggen bij een behandelingsfrequentie van 3 tot 5 behandelingen.
Geen routine
Een osteopathische behandeling is voor iedere persoon verschillend.
De professionele osteopaat analyseert de klachten en vormt een behandelingsstrategie.
Zijn grote variëteit aan behandelingstechnieken biedt hem wijde mogelijkheden om de oorzakelijke achtergrond van een klachtenpatroon te behandelen.
U kan de professionele osteopaat vergelijken met een ingenieur van het menselijke lichaam : hij weet precies waar welke structuur gelokaliseerd is, in welke toestand deze zich bevindt en hoe hij de structuur dient aan te pakken in een oorzakelijk denkpatroon.
Veiligheid voorop
Als een ingenieur van het menselijke lichaam weet een professionele osteopaat precies waar welke structuur gelokaliseerd is, in welke toestand deze zich bevindt en hoe hij ermee aan de slag kan.
Een professionele osteopaat is goed opgeleid en werkt veilig en effectief.
Terugbetaling via uw verzekering
Over de kosten en de duur van de behandeling kan uw professionele osteopaat u alles vertellen.
In België (cfr. : http://www.professioneleosteopaten.be/ -) is algemeen gekend dat er een terugbetaling voor osteopathie door uw mutualiteit wordt voorzien via je aanvullende verzekering.
Voor deze terugbetalingsregeling is geen voorschrift of verwijzing vereist.
Geschiedenis en ontstaan
De Amerikaanse arts Andrew Taylor Still (1828-1917) wordt gezien als de grondlegger van de osteopathie.
Deze pionier stichtte in 1892 "the American School of Osteopathy" en legde daarmee het fundament voor de moderne manuele geneeswijzen.
De naam "osteopathie" is samengevoegd uit de Griekse woorden "osteon" voor bot en "pathos" voor lijden.
In de Verenigde Staten en in het Verenigd Koninkrijk is de osteopathie een erkende vorm van gezondheidszorg.
In Europa vindt deze behandelmethode reeds in verschillende landen erkenning en wordt er in omzeggens alle andere Europese lidstaten geijverd naar een beschermde beroepstitel.
Voor België is er reeds langer een kaderwet voor osteopathie goedgekeurd door Kamer en Senaat.
Men wacht nog steeds op de verdere uitvoering van deze wet.
Sinds de ontdekking van de osteopathie evolueerde de behandelingsstrategie vanuit het pariëtale systeem (het bewegingsapparaat) ook naar het viscerale systeem (beweeglijkheid van organen) en het craniosacrale systeem (schedel, hersenvliezen en centraal zenuwstelsel).
Stelselmatig ontdekte men dat deze holistische aanpak de betere is.
Cfr. : http://www.professioneleosteopaten.be/assets/brochure/brochure_osteo-nl.pdf



28-01-2010 om 18:20 geschreven door Jules
0 1 2 3 4 5 - Gemiddelde waardering: 3/5 - (2 Stemmen)
Tags:angst, balans, depressie, duizeligheid, gewricht, hoofdpijn, hyperventilatie, levenskwaliteit, neurologie, ontstekingen, osteopathie, overbelasting, overspanning, pijn, rug, slapeloosheid, stijfheid, stress, tintelingen, wervel, whiplash, zwellingen



Het Advies- en meldpunt ziekteverzuim en arbeidsongeschiktheid
Het Advies- en meldpunt
ziekteverzuim en arbeidsongeschiktheid

Onbegrip bij CVS/ME !
Hoe kan dat ?
Vraag
Waarom is er zoveel onbegrip door artsen ?
Ik heb de laatste jaren al zoveel adviesen gekregen, de ene arts zegt dit en de andere arts zegt dat !
Gisteren kreeg ik nog te horen dat ik wel kan tennisen als ik maar wil !
Nog meer frustratie.
Ik moet soms zelf overleven.
En waarom schuiven 'sommige' artsen virussen van tafel ?
Veel onbegrip en slecht advies !
Des te lastiger voor patient.
Ik heb alles al geprobeerd, ga er niet echt op vooruit .../...
Antwoord
Het standpunt die artsen moeten innemen binnen de problematiek van chronische moeheid is niet evident.
Voor vele artsen is dit echt een nieuwe problematiek waar ze geen scholing in kregen.
Bovendien spelen ook stressoren een rol bij deze aandoeningen wat de hele aandoening nog complexer maakt.
Dit creëert bij de artsen ook een gevoel van machteloosheid en frustratie.
Dus dezelfde gevoelens van machteloosheid, hulpeloosheid en frustratie die bij de patiënten leven, kunnen aanwezig zijn bij de artsen waardoor de relatie tussen patiënt en arts onder druk komt te staan.
Wij mensen ervaren deze gevoelens immers niet graag.
Vandaar dat sommige mensen, collega's, artsen, specialisten, familieleden en anderen niet altijd even constructief reageren.
Je zou je dan kunnen afvragen waarom ze dit dat niet gewoon zeggen.
Toegeven dat we iets niet kunnen, is ook niet de strekste kant van de mens.
Alhoewel dit voor u als patiënt natuurlijk veel ongemak, verdriet en stress veroorzaakt, is het niet kwade wil van de artsen maar een normale menselijke reactie.
Cfr. : http://www.gratisadviseurs.nl/question.php?id=463

Start Advies- en meldpunt ziekteverzuim en arbeidsongeschiktheid
Een initiatief van de Whiplash Stichting Nederland en de Steungroep ME en Arbeidsongeschiktheid
Op 1 oktober '09 gaat het Advies- en meldpunt van start waar mensen met whiplash en ME/CVS terecht kunnen met vragen over ziekteverzuim, arbeidsongeschiktheidskeuringen en bezwaar- of beroepsprocedures.
Tevens kunnen zij hier hun ervaringen melden.
Deze meldingen worden ingezet ter verbetering van arbeidsongeschiktheidsbeoordelingen.
Het advies- en meldpunt is op werkdagen van 9.00-13.00 uur bereikbaar op telefoon 050 549 29 06.
Melden van ervaringen kan telefonisch, maar ook via www.steungroep.nl en via www.whiplashstichting.nl -.
Mensen met ME/CVS en whiplash stuiten in contacten met een bedrijfs- of keuringsarts op vergelijkbare knelpunten.
Over beide aandoeningen bestaan nogal wat vooroordelen en misverstanden.
Bij het vaststellen van beperkingen en van arbeidsmogelijkheden is er vaak een groot verschil tussen het oordeel van de bedrijfs- of keuringsarts en wat iemand zelf ervaart.
De uitkomst van de keuring komt dan ook lang niet altijd overeen met de reële mogelijkheden om te werken.
De uitslag is wél heel bepalend voor de inkomenspositie en voor het verdere toekomstperspectief.
Uit ervaring blijkt dat een goede voorbereiding op het gesprek met de bedrijfs- of keuringsarts helpt duidelijk te maken welke gevolgen de aandoening voor iemand heeft en tot welke beperkingen dit leidt.
Ook bij bezwaar- en beroepsprocedures is goede voorbereiding essentieel.
Het advies- en meldpunt kan hierbij informatie geven en hulp bieden.
Via het advies- en meldpunt worden daarnaast ervaringen verzameld over hoe de keuringen in de praktijk bij whiplash- en ME/CVS-patiënten verlopen.
Deze informatie wordt gebruikt om knelpunten in kaart te brengen en voorstellen te ontwikkelen voor verbetering van de begeleiding en van de keuringspraktijk.
Het advies- en meldpunt is een onderdeel van het samenwerkingsproject "Kennis en kracht - Samen naar een betere keuringspraktijk", waarvoor de Steungroep ME en Arbeidsongeschiktheid en de Whiplash Stichting Nederland tot eind 2012 subsidie ontvangen van het ministerie van VWS.
Beide organisaties hebben al jarenlang ervaring met voorlichting en belangenbehartiging op het gebied van ziekte, werk en inkomen.
Cfr. : http://www.weldergroep.nl/nieuwsitems/start-advies-en-meldpunt-ziekteverzuim-en-arbeidsongeschiktheid

'Het patiëntenperspectief wordt steeds belangrijker'
Sietske Arkenau
Hersen Magazine, december 2009
Mensen met whiplash of met de ziekte ME/CVS (chronisch vermoeidheidssyndroom) lopen in de beroepspraktijk nogal eens tegen onbegrip, vooroordelen en misverstanden aan.
'Dit doet mensen onnodig pijn,' vertelt Daniëlle van Eden, directeur van de patiëntenvereniging Whiplash Stichting Nederland, een van de patiëntenverenigingen waar de Hersenstichting mee samenwerkt : 'We zijn daarom op een positieve manier aan de slag gegaan om deze negatieve situatie te veranderen, ondermeer met het Advies- en meldpunt ziekteverzuim en arbeidsongeschiktheid.'
Nederland telt volgens de Gezondheidsraad dertig- tot veertigduizend patiënten met ME/CVS.
Het aantal whiplashpatiënten is naar schatting ruim honderdduizend.
Twee ziektebeelden die beide niet met een simpele test vastgesteld kunnen worden, terwijl het wel erkende aandoeningen zijn.
Toch zijn er nog steeds artsen die deze aandoeningen en de klachten die hieruit volgen, niet serieus nemen.
'Veel van deze mensen krijgen in hun werk met weerstand te maken : op de werkvloer, maar ook in contact met bedrijfs- en keuringsartsen,' aldus Van Eden : 'Daarom kunnen alle patiënten met whiplash of ME sinds 1 oktober met hun ervaringen en vragen over ziekteverzuim en arbeidsongeschiktheidskeuringen terecht bij het nieuwe advies- en meldpunt, een initiatief van Whiplash Stichting Nederland en de Steungroep ME en Arbeidsongeschiktheid.'
'Er zijn al aardig wat telefoontjes binnengekomen,' vertelt Van Eden : 'Klachten zijn ondermeer dat mensen het gevoel hebben dat ze niet serieus worden genomen, dat de keuring onzorgvuldig verloopt of dat er belangrijke informatie in de keuringsdossiers mist, met als gevolg dat een keuring op onvolledige informatie is gebaseerd.'
'Zo belde er een whiplashpatiënte met ernstige concentratiestoornissen, die door het UWV was gekeurd. Het oordeel : zij moest aangepast werk doen en als telefoniste aan de slag gaan. Een baan waarbij zij blootstaat aan veel prikkels en waarbij zij allerlei handelingen tegelijk moet uitvoeren. Het gevolg : haar klachten zijn sindsdien verergerd. Ongelofelijk.
Ik zeg : kijk als keuringsarts goed naar diegene die voor je staat en kijk naar wat iemand wel kan. Niemand is blij als hij niet kan werken.'
Voor deze vrouw en andere patiënten kan het meldpunt veel betekenen : 'Het advies- en meldpunt maakt onderdeel uit van een breder programma om de keuringspraktijk te verbeteren.
We hebben niet alleen als doel de keuringsklachten en -vragen in kaart te brengen, we helpen ook met een goede voorbereiding op het gesprek met een keuringsarts.
Daarnaast geven we advies bij bezwaar- en beroepsprocedures en praten we met instanties als het UWV over de manier van keuren. Daarbij nemen we ook de patiëntenervaringen mee – wat dat betreft merk je dat in Nederland het patiëntenperspectief steeds belangrijker wordt. Samen willen we er hard aan werken dat de keuringspraktijk respectvol, serieus en kwalitatief hoogwaardig wordt en dat de begeleiding van patiënten verbetert.'
Het Advies- en meldpunt ziekteverzuim en arbeidsongeschiktheid
Het Advies- en meldpunt ziekteverzuim en arbeidsongeschiktheid is op werkdagen van 9.00-13.00 uur bereikbaar op 050 - 549 29 06.

Melden van ervaringen kan telefonisch (via 050 - 549 29 06 dus), maar ook via www.steungroep.nl en www.whiplashstichting.nl -.

Cfr. : http://www.whiplashstichting.nl/site/pdf-files/artikel%20hm.pdf



28-01-2010 om 00:00 geschreven door Jules
0 1 2 3 4 5 - Gemiddelde waardering: 2/5 - (2 Stemmen)
Tags:arbeidsongeschiktheid, arbeidsongeschiktheidskeuringen, bedrijfsartsen, beroepsprocedures, bezwaarprocedures, chronisch vermoeidheidssyndroom, keuringsartsen, ME, ME/CVS, misverstanden, onbegrip, pijn, vooroordelen, whiplash, ziekteverzuim


27-01-2010

Association between serum ferritin [stored iron] level and fibromyalgia syndrome
Association between serum ferritin [stored iron] level and fibromyalgia syndrome
Ortancil O, Sanli A, Eryuksel R, Basaran A, Ankarali H, Department of Physical Medicine and Rehabilitation, Faculty of Medicine, Zonguldak Karaelmas University, Zonguldak,Turkey : ozgurortancil@yahoo.com - European Journal of Clinical Nutrition, Jan 20, 2010;26(2):168-72 – PMID : 20087382
Source : ProHealth, January 24, 2010
(Note : Ferritin is an iron-storage protein in cells. It binds to iron, keeps it in a dissolvable state and makes it non-toxic to the cells around it)
Background/Objectives
• Iron is essential for a number of enzymes involved in neurotransmitter synthesis.
• Analysis of cerebrospinal fluid in fibromyalgia syndrome (FMS) has shown a reduction in the concentration of biogenic amine metabolites, including dopamine, norepinephrine and serotonin.
• This study aimed to investigate the association of ferritin with FMS.
Subjects/Methods
A total of 46 patients with primary FMS participated in this case-control study and 46 healthy females who were age matched to the patients were used as the control group.
Venous blood samples collected from all subjects were used to evaluate serum ferritin, vitamin B12 and folic acid levels.
Results
The mean serum ferritin levels in the fibromyalgia (FM) and control groups were 27.3+/-20.9 and 43.8+/-30.8 ng/ml, respectively and the difference was statistically significant (P=0.003).
Binary multiple logistic regression analysis with age, body mass index, smoking status and vitamin B12, as well as folic acid and ferritin levels showed that having a serum ferritin level of less than 50 ng/ml caused a 6.5-fold increased risk for FMS.
Conclusions
Our study implicates a possible association between FM and decreased ferritin level, even for ferritin in normal ranges.
We suggest that iron as a cofactor in serotonin and dopamine production may have a role in the etiology of FMS.
Cfr. : http://www.prohealth.com/fibromyalgia/library/showArticle.cfm?libid=15112&B1=EM012710N



27-01-2010 om 20:37 geschreven door Jules
0 1 2 3 4 5 - Gemiddelde waardering: 0/5 - (1 Stemmen)
Tags:cerebrospinal fluid, dopamine, ferritin, fibromyalgia syndrome, fibromyalgia, FM, FMS, folic acid, neurotransmitter, norepinephrine, serotonin, serum ferritin level, vitamin B12



Dr. Mikovits XMRV Seminar (videos)
Dr. Mikovits XMRV Seminar
(videos)

Detection of an infectious retrovirus, XMRV, in blood cells of patients with chronic fatigue syndrome
Vincent C. Lombardi,1,* Francis W. Ruscetti,2,* Jaydip Das Gupta,3 Max A. Pfost,1 Kathryn S. Hagen,1 Daniel L. Peterson,1 Sandra K. Ruscetti,4 Rachel K. Bagni,5 Cari Petrow-Sadowski,6 Bert Gold,2 Michael Dean,2 Robert H. Silverman,3 Judy A. Mikovits1 - 1 Whittemore Peterson Institute, Reno, NV 89557, USA - 2 Laboratory of Experimental Immunology, National Cancer Institute–Frederick, Frederick, MD 21701, USA - 3 Department of Cancer Biology, The Lerner Research Institute, The Cleveland Clinic Foundation, Cleveland, OH 44195, USA - 4 Laboratory of Cancer Prevention, National Cancer Institute–Frederick, Frederick, MD 21701, USA - 5 Advanced Technology Program, National Cancer Institute–Frederick, Frederick, MD 21701, USA - 6 Basic Research Program, Scientific Applications International Corporation, National Cancer Institute–Frederick, Frederick, MD 21701, USA - * These authors contributed equally to this work – Adress correspondence to Judy A. Mikovits : judym@wpinstitute.org - Science 23 October 2009 : Vol. 326. no. 5952, pp. 585 – 589 (originally published in Science Express on 8 October 2009)
Chronic fatigue syndrome (CFS) is a debilitating disease of unknown etiology that is estimated to affect 17 million people worldwide.
Studying peripheral blood mononuclear cells (PBMCs) from CFS patients, we identified DNA from a human gammaretrovirus, xenotropic murine leukemia virus–related virus (XMRV), in 68 of 101 patients (67%) as compared to 8 of 218 (3.7%) healthy controls.
Cell culture experiments revealed that patient-derived XMRV is infectious and that both cell-associated and cell-free transmission of the virus are possible.
Secondary viral infections were established in uninfected primary lymphocytes and indicator cell lines after their exposure to activated PBMCs, B cells, T cells or plasma derived from CFS patients.
These findings raise the possibility that XMRV may be a contributing factor in the pathogenesis of CFS.
Cfr. : http://www.sciencemag.org/cgi/content/abstract/1179052?ijkey=m3wzKT4yJqEyk&keytype=ref&siteid=sci

Dr. Mikovits XMRV Seminar
ProHealth and HHV-6 Foundation, January 27, 2010
On January 22, Dr. Judy Mikovits, PhD, director of research for the Whittemore Peterson Institute for Neuro-Immune Disease, conducted a 2˝-hour XMRV seminar in Santa Barbara, CA.
The patient-oriented event was sponsored by the HHV-6 Foundation and ProHealth.com and was introduced by WPI Founder & President Annette Whittemore.
This highly informative presentation and Q&A cover a multitude of intriguing details and plans that patients & researchers worldwide have been speculating about for months - since discovery of the XMRV retrovirus in ME/CFS patients' blood was reported last October in the journal Science and a later paper by UK researchers published in PLoS One reported finding no XMRV.
Go and view the videos
at :
- http://www.prohealth.com/fibromyalgia/library/showArticle.cfm?libid=15114&B1=EM012710N
- http://vimeo.com/9004628



27-01-2010 om 20:09 geschreven door Jules
0 1 2 3 4 5 - Gemiddelde waardering: 4/5 - (3 Stemmen)
Tags:B cells, chronic fatigue syndrome (CFS), chronic fatigue syndrome, Dr. Judy Mikovits, ME/CFS, PBMCs, peripheral blood mononuclear cells (PBMCs), plasma, retrovirus, T cells, viral infections, xenotropic murine leukemia virus–related virus (XMRV), XMRV




Herwin je veerkracht - Omgaan met chronische vermoeidheid en pijn
Herwin je veerkracht
Omgaan met chronische vermoeidheid en pijn
Boudewijn Van Houdenhove
Uitgeverij Lannoo, 22-09-2009 – ISBN 10 : 9020986074 - ISBN 13 : 9789020986075
Basisgids over chronische vermoeidheid en chronische pijn

Chronische vermoeidheid en pijn nemen stilaan epidemische proporties aan.
Dit boek stelt dat een ernstig verlies aan veerkracht aan de basis ligt van hun klachten.
Het lichaam kan zich niet meer aanpassen aan belasting en herstelt niet meer normaal na inspanningen.

Dit boek beantwoordt vragen als :
- Hoe stelt men de diagnose ?
- Wat zijn de mogelijke oorzaken ?
- Wat zijn wetenschappelijk gefundeerde behandelingswijzen ?
De auteur gaat daarbij hete hangijzers niet uit de weg.
- Is CVS hetzelfde als ME ?
- Zijn beide niet gewoon een nieuw 'modewoord' voor depressie ?
- Is genezing mogelijk ?

De auteur breekt ook een lans voor aangepaste zelfzorg.
Hij geeft heel wat praktische tips om patiënten goed te leren omgaan met hun klachten en beperkingen en hen op weg te zetten naar 'een nieuw evenwicht'.
Over de auteur
Boudewijn Van Houdenhove is psychiater en hoogleraar medische en gezondheidspsychologie aan de K.U. Leuven.
Hij is een pionier op het gebied van het onderzoek naar het verband tussen lichamelijke en psychosociale aspecten van ziek zijn.
Hij publiceerde diverse erg succesvolle boeken over o.m. chronische pijn en chronische vermoeidheid :
In wankel evenwicht - Over stress, levensstijl en welvaartsziekten
Uitgeverij Lannoo, 21-02-2005 - ISBN : 978-90-209-6020-4
Ons stresssysteem heeft een essentiële, beschermende functie.
Door een ingenieus samenspel van hormonen en andere stoffen zorgt het ervoor dat ons organisme elke vorm van fysieke of emotionele belasting de baas kan.
Maar het systeem kan uit balans raken, vooral als de druk te hoog wordt of nooit ophoudt.
Onze stresshormonen slaan dan op hol of zijn juist te weinig actief.
In dat geval beschermen ze ons niet meer, maar ondermijnen ze ons psychisch en lichamelijk.
In dit baanbrekende boek leidt Boudewijn van Houdenhove ons binnen in de fascinerende wereld van het moderne stressonderzoek.
Hij laat zien hoe een ontregeld stresssysteem een ingrijpende impact kan hebben op onze gezondheid en een rol kan spelen in diverse 'welvaartsziekten' : depressie, hart- en vaatziekten, obesitas, diabetes, fibromyalgie, chronischevermoeidheidssydroom, ...
De auteur maakt ons duidelijk dat, om ons stresssysteem in evenwicht te houden, een gezonde levensstijl van het allergrootste belang is.
We kunnen er dus maar beter meteen aan gaan werken.
Dit boek vormt daartoe de perfecte eerste stap.
Cfr. : http://www.racine.be/content/lannoo/fondsen/gezondleven/lichaam/1/index.jsp?titelcode=11132&fondsid=6

Moe in tijden van stress - Luisteren naar chronische vermoeidheid
Uitgeverij Lannoo, 20-02-2001 – ISBN : 978-90-209-4323-8
Chronische vermoeidheid lijkt op weg om dé kwaal te worden van deze tijd.
Bij wie eraan lijdt, wordt meestal geen lichamelijke verklaring gevonden.
Uiteindelijk krijgt hij of zij - vaak na lang 'shoppen' in de geneeskunde - het etiket 'chronisch vermoeid' opgeplakt.
Wat is er met deze mensen aan de hand ?
Zijn ze ten prooi gevallen aan een nieuw virus, aan een moeilijk opspoorbare bacterie ?
Of... zit het misschien tussen de oren ?
Prof. Van Houdenhove wordt algemeen erkend als een autoriteit op het vlak van CVS.
Hij publiceert hierover in internationale vaktijdschriften.
Maar bovenal luistert hij naar het verhaal van de patiënten.
Hij is ervan overtuigd dat daar de sleutel zit om hun klachten én hun ernstige lijden te begrijpen.
In 'Moe in tijden van stress' schrijft hij zijn ervaringen neer.
Hij beschrijft het verband tussen CVS en onze drukke tijden en breekt een lans voor een brede kijk op deze moderne kwaal, waardoor de onvruchtbare discussie over 'somatische' versus 'psychische' oorzaken overbodig wordt.
Cfr. : http://www.racine.be/content/lannoo/wbnl/listview/1/index.jsp?titelcode=1798&fondsid=6

Stress, het lijf en het brein - Ziekten op de grens tussen psyche en soma
LannoCampus, 15-11-2007 – ISBN : 978-90-209-7332-7
De geneeskunde worstelt al eeuwen met het begrijpen en adequaat behandelen van ziekten die zich in het grensgebied tussen psyche en soma bevinden.
Vooral aandoeningen zonder duidelijke lichamelijke verklaring - tegenwoordig 'functionele somatische syndromen' genoemd - zijn voor veel artsen en andere hulpverleners een doorn in het oog.
Voorbeelden zijn : prikkelbaredarmsyndroom, chronische vermoeidheidssyndroom, fi bromyalgie, ...
De laatste jaren stapelen de bewijzen zich op dat het stresssysteem - de neurobiologische draaischijf tussen ons lichaam en ons brein - in deze ziekten een cruciale rol speelt.
Dit boek geeft een up-to-date overzicht van deze nieuwe ontwikkelingen.
Het is geschreven door een groep Leuvense psychiaters en psychologen, die allen klinisch en wetenschappelijk actief zijn op dit terrein.
Naast verschillende stressgebonden ziektebeelden, komen ook meer algemene topics aan bod, zoals de rol van vroegkinderlijk trauma, het onderzoek naar prenatale stress, de link tussen stress, emoties en pijn en de methodologische valkuilen van het stressonderzoek.
De auteurs van dit boek hebben getracht deze complexe materie toegankelijk te maken voor een niet-gespecialiseerde lezer.
Het boek is bedoeld voor artsen, psychologen en eenieder die geboeid is door de fascinerende vooruitgang van de moderne neurowetenschappen.
Cfr. : http://www.lannoo.be/Content/lannoo/wbnl/listview/1/index.jsp?titelcode=13523&fondsid=8
Cfr. : http://www.racine.be/content/lannoo/fondsen/gezondleven/lichaam/1/index.jsp?titelcode=16734&fondsid=6



26-01-2010 om 14:57 geschreven door Jules
0 1 2 3 4 5 - Gemiddelde waardering: 0/5 - (1 Stemmen)
Tags:chronische pijn, chronische vermoeidheid, chronischevermoeidheidssydroom, CVS, depressie, fibromyalgie, functionele somatische syndromen, hart- en vaatziekten, levensstijl, ME, moe, psychisch, somatisch, stress, veerkracht, vermoeidheid, welvaartsziekten


22-01-2010

Je eten bepaalt je slaap






Je eten bepaalt je slaap
Gezondheidsnet, 22-01-2010



Er zijn stoffen die je maar beter kan mijden als je lekker wilt doorslapen.
Hieronder drie stoffen die veel mensen uit hun slaap houden.
Cafeďne
Het drinken van veel koffie is één van de bekendste oorzaken van een verstoorde nachtrust.
Dit komt door de werkzame stof cafeďne.
Deze heeft een stimulerend effect op de hersenen, nieren, maag en darmen.
Cafeďne verdrijft vermoeidheid en daardoor val je moeilijker in slaap.
Probeer daarom een aantal uur voordat je gaat slapen geen cafeďnehoudende dranken en voedingswaren meer te nuttigen.
Dus ook geen thee, cola en chocolade.
Kruidenthee kan wel gedronken worden.
Nicotine
Naast cafeďne heeft ook nicotine een opwekkend effect.
Onderzoek wijst uit dat rokers een langere inslaapduur hebben dan niet-rokers.
Ook slapen rokers over het algemeen minder diep en worden vaker wakker.
Toch kan een enkel sigaretje wel helpen; een klein beetje nicotine maakt juist slaperig.
Alcohol
Lekker slaapmutsje voor het slapengaan ?
Al val je misschien sneller in slaap, na ongeveer drie uur is het effect uitgewerkt.
Grotere hoeveelheden alcohol kunnen de nachtrust juist verstoren.
Probeer het gebruik van alcohol voor het slapen dus te matigen.
Door alcohol ga je akelig dromen, zweten en krijg je hoofdpijn.
Gelukkig zijn er ook dingen die je wel mag eten en drinken.
Onderstaande producten kunnen je zelfs helpen om beter te slapen.
Triptofaan
De stof triptofaan zit in een allerlei voedingswaren.
Door deze stof voel je je plezierig en slaperig.
Het zit bijvoorbeeld in bananen, dadels, melk, tonijn, notenpasta en yoghurt.
Als je dit een half uur voordat je gaat slapen eet, ben je rustig genoeg om goed in slaap te vallen.
Serotonine
In volkorenbrood of volkorencrackers zitten veel koolhydraten.
Deze zorgen voor een stijging van serotonine in je lichaam.
Deze stof maakt je rustiger.
Een lichte snack met koolhydraten kan je helpen makkelijker in slaap te komen.
Tijdstip
Nu weet je wat je wel en niet moet eten.
Maar ook het tijdstip kan verschil maken.
's Ochtends kan je lichaam het beste voedsel verteren.
Later op de dag is er minder tijd voor de vertering.
Hierdoor bestaat de kans dat wat je laat op de avond eet, 's nachts half verteerd in je maag achterblijft.
Dit kan de nachtrust verstoren.
Een uitgebreid ontbijt, matige lunch en een lichte avondmaaltijd is het best.
Zorg dat er minstens drie uur tussen de avondmaaltijd en het tijdstip van slapengaan zit.
Slapen met een lege maag valt ook niet mee.
Als je vlak voor het slapengaan nog honger hebt, kun je een lichte snack eten.
Probeer de verleiding van chips, koekjes en andere vette of zoete etenswaren te weerstaan.
Ook pikant voedsel kun je beter mijden.
De kans is groot dat je wakker ligt met brandend maagzuur of een opgeblazen gevoel.
Een glas melk, een cracker of kruidenthee zijn goede alternatieven.
Cfr. : http://www.gezondheidsnet.nl/voeding/artikelen/210/je-eten-bepaalt-je-slaap



22-01-2010 om 20:54 geschreven door Jules
0 1 2 3 4 5 - Gemiddelde waardering: 3/5 - (4 Stemmen)
Tags:alcohol, cafeĂŻne, cola, darmen, dromen, hersenen, inslaapduur, koffie, koolhydraten, kruidenthee, melk, nachtrust, nicotine, nieren, opgeblazen gevoel, roken, serotonine, slaap, slaapmutsje, thee, vermoeidheid, verstoorde nachtrust, yoghurt




ME/CVS erkend als chronische ziekte





Staatssecretaris Bussemaker
erkent ME/CVS als chronische ziekte

ME/CVS- Stichting Nederland, 18-01-2010

Belangrijke doorbraak voor mensen met ME/CVS
Staatssecretaris Jet Bussemaker van het Ministerie van Volksgezondheid, Welzijn en Sport heeft het advies van de Taskforce Linschoten overgenomen om het Chronisch Vermoeidheid Syndroom ('CVS', ook bekend als 'ME') te erkennen als chronische ziekte.
Als de Tweede Kamer haar voorstel overneemt komen alle ME/CVS-patiënten in Nederland eindelijk in aanmerking voor tegemoetkomingen in het kader van de WMO en de Wet tegemoetkoming chronisch zieken en gehandicapten (Wtcg – cfr. : http://www.minvws.nl/dossiers/wet-tegemoetkoming-chronisch-zieken-en-gehandicapten-wtcg/default.asp -).
De ME/CVS-Stichting Nederland heeft jarenlang gepleit voor de plaatsing van ME/CVS op de VWS-lijst (de zogenoemde 'Lijst Borst') voor chronische aandoeningen.
Op dit moment worden mensen met ME/CVS nog steeds uitgesloten van het recht op ondersteunende voorzieningen.
Uiteindelijk is de stichting erin geslaagd het onderwerp hoog op de politieke agenda te krijgen.
Staatssecretaris Bussemaker vroeg een onafhankelijke Taskforce onder leiding van oud-staatssecretaris Robin Linschoten om te onderzoeken welke aandoeningen in aanmerking zouden moeten komen voor tegemoetkomingen.
De Taskforce Linschoten concludeerde in haar eindrapport dat onder meer mensen met ME/CVS onterecht buiten de Wtcg vallen en adviseerde de staatssecretaris om het Chronisch Vermoeidheidsyndroom in de afbakening mee te nemen.
De staatssecretaris heeft dit advies overgenomen en de voorzitter van de Tweede Kamer hierover geďnformeerd.
Binnenkort wordt het voorstel behandeld in het parlement.
De ME/CVS-Stichting Nederland is zeer verheugd dat de deskundigen en de staatssecretaris ME/CVS nu erkennen als een invaliderende, chronische ziekte en heeft er alle vertrouwen in dat deze erkenning zeer binnenkort wettelijk wordt vastgelegd.
Cfr. : http://www.me-cvs-stichting.nl/2660


Cfr. ook :
Bussemaker komt terug op erkenning CVS

(dd. 06-02-2010)
op :
http://www.medicalfacts.nl/2010/02/06/bussemaker-komt-terug-op-erkenning-cvs/



20-01-2010 om 00:00 geschreven door Jules
0 1 2 3 4 5 - Gemiddelde waardering: 3/5 - (2 Stemmen)
Tags:chronisch vermoeidheid syndroom, chronische ziekte, CVS, ME/CVS, VWS-lijst, Wet tegemoetkoming chronisch zieken en gehandicapten (Wtcg), WMO


19-01-2010

Understanding fibromyalgia pain
It's not in the mind,
but in the brain.
Understanding fibromyalgia pain

7 Types of fibromyalgia pain
Adrienne Dellwo, About.com Guide, (updated) January 07, 2010
You hear a lot about "fibromyalgia pain" but those of us with fibromyalgia (FMS) experience several kinds of pain.
Medically speaking, only a few of the fibromyalgia-pain types I talk about here have names and definitions.
But just as Eskimos have several words for snow, I think we need to have several ways to name, define and categorize our pain.
I've created some of my own categories, based on my experience and on conversations with other fibromites.
My hope is that understanding the medical terms will help us communicate better with doctors, while my categories will help you understand your illness and let you know you're not alone.
Types of fibromyalgia pain
The first 3 types of fibromyalgia pain are medically defined :
hyperalgesia
Hyperalgesia is an increased sensitivity to pain, which may be caused by damage to nociceptors or peripheral nerves.
Temporary increased sensitivity to pain also occurs as part of sickness behavior, the evolved response to infection
Cfr. : http://en.wikipedia.org/wiki/Hyperalgesia

allodynia
Allodynia, meaning "other pain", is a pain due to a stimulus which does not normally provoke pain and can be either static or mechanical.
Allodynia differs from referred pain, but can occur in areas other than the one stimulated.
It is dysesthetic.
Allodynia is different from hyperalgesia, an extreme reaction to a stimulus which is normally painful.
Cfr. : http://en.wikipedia.org/wiki/Allodynia

painful paresthesia
Paresthesia (paraesthesia) is a sensation of tingling, pricking, or numbness of a person's skin with no apparent long-term physical effect.
It is more generally known as the feeling of "pins and needles" or of a limb "falling asleep" (although this is not directly related to the phenomenon of sleep).
The manifestation of paresthesia may be transient or chronic.
Cfr. : http://en.wikipedia.org/wiki/Paresthesia
The next 4 types are my own creation, which is obvious by their names.
Don't use these terms in a doctor's office (unless you want to be seen as crazy) but these labels may help you get to know your body's quirks, triggers, patterns etc. :
First, the medically defined types of fibromyalgia pain.
Hyperalgesia & fibromyalgia pain
'Hyper' means 'excess' and 'algesia' means 'pain'.
'Hyperalgesia' is the medical term for pain amplification in FMS.
Our brains appear to take normal pain signals and 'turn up the volume' making them more severe than they would normally be.
Most of the drugs used for managing fibromyalgia pain are aimed, at least in part, at reducing hyperalgesia.
Allodynia & fibromyalgia pain
A symptom that perplexes a lot of us, especially when it's new, is allodynia.
That's what it's called when your skin hurts to the touch and when mild pressure from clothing or gentle massage causes pain.
A lot people describe allodynia as similar to a bad sunburn.
Allodynia is a fairly rare type of pain -- other than FMS, it's only associated with a handful of conditions, including neuropathy, postherpetic neuralgia (shingles) and migraine.
Allodynia is believed to be a hypersensitive reaction that may result from the central sensitization associated with FMS.
The pain signals originate with specialized nerves, called nociceptors, that sense information about things like temperature and painful stimuli right from the skin.
Allodynia comes in 3 forms :
tactile, which is pain from touch or gentle pressure

mechanical, which is from something moving across your skin

thermal, which is pain from heat or cold that's not severe enough to damage tissues.
Some drugs that work for some people with allodynia include :
Tramadol

Lidocaine

Ketamine

Morphine

Venlafaxine.
Some people also get relief from topical pain creams (capsaicin, Tiger Balm, Aspercreme, BioFreeze).
Paying close attention to the way you dress can help alleviate allodynia as well.
If you have allodynia, massage therapy may make it worse.
If you feel other aspects of your health would benefit from massage, be sure to discuss allodynia with your doctor and massage therapist and keep track of how treatments impact this symptom.
Painful paresthesia & fibromyalgia
Paresthesias are odd nerve sensations that can feel like crawling, tingling, burning, itching or numbness.
Sometimes, these sensations can be painful.
Paresthsias are also associated with peripheral neuropathy, chemotherapy drugs, multiple sclerosis and migraine.
Many common FMS treatments can help alleviate paresthesia-related pain, including selective serotonin reuptake inhibitors (SSRIs) and serotonin norepinephrine reuptake inhibitors (SNRIs).
Some people also have good luck with vitamin B12, capsaicin cream, massage and acupuncture.
My own fibromyalgia pain categories
Once again, the following categories are not medically recognized -- they're things I came up with to fill a gap in how we classify different types of pain.
They're intended to help you track symptoms, gauge effectiveness of treatments and to let you know you're not alone.
Fibromyalgia pain - Knife in the voodoo doll
Sometimes, out of nowhere, I'll get an intense stabbing pain that seems to cut through my body.
I've also described this as a fireplace poker in the ribs or being impaled on a spear.
For me, the voodoo doll pain is often my body's early warning system -- it tells me that I need to stop what I'm doing and rest.
Other times, I have no idea why it strikes.
I generally get this pain in my chest or abdomen, but some people say they get it in other parts of the body.
It can be so intense that it can double me over and make it hurt to breathe.
It usually goes away as after a few minutes.
I have no idea how to prevent this type of pain, other than by pacing myself (if only I could find that darned doll...).

Fibromyalgia pain - Randomly roving pain
This is one of those things that reminds you FMS just doesn't make a lot of sense.
A lot of us get pain that migrates around the body, sometimes moving between certain places, sometimes striking in new areas.
If you also have myofascial pain syndrome, it can be especially hard to tell randomly roving pain from the referred pain caused by trigger points.
For me, this pain responds to treatments about the same as hyperalgesia.

Fibromyalgia pain - Sparkler burns
One 4th of July, when I was young, I hung onto a sparkler for too long and some sparks hit my hand.
They caused tiny pin-pricks of pain almost identical to sensations I now get regularly.
They make me jump and scratching them triggers tactile allodynia.
These sensations usually just last a few seconds.
I have no idea what triggers them or how to prevent them.

Fibromyalgia pain - Rattled nerves
Most people won't understand why I call this a type of pain, but I'm sure most fibromites will get it.
Certain things tend to get my whole body on edge, jumpy and feeling rattled.
It makes me ache all over and sometimes I get nauseous, dizzy and anxious.
Things that rattle my nerves generally involve sensory or emotional overload, such as :
- certain sounds (repetitive, loud, shrill, grating)
- visual chaos (crowds, flashing lights, busy patterns)
- stressful situations (busy traffic, confrontations, fibro-fog induced confusion or disorientation).
When my nerves are rattled, I try to get out of the situation as quickly as possible and relax, preferably somewhere quiet.
Cfr. : http://chronicfatigue.about.com/od/whatisfibromyalgia/a/fibromyalgiapain.htm

Fibromyalgia pain – Physiological evidence
It's not in the mind, but in the brain
Adrienne Dellwo, About.com Guide, (updated) April 21, 2009
Fibromyalgia pain isn't caused by obvious sources.
Our muscles and connective tissues show no signs of degeneration.
Our bones and joints are as healthy as anyone's.
Pain without damage is hard to understand and treat and that's much of the reason that for decades fibromites were told the pain was all in their heads.
But as researchers looked to the head -- the brain, more specifically -- they started uncovering more about our pain.
Instead of being in the mind (psychological), it's in the brain (neurological).
The highly respected website UpToDate, a resource trusted by physicians as well as patients who want in-depth information, delves into the neurological abnormalities of fibromyalgia (FM or FMS).
From UpToDate :
"Some differences in pain processing that may be important in pathogenesis include the following :
upregulation of opioid receptors in the periphery, as well as reduced brain opioid receptors;

elevated levels of substance P were found in the cerebrospinal fluid of FMS patients compared to controls;

differences in activation of pain-sensitive areas of the brain, as determined by increased regional brain blood flow using magnetic resonance imaging (MRI) and functional MRI (fMRI) and MR spectroscopy have been noted in FMS."
Fibromyalgia pain & your brain
So what do all those medical terms mean ?
Let's break it down :
Opioid receptors are specialized parts of cells that bind to opiates -- pain killers contained in Vicodin (hydrocodone) and Percocet (oxycodone).
The periphery in this case is the parts of your nervous system outside the brain and spinal cord.
"Upregulation" means increased numbers of opioid receptors.
Upregulation of peripheral opioid receptors is common in damaged or inflamed tissues, neuropathy or bone damage.
In some cases, this upregulation is believed to help opiates work.
Reduced brain opioid receptors, however, make your brain less sensitive to opiate pain killers.
This helps explain why opiates are generally ineffective at treating fibromyalgia pain.
Substance P is involved with the pain threshold -- the point at which sensation becomes painful.
Elevated levels of substance P could help explain why the pain threshold is low in people with fibromyalgia.
"Differences in activation of pain-sensitive areas of the brain, as determined by increased regional brain blood flow using magnetic resonance imaging (MRI) and functional MRI (fMRI), and MR spectroscopy have been noted in FMS."
High blood flow to an area of the brain shows how much activity is going on there.
The 3 types of brain scans listed above have all demonstrated that, in fibromyalgia, activity is higher than normal in the areas of the brain that deal with pain.
This suggests that pain signals are bombarding the brain or that the brain is abnormally processing pain signals from the body.
Basically, all of this is physiological evidence that those of us with fibromyalgia experience real, physical pain and that our bodies are highly sensitive to pain.
We don't yet know if the pain comes from abnormal pain signals or abnormal brain processing of normal signals (or both) -- or how to stop it -- but ongoing research may hold the answers.
Want to learn more ?
Cfr. UpToDate's topic : "Pathogenesis of fibromyalgia" at : http://www.uptodate.com/patients/content/topic.do?topicKey=~DdHMfrAB4sxnZ0 - for additional in-depth, current and unbiased medical information on fibromyalgia, including expert physician recommendations.
Cfr. : http://chronicfatigue.about.com/od/whatisfibromyalgia/a/painandthebrain.htm

Cfr. also
19-01-2010 om 17:45 geschreven door Jules
0 1 2 3 4 5 - Gemiddelde waardering: 1/5 - (1 Stemmen)
Tags:allodynia, burning, hippocampus, hyperalgesia, itching, neurological, neuropathy, nociceptors, numbness, pain, paresthesia, peripheral nerves, peripheral neuropathy, postherpetic neuralgia (shingles), serotonin, substance P, tingling, vitamin B12



Hyperalgesia in chronic fatigue syndrome
Hyperalgesia in chronic fatigue syndrome
'Hyperalgesia' is the medical term for pain amplification in FMS.
Our brains appear to take normal pain signals and 'turn up the volume'
making them more severe than they would normally be.

Hyperalgesia
Hyperalgesia is an increased sensitivity to pain, which may be caused by damage to nociceptors or peripheral nerves.
Temporary increased sensitivity to pain also occurs as part of sickness behavior, the evolved response to infection.
Hyperalgesia can be experienced in focal, discrete areas or as a more diffuse, body-wide form.
Conditioning studies have established that it is possible to experience a learned hyperalgesia of the latter, diffuse form.
The focal form is typically associated with injury and is divided into two subtypes :
primary hyperalgesia describes pain sensitivity that occurs directly in the damaged tissues.

secondary hyperalgesia describes pain sensitivity that occurs in surrounding undamaged tissues.
Opioid-induced hyperalgesia may develop as a result of long-term opioid use in the treatment of chronic pain.
Various studies of humans and animals have demonstrated that primary or secondary hyperalgesia can develop in response to both chronic and acute exposure to opioids.
This side effect can be severe enough to warrant discontinuation of opioid treatment.
Hyperalgesia is induced by platelet-activating factor (PAF) which comes about in an inflammatory or an allergic response.
This seems to occur via immune cells interacting with the peripheral nervous system and releasing pain-producing chemicals (cytokines and chemokines).
One unusual cause of focal hyperalgesia is platypus venom.
Long term opioid (e.g. heroin, oxycodone) users and those on high-dose opioid medications for the treatment of chronic pain, may experience hyperalgesia and experience pain out of proportion to physical findings, which is a common cause for loss of efficacy of these medications over time.
As it can be difficult to distinguish from tolerance, opioid-induced hyperalgesia is often compensated for by escalating the dose of opioid, potentially worsening the problem by further increasing sensitivity to pain.
Chronic hyperstimulation of opioid receptors results in altered homeostasis of pain signalling pathways in the body with several mechanisms of action involved, one major pathway being through stimulation of the nociceptin receptor and blocking this receptor may therefore be a means of preventing the development of hyperalgesia.
Stimulation of pain fibers in a pattern consistent with that from inflammation switches on a form of amplification in the spinal cord, long term potentiation.
This occurs where the pain fibres synapse to pain pathway, the periaqueductal grey.
Amplification in the spinal cord may thus be another way of producing hyperalgesia.
The release of proinflammatory cytokines such as Interleukin-1 by activated leukocytes triggered by lipopolysaccharides, endotoxins and other signals of infection also increases pain sensitivity as part of sickness behavior, the evolved response to illness.
Hyperalgesia is similar to other sorts of pain associated with nerve damage such as allodynia and neuropathic pain and consequently may respond to standard treatment for these conditions, using various drugs such as SSRI or tricyclic antidepressants, non-steroidal antiinflammatory drugs, glucocorticoids, gabapentin or pregabalin, NMDA antagonists or atypical opioids such as tramadol.
Where hyperalgesia has been produced by chronic high doses of opioids, reducing the dose may result in improved pain management.
However as with other forms of nerve dysfunction associated pain, treatment of hyperalgesia can be clinically challenging and finding a suitable drug or drug combination that is effective for a particular patient may require a certain amount of trial and error.
Cfr. : http://en.wikipedia.org/wiki/Hyperalgesia
Cfr. also : http://juniorprof.wordpress.com/2008/07/05/what-is-hyperalgesia-what-is-allodynia/

Evidence for generalized hyperalgesia
in chronic fatigue syndrome
- A case control study -
Meeus M, Nijs J, Huybrechts S, Truijen S. Department of Health Sciences, Division of Musculoskeletal Physiotherapy, Artesis Hogeschool Antwerpen, Merksem, Belgium; Department of Human Physiology, Faculty of Physical Education and Physiotherapy, Vrije Universiteit Brussel, Brussels, Belgium : jo.nijs@vub.ac.be - Clinical Rheumatology, Jan 14, 2010 - PMID : 20077123
Several studies provided evidence for generalized hyperalgesia (heightened sensitivity to pain) in fibromyalgia or whiplash-associated disorders.
In chronic fatigue syndrome, however, pain is a frequently reported complaint, but up to now, evidence for generalized hyperalgesia is lacking.
The aim of this study is to examine whether the pressure pain thresholds (PPTs) at both symptomatic and asymptomatic sites differ in chronic fatigue syndrome (CFS) patients with chronic pain, compared to healthy controls.
Therefore, 30 CFS patients with chronic pain and 30 age- and gender-matched healthy controls indicated on a Margolis Pain Diagram where they felt pain lasting longer than 24 h in the past 4 weeks (note the paper cites studies indicating 84% to 94% of CFS patients often suffer generalized pain of unexplained origen).
After completing a test battery of questionnaires evaluating pain cognitions, functional status and symptomatology, a blinded researcher assessed PPTs bilaterally at seven non-specific sites on both trunk and extremities.
PPTs were compared for the two complete groups.
In addition, PPTs of patients and controls who did not report pain in a respective zone were compared.
Pressure pain thresholds of the patients were significantly lower (p < 0.001) compared to those of the control group, also when pain-free samples per zone were compared (p < 0.001) (meaning the probability these findings resulted by chance is less than 1 in 1,000) :
the mean PPT was 3.30 kg/cm(2) in all CFS patients and 8.09 kg/cm(2) in the controls.

no confounding factors responsible for the observed differences, as, e.g., catastrophizing and depression, could be revealed.
These findings provide evidence for the existence of hyperalgesia even in asymptomatic areas (generalized secondary hyperalgesia).
The generalized hyperalgesia may represent the involvement of a sensitized central nervous system.
Cfr. : http://www.prohealth.com/library/showarticle.cfm?libid=15096



19-01-2010 om 15:20 geschreven door Jules
0 1 2 3 4 5 - Gemiddelde waardering: 0/5 - (0 Stemmen)
Tags:central nervous system, CFS, chronic fatigue syndrome (CFS), chronic fatigue syndrome, chronic pain, fibromyalgia, generalized hyperalgesia, generalized secondary hyperalgesia, hyperalgesia, pain, PPTs, pressure pain thresholds (PPTs), whiplash


18-01-2010

Wegwijzer psychische problemen

Wegwijzer psychische problemen

Ron van Deth
Bohn Stafleu van Loghum, november 2005
ISBN : 9031346578
De auteurs
Ron van Deth
Drs. Ron van Deth is psycholoog en publicist.
Hij publiceerde over tal van onderwerpen uit de psychologie en psychiatrie.
In 2003 schreef hij samen met Walter Vandereycken 'Psychotherapie - Van theorie tot praktijk' (cfr. : http://www.bol.com/nl/p/nederlandse-boeken/psychotherapie-druk-1/1001004002002021/index.html -).
Hij is eindredacteur van PsychoPraxis en als stafmedewerker verbonden aan het Europees Instituut voor Educatie in Staverden.
Walter Vandereycken
Prof.dr. Walter Vandereycken is hoogleraar psychiatrie aan de Katholieke Universiteit van Leuven, hoofd van de afdeling directieve therapie van de Psychiatrische Kliniek der Broeders Alexianen in Tienen en consulent van het Universitair Centrum St.-Jozef in Kortenberg (België).
Hij is hoofdredacteur van PsychoPraxis en voert de redactie van het driedelige Handboek Psychopathologie.
Hij verwierf internationale bekendheid als deskundige op het gebied van onderzoek en behandeling van eetstoornissen.
Inhoud
Iedereen heeft wel eens last van een dipje, van overmatige stress of bijvoorbeeld angstgevoelens.
Meestal verdwijnen die ongemakken wel weer, maar als ze langer aanhouden, rijst al gauw de vraag : is dit wel normaal ?
Met deze 'Wegwijzer psychische problemen' kun je er achter komen of er inderdaad sprake is van een psychische stoornis, welke professionele hulp je hierbij kunt inroepen en vooral ook wat je er zelf aan kunt doen.
Dit boek is bedoeld voor mensen die met psychische problemen kampen én voor hun omgeving.
Aan de hand van heldere praktijkvoorbeelden wordt een uitgebreid overzicht gegeven van mogelijke stoornissen.
Vervolgens geven de auteurs tips om zelf het probleem aan te pakken en bespreken ze de verschillende therapieën.
Hierbij staan de zelfstandigheid en de eigen verantwoordelijkheid van de betrokken persoon steeds centraal.
De handige tips met vermelding van relevante zelfhulpliteratuur en bruikbare websites maken van dit boek een waardevol hulpmiddel om het heft in eigen handen te nemen, voor of na het inroepen van professionele hulp.
Cfr. : http://www.bol.com/nl/p/boeken/wegwijzer-psychische-problemen/1001004002714562/index.html



18-01-2010 om 20:28 geschreven door Jules
0 1 2 3 4 5 - Gemiddelde waardering: 0/5 - (0 Stemmen)
Tags:angstgevoelens, eigen verantwoordelijkheid, psychiatrie, psychische problemen, psychische stoornis, psychologie, psychotherapie, stress, zelfstandigheid



Positieve psychologie






























Martin
Seligman


In Nederland is naar schatting 22 % van de werkende bevolking mentaal vermoeid en 10% is zelfs uitgeput.
Het versterken van de mentale weerbaarheid is dus van cruciaal belang....

Positieve psychologie
Diane Thora
Chronische inflammatoire bindweefselziekten (CIB)
Positieve Psychologie is een beweging binnen de psychologie, die benadrukt en onderzoekt wat er deugt aan mensen in plaats van wat er aan hen schort.
Psychologie was en is volgens deze stroming te eenzijdig negatief, nl. té gebaseerd op :
een negatief mensbeeld, ook wel het "rotten-to-the-core" model genoemd : achter iedere goede bedoeling of gedraging moet een slechte drift zitten;

de dominantie van het ziekte-model en het medisch model nl. gericht op het bestrijden van het negatieve, het repareren van schade;

de defectgerichtheid : de basisstelling was dat het wegnemen van de probleemoorzaak zou leiden tot de gewenste situatie;

negatief onderzoek en gebruik van negatieve taal : het meeste wetenschappelijk onderzoek was gericht op het begrijpen van het ontstaan van gedragsstoornissen.
De psychologie zou ook vooral negatieve termen toegevoegd hebben aan de taal.
Grondlegger van de positieve psychologiebeweging is Martin Seligman.
Hij stelt dat er geen greintje bewijs is voor de rotten-to-the-core hypothese en dat het repareren van schade ten zeerste verschilt van het bouwen aan sterkte en deugden.
Geleid door de overtuiging dat het goede het tegenovergestelde is van het slechte, heeft de mensheid zich al eeuwen gefixeerd op fouten en falen.
Deze fixatie op zwakte is diep verankerd in onze beschaving en educatie.
Ze is dan ook moeilijk te veranderen, maar het kan wel degelijk.
De missie van de positieve psychologie is het opbouwen van kennis via onderzoek over positieve emoties, gedragingen en instituties.
De oorspronkelijke centrale vraag : "Wat heeft het probleem veroorzaakt ?" wordt nu : "Hoe bereiken we wat we willen bereiken ?"
Anders dan de meeste klassieke therapieën is de aanpak niet gericht op het bestrijden van het negatieve, maar op het versterken van het positieve.
Daarbij geldt als uitgangspunt dat de persoon zelf in staat is om doelen te stellen en beschikt over de hulpbronnen en competenties om deze te bereiken.
Een chronische ziekte betekent niet louter verlies en dreiging.
Zowel de verslagen over patiënten als de wetenschappelijke literatuur maken geregeld melding van patiënten die positieve kanten ontdekken in hun ziekteproces.
Zelfs als de ziekte voortschrijdt en de lichamelijke toestand verslechtert, blijkt dat veel chronische patiënten niet ongelukkiger of minder tevreden zijn dan gezonde mensen.
De aanpassing aan een chronische ziekte is echter geenszins gemakkelijk.
Al in de jaren zestig toonden onderzoekers aan dat chronisch ziek worden één van de meest ingrijpende gebeurtenissen in een mensenleven is.
Het gaat immers niet om een voorbijgaand incident, maar om een lange aaneenschakeling van grotere en kleinere ongemakken, die bovendien soms steeds ernstiger worden.
Pijn, onzekerheid, medische ingrepen, zich ongemakkelijk gedragende vrienden en moeite om voor zichzelf te zorgen, zijn maar een paar van de problemen waar de patiënt mee te maken krijgt.
Maar ook in deze moeilijke omstandigheden, blijkt de invloed op het welbevinden voor een belangrijk deel afhankelijk te zijn van de wijze waarop de patiënt tegen de omstandigheden aankijkt.
En hier kan een positieve realistische ingesteldheid helpen.
Een voorbeeld
Bij een steeds slechter wordende fysieke conditie kun je je blauw ergeren aan alles wat je niet meer kunt.
Je kunt ook proberen om de moed op te brengen om te kijken naar wat je wél nog kunt.
Een moeder die al lange tijd bedlegerig was, merkte op dat haar dochtertje dichter bij haar stond dan vroeger.
Eén van de feiten die aan de grondslag lagen, was dat het meisje graag naar verhaaltjes luisterde.
In tegenstelling tot haar vroegere drukke agenda waar nauwelijks tijd was voor voorlezen, kon deze moeder nu dagelijks vertellen.
De band met haar kind werd sterker en dat gaf een intens gevoel van geluk.
Ook toen later haar fysieke toestand aanzienlijk verbeterde, droeg ze zorg voor een bescheiden agenda waar plaats bleef om te vertellen.
Cfr. : http://www.cibliga.be/a_soc_positieve.html

Positieve psychologie in de praktijk
Fredrike Bannink
Hogrefe Uitgevers BV, november 2009 – ISBN 9789079729173
Er is een nieuw geluid in de psychologie te horen : 'Positieve psychologie'.
Uitgangspunt van deze wetenschappelijke benadering is dat de reguliere psychologie te eenzijdig gericht is op klachten en te weinig op krachten.
Omdat behandeling meer is dan herstellen wat er mis is, doet de psychologie er goed aan niet alleen aandacht te schenken aan stoornissen, zwakheden en beperkingen, maar ook aan sterke kanten, goede eigenschappen en aan bouwen wat er goed gaat.
In 'Positieve psychologie in de praktijk' gaat Fredrike Bannink uitgebreid in op deze veelbelovende nieuwe vorm van psychologie.
In het eerste deel beschrijft zij de state of the art van theorie en onderzoek van de ´familieleden´ van de positieve psychologie, waaronder : optimisme, hoop, geluk, veerkracht, flow, positieve emoties, dankbaarheid en zelfrespect.
In het tweede deel gaat Bannink dieper in op verschillende toepassingsgebieden.
Met sprekende voorbeelden, verhalen en informatieve kaders laat zij zien welke impact de positieve psychologie heeft en kan hebben in psychotherapie en psychiatrie, bij het werken met kinderen en ouderen, op het werk en bij conflictmanagement.
Meer dan 35 effectieve oefeningen zorgen ervoor dat u de inspirerende inzichten vanuit de positieve psychologie op uzelf of in uw werk met cliënten kan toepassen.
Dit zeer leesbare en toegankelijke boek is het eerste praktische Nederlandstalige boek over positieve psychologie voor professionals, werkzaam in psychotherapie, psychiatrie, onderwijs, sport, coaching en mediation.
Fredrike Bannink, klinisch psycholoog en Master of Dispute Resolution, heeft een praktijk voor therapie, training, coaching en mediation in Amsterdam.
Zij is docent aan instellingen voor postdoctoraal onderwijs, opleider van de Vereniging voor Gedragstherapie en Cognitieve therapie (VGCt) en mediator aan de Rechtbank Amsterdam.
Zij is auteur van vele (internationale) publicaties.
Cfr. :
- http://www.vanstockum.nl/product/13275479/Positieve-psychologie-in-de-praktijk.html
- http://www.bol.com/nl/p/nederlandse-boeken/positieve-psychologie-in-de-praktijk/1001004007117912/index.html#product_description


Cfr. ook het video interview


Using positive psychology

(Ronald D. Siegel, Psy.D., assistant clinical professor of psychology at Harvard Medical School and editor of Harvard Health Publication's special health report, Positive Psychology, discusses what it takes to be happy)
op : http://www.health.harvard.edu/video/positive-psychology/what-it-takes-to-be-happy.htm




18-01-2010 om 00:00 geschreven door Jules
0 1 2 3 4 5 - Gemiddelde waardering: 0/5 - (0 Stemmen)
Tags:vermoeidheid, dankbaarheid, dreiging, flow, geluk, hoop, kracht, mediation, mentale weerbaarheid, onzekerheid, optimisme, pijn, positieve emoties, positieve psychologie, psychiatrie, psychotherapie, sport, veerkracht, verlies, zelfrespect


09-01-2010

Fietsen in de sneeuw...
****


09-01-2010 om 15:28 geschreven door Jules
0 1 2 3 4 5 - Gemiddelde waardering: 3/5 - (13 Stemmen)


08-01-2010

Tips tegen de koude



Tips
tegen de koude
GezondNU
Omdat de kou voorlopig nog lijkt aan te houden, verzamelde gezondNU tips om u te weren tegen het winterse weer.


Kleed u warm
Zorg voor laagjeskleding; dus meerdere kledingstukken over elkaar.
Zo bent u het best beschermd tegen de kou.
Begin met een stof van natuurlijk materiaal, zodat u eventueel vocht kwijt kunt raken.
Last van koude handen ?
Draag twee paar handschoenen over elkaar.
Of kies voor handenwarmertjes, die u handen met een klik warm maken.
Na gebruik tien minuten koken in water en ze kunnen opnieuw gebruikt worden.
Bedek uw hoofd
Zo houdt uw uw lichaam nog beter op temperatuur.
Eet verse groenten en fruit
Zo bouwt u extra weerstand op.
Veel en vet eten heeft geen zin.
Beweeg
Ook al is het koud, het bloed wordt op die manier goed door het lichaam gestuurd.
Doe bijvoorbeeld stretchoefeningen.
Zo worden de spieren opgewarmd en dat kan weer eventuele blessures voorkomen.
Zorg wel dat u niet gaat zweten, dat kan weer onderkoeling als gevolg hebben.
Laat de borrel staan
Sterkedrank geeft geen extra warmte, maar zorgt er juist voor dat het lichaam afkoelt.
Het dehydrateert en verlaagt de lichaamstemperatuur.
Drink warme dranken
Zo warmt u het lichaam van binnenuit op.
Zet de verwarming op minstens 16 graden
Ouderen wordt aangeraden de temperatuur in de huiskamer op 22 tot 24 graden te houden.
De slaapkamer op 20 graden.
En ga niet te dicht bij de kachel zitten, zo ontstaan er te veel temperatuurschommelingen.
Kruip in bed dicht tegen elkaar aan
Zo porfiteert u van elkaars warmte.
Cfr. : http://www.gezondnu.nl/artikelen/kou/artikel/916/tips-tegen-de-kou



08-01-2010 om 17:36 geschreven door Jules
0 1 2 3 4 5 - Gemiddelde waardering: 4/5 - (7 Stemmen)
Tags:bewegen, dehydratatie, handschoenen, kachel, koude handen, koude, lichaamstemperatuur, onderkoeling, sterkedrank, temperatuurschommelingen, verse groenten en fruit, vocht, warme dranken, winter, zweten


06-01-2010

Failure to detect the novel retrovirus XMRV in chronic fatigue syndrome
Failure to detect the novel retrovirus XMRV
in chronic fatigue syndrome
CFIDS Association statement :
'
XMRV negative results
emphasize need for robust replication study
'
Dr Suzanne Vernon, scientific director - The CFIDS Association of America website, Tuesday, 05 January 2010
Suzanne D. Vernon, PhD, earned her doctorate in virology at the University of Wisconsin at Madison and worked in public health research on infectious diseases at the U.S. Centers for Disease Control and Prevention for 17 years before joining the CFIDS Association of America's staff as scientific director in 2007.
She has more than 70 peer-reviewed scientific publications on topics including human immunodeficiency virus, human papillomavirus, cervical cancer and chronic fatigue syndrome.
Dr. Vernon has initiated and participated in numerous international and multidisciplinary research collaborations and she now leads the CFIDS Association's research program.
The CFIDS Association of America is the nation's largest philanthropic supporters of CFS research.
A study testing for evidence of XMRV infection in CFS patients in the United Kingdom has reported negative results.
This is the first publication following the article in the top-ranked journal Sciencefrom researchers at the Whittemore Peterson Institute, the National Cancer Institute and Cleveland Clinic that garnered worldwide attention from the media and scientific community.
The new report, published Jan. 6, 2010, in the open access online journal PLoS ONE, failed to detect XMRV in CFS, but should not be considered a valid attempt to replicate the findings described by Lombardi et al., in the Oct.8, 2009, Science article 'Detection of an infectious retrovirus, XMRV, in blood cells of patients with chronic fatigue syndrome' (1).
The PLoS ONE paper by Otto Erlwein, Steve Kaye, Myra O. McClure, Jonathan Weber, Gillian Wills, David Collier, Simon Wessely and Anthony Cleare is titled, "Failure to Detect the Novel Retrovirus XMRV in Chronic Fatigue Syndrome" (2).
The investigators tested peripheral blood DNA from 186 routine clinic attendees who met 1994 (Fukuda) CFS case definition criteria and were well-characterized from participation in prior neuroendocrine and cognitive behavioral therapy studies.
These 186 CFS patients were reported to be unwell for a median of four years with high levels of fatigue and disability.
This team of researchers used a special type of DNA "xeroxing" called nested polymerase chain reaction (PCR) to amplify specific segments of the XMRV proviral DNA from the genomic DNA obtained from these 186 CFS subjects.
In essence, they were looking to see if XMRV genetic material had integrated into human genetic material, which is a key characteristic of retroviral infection.
The experiment included positive, negative and contamination controls, but did not test any samples taken from healthy subjects.
The samples were coded so that the origin of the DNA was not known to the person conducting the PCR assays.
XMRV was not detected in any of the 186 samples.
Can this study be considered comparable to the results published by Lombardi et al., in Science ?
In short, no.
Both studies included CFS patients defined by the 1994 case definition criteria, but this is where the comparability ends.
Here are some of the ways the PLoS ONE and Science methods differ :
the blood was collected from CFS patients in different types of blood collection tubes.

the genomic DNA was extracted and purified using different techniques.

the amount of genomic DNA included in the amplification assay was different.

different primer sequences were used that amplified different regions of the XMRV proviral DNA.

the conditions of the PCR amplification assay were different – from the numbers of cycles, to the type of polymerase used.
Should these differences affect an investigator's ability to detect XMRV ?
To a microbiologist with experience handling samples and studying various infectious agents (as I am), these variances in procedure could make the difference between detecting XMRV or not.
It very well could be true that XMRV is not present in the U.K. as Erlwein et al. suggest in their discussion, but it is also possible that the technique used in the PLoS ONE paper was suboptimal due to the different methods employed, when compared to the original experiments conducted by Lombardi et al.
The U.S. Department of Health and Human Services Blood XMRV Scientific Research Working Gropup is conducting a rigorous study to detect XMRV.
Multiple laboratories will standardize methods to optimize sensitive detection of XMRV proviral DNA and viral RNA and then, once methods are standardized, these same laboratories will test coded panels of blood samples obtained from healthy blood donors and CFS patients.
We look forward to the results of this study and urge that it be completed expeditiously, especially in light of this report from the U.K.
In the meantime, be prepared to read about more studies with conflicting findings.
Rather than simply accept or dismiss new information, we will help make sense of why discrepant results occur.
Perhaps the most important statement in the PLoS ONE paper is the acknowledgement by this group of investigators that CFS is an incapacitating organic disease affecting millions of people worldwide.
Once XMRV detection methods are optimized and made widely available, we encourage this group of researchers to take another look at XMRV as a possible explanation for the organic basis of CFS in the U.K.
Citations
Detection of an infectious retrovirus, XMRV, in blood cells of patients with chronic fatigue syndrome
Vincent C. Lombardi,1,* Francis W. Ruscetti,2,* Jaydip Das Gupta,3 Max A. Pfost,1 Kathryn S. Hagen,1 Daniel L. Peterson,1 Sandra K. Ruscetti,4 Rachel K. Bagni,5 Cari Petrow-Sadowski,6 Bert Gold,2 Michael Dean,2 Robert H. Silverman,3 Judy A. Mikovits1 - 1 Whittemore Peterson Institute, Reno, NV 89557, USA - 2 Laboratory of Experimental Immunology, National Cancer Institute–Frederick, Frederick, MD 21701, USA - 3 Department of Cancer Biology, The Lerner Research Institute, The Cleveland Clinic Foundation, Cleveland, OH 44195, USA - 4 Laboratory of Cancer Prevention, National Cancer Institute–Frederick, Frederick, MD 21701, USA - 5 Advanced Technology Program, National Cancer Institute–Frederick, Frederick, MD 21701, USA - 6 Basic Research Program, Scientific Applications International Corporation, National Cancer Institute–Frederick, Frederick, MD 21701, USA - * These authors contributed equally to this work - To whom correspondence should be addressed : judym@wpinstitute.org - Originally published in Science Express on 8 October 2009 - Science 23 October 2009:Vol. 326. no. 5952, pp. 585 – 589
Chronic fatigue syndrome (CFS) is a debilitating disease of unknown etiology that is estimated to affect 17 million people worldwide.
Studying peripheral blood mononuclear cells (PBMCs) from CFS patients, we identified DNA from a human gammaretrovirus, xenotropic murine leukemia virus–related virus (XMRV), in 68 of 101 patients (67%) as compared to 8 of 218 (3.7%) healthy controls.
Cell culture experiments revealed that patient-derived XMRV is infectious and that both cell-associated and cell-free transmission of the virus are possible.
Secondary viral infections were established in uninfected primary lymphocytes and indicator cell lines after their exposure to activated PBMCs, B cells, T cells or plasma derived from CFS patients.
These findings raise the possibility that XMRV may be a contributing factor in the pathogenesis of CFS.
Cfr. :
- http://www.sciencemag.org/cgi/content/abstract/sci;326/5952/585
- http://www.sciencemag.org/cgi/content/abstract/1179052

Failure to detect the novel retrovirus XMRV in chronic fatigue syndrome
Otto Erlwein, Steve Kaye, Myra O. McClure, Jonathan Weber, Gillian Wills, David Collier, Simon Wessely, Anthony Cleare - PLoS ONE, Vol. 5, No. 1. (6 January 2010), e8519
In October 2009 it was reported that 68 of 101 patients with chronic fatigue syndrome (CFS) in the US were infected with a novel gamma retrovirus, xenotropic murine leukaemia virus-related virus (XMRV), a virus previously linked to prostate cancer.
This finding, if confirmed, would have a profound effect on the understanding and treatment of an incapacitating disease affecting millions worldwide.
We have investigated CFS sufferers in the UK to determine if they are carriers of XMRV.
Cfr. :
- http://meagenda.wordpress.com/2010/01/06/abstract-paper-failure-to-detect-the-novel-retrovirus-xmrv-in-chronic-fatigue-syndrome/
- http://www.plosone.org/article/info:doi/10.1371/journal.pone.0008519
Cfr. : http://www.meassociation.org.uk/index.php?option=com_content&view=article&id=1128:xmrv-negative-results-emphasize-need-for-robust-replication-study&catid=30:news&Itemid=161

Cfr. ook :
A new virus for old diseases ?
John M. Coffin1 and Jonathan P. Stoye2 - 1 Department of Molecular Microbiology, Tufts University, Boston, MA 02111, USA - 2 National Institute for Medical Research, Mill Hill, London NW4 1AA, UK – E-mail : john.coffin@tufts.edu - Originally published in Science Express on 8 October 2009, Science 23 October 2009:Vol. 326. no. 5952, pp. 530 – 531
There is little consensus in the medical community on whether chronic fatigue syndrome is a distinct disease.
As its name implies, the condition is characterized by debilitating fatigue persisting for many years and it affects as much as 1% of the world's population.
Although chronic inflammation is often found in these patients, no infectious or toxic agent has been clearly implicated in this disease, which is diagnosed largely by excluding other conditions that cause similar symptoms (cfr. 'Failure to detect the novel retrovirus XMRV in chronic fatigue syndrome ' at : http://www.plosone.org/article/info:doi/10.1371/journal.pone.0008519 -).
On page 585 of this issue, Lombardi et al. (cfr. 'Detection of an infectious retrovirus, XMRV, in blood cells of patients with chronic fatigue syndrome' : http://www.sciencemag.org/cgi/content/abstract/sci;326/5952/585 -) describe the detection of xenotropic murine leukemia virus–related virus (XMRV) in about two-thirds of patients diagnosed with chronic fatigue syndrome.
Both laboratory and epidemiological studies are now needed to determine whether this virus has a causative role, not only in this disease, but perhaps in others as well.
Cfr. : http://www.sciencemag.org/cgi/content/summary/sci;326/5952/530

I'm so tired - Is chronic fatigue syndrome caused by a retrovirus ?
Jonathan Silver, MD - Journal Watch Psychiatry December 14, 2009 - Covering Science 2009 Oct 23; 326:585
Researchers find a promising association but not causation — at least not yet.
Cfr. : http://psychiatry.jwatch.org/cgi/content/citation/2009/1214/4



06-01-2010 om 19:21 geschreven door Jules
0 1 2 3 4 5 - Gemiddelde waardering: 0/5 - (0 Stemmen)
Tags:B cells, blood cells, CFS, chronic fatigue syndrome, DNA, fatigue, peripheral blood mononuclear cells (PBMCs), plasma, T cells, virology, virus, xenotropic murine leukemia virus–related virus (XMRV), XMRV infection, XMRV



| | |
| --- | --- |
| | |

Gastenboek


Druk op onderstaande knop om een berichtje achter te laten in mijn gastenboek