Gastenboek


Druk oponderstaande knop om een berichtje achter te laten in mijn gastenboek


18-11-2009

Infection as one possible cause of fibromyalgia - Part VII
Infection as one possible cause of fibromyalgia

Part VII
Gulf War Syndrome finally declared real - Illness caused by exposure to pesticides and other neurotoxic chemicals
Boston University School of Public Health
Cfr. : http://www.prohealth.com/me-cfs/library/showArticle.cfm?libid=14093

Gulf War veterans - Evidence for chromosomal alterations and their significance
Nigs J, Nicolson GL - J Chronic Fatigue Syndr 2004; 12(1):79-83
Cfr. : http://direct.bl.uk/bld/PlaceOrder.do?UIN=159100350&ETOC=RN&from=searchengine

Health and exposures oT United Kingdom Gull war veterans - Part II - The relation of health to exposure
Cherry N. Creed 1'. Sii man A, Dunn G. Baxter G, S medley J. et al. - J. Occup. Environ. Med, 2001;58:299-306

Health of UK servicemen who served in the Persian Gulf War
Unwin C, Blatchley N, Coker W, Ferry S, Hotopf M, Hull L et al. Lancet, 1999;353:169-178
Cfr. : http://www.thelancet.com/journals/lancet/article/PIIS0140-6736(98)11338-7/abstract

Hepatitis C virus infection in Italian patients with fibromyalgia
C. Palazzi1, E. D'Amico2, S. D'Angelo3, 5, A. Nucera4, A.Petricca1 and I.Olivieri3 – 1 Division of Rheumatology, Villa Pini Clinic, Chieti, Italy – 2 Liver Unit, Spirito Santo Hospital, Pescara, Italy – 3 Rheumatology Department of Lucania, S. Carlo Hospital of Potenza and Madonna delle Grazie Hospital of Matera, Potenza, Italy – 4 Section of Medical Statistics & Epidemiology, Department of Health Sciences, University of Pavia, Pavia, Italy – 5 Rheumatology Department of Lucania, San Carlo Hospital, Contrada Macchia Romana, Via Potito Petrone—Padiglione E, 85100 Potenza, Italy - Clin Rheumatol. 2008 Jan; 27(1):101-3. Epub 2007 Oct 18
We evaluated the prevalence of hepatitis C virus (HCV) infection in Italian patients suffering from fibromyalgia (FM), in comparison with patients affected by non-HCV related rheumatic degenerative disorders.
Consecutive patients with FM and a statistically comparable group of patients suffering from peripheral osteoarthritis (OA) or sciatica due to L4-L5 or L5-S1 herniated disc were tested for HCV infection with a third-generation microparticle enzyme immunoassay (MEIA).
In the positive cases, a third-generation recombinant immunoblot assay (RIBA) confirmatory test and serum HCV-RNA test were performed.
Fisher's exact test was performed to compare the prevalence of HCV infection (MEIA- and RIBA-positive results) obtained in the two enrolled groups.
Enrolled were 152 subjects suffering from FM and 152 patients with peripheral OA or sciatica.
Anti-HCV antibodies were found in 7/152 (4.6%) patients suffering from FM and in 5/152 (3.3%) of control subjects.
No statistically significant differences in HCV prevalence were detected between cases and controls.
Our present report does not confirm previous data indicating an increased prevalence of HCV in FM patients and does not seem to support a significant pathogenetic role of HCV under this condition.
Cfr. : http://www.springerlink.com/content/126w3638641h7204/

High frequency of systemic mycoplasmal infections in Gulf War veterans and civilians with Amyotrophic Lateral Sclerosis (ALS)
Nicolson GL, Berns P, Nasralla M, Haier J, Pomfret J - J Clin Neurosci 2002; 9:525-529
Cfr. : http://www.ncbi.nlm.nih.gov/pubmed/12383408

High prevalence of mycoplasmal infections among European Chronic Fatigue Syndrome patients - Examination of four Mycoplasma species in Chronic Fatigue Syndrome patients
Nijs J, Nicolson GL, De Becker P, Coomans D, De Meirleir K - FEMS Immunol Med Microbiol 2002; 34:209-214
Cfr. : http://www.ncbi.nlm.nih.gov/pubmed/12423773

High prevalence of mycoplasmal infections in symptomatic (Chronic Fatigue Syndrome) family members of mycoplasma-positive Gulf War Illness patients
Nicolson GL, Nasralla M, Nicolson NL, Haier J - J Chronic Fatigue Syndr 2003; 11(2):21-36
Cfr. : http://128.121.104.17/cfs-inform/Mycoplasma/nicolson.etal03.pdf

Higher prevalence of fibromyalgia in patients infected with human T cell lymphotropic virus type I
Cruz BA; Catalan-Soares B; Proietti F, Rheumatology Department, Biocor Instituto, Nova Lima, Minas Gerais, Brazil : boriscruz@terra.com.br - J Rheumatol. 2006 Nov;33(11):2300-3 - PMID : 17086610
Objective - Inflammatory rheumatic conditions including rheumatoid arthritis and Sjogren's syndrome have been reported in individuals infected with human T cell lymphotropic virus type I (HTLV-I).
Other chronic lymphotropic virus infections such as hepatitis C and human immunodeficiency virus are associated with fibromyalgia (FM).
There are no reports about the association between HTLV-I infection and FM.
We evaluated the association between FM and HTLV-I infection.
Methods - We conducted a case-control study with prevalent cases.
Ex-blood donation candidates with HTLV-I infection from a blood bank cohort and healthy blood donors as a control group, were submitted to rheumatologic evaluation to compare the prevalence of FM.
The following covariables were also evaluated: other rheumatic diseases, age, sex, personal income, level of education and depression.
Results - One hundred individuals with HTLV-I infection and 62 non-infected blood donors were studied.
Thirty-eight (38%) HTLV-I infected individuals and 3 (4.8%) individuals from the control group presented the diagnosis of FM (OR 12.05, 95% CI 3.53-41.17).
Other rheumatic diseases were also more prevalent in the infected group (37% vs 12.9%; OR 3.80, 95% CI 1.63-8.86).
In multivariate analysis adjusted by the covariables, the association between HTLV-I and FM was statistically significant (OR 9.14, 95% CI 2.42-34.52).
Conclusion - Our study shows a greater prevalence of FM in HTLV-I infected individuals, suggesting that FM may be associated with this viral infection.
Cfr. : http://www.uptodate.com/patients/content/abstract.do;jsessionid=21CED400A6252607545D
B5AC431EF284.1102?topicKey=~IVIndOU9abHZK_&refNum=11

How chlamydia pneumoniae causes such a plethora of diseases
Cpnhelp.org, 2006-2-24
Cfr. : http://www.cpnhelp.org/how_chlamydia_pneumoniae_

Identification and treatment of chronic infections in CFIDS, fibromyalgia sydrome and rheumatoid arthritis patients that cause morbidity and illness progression
Prof. Garth Nicolson - Doctor's Educational Booklet, CFIDS Assoc. of America, 1998
Cfr. : www.immed.org/treatment%20considerations/CFIDS_Chron%5B1%5D.99.5.18.rtf

Identification and treatment of chronic infections in CFIDS, fibromyalgia syndrome and rheumatoid arthritis
G.L. Nicolson, CFIDS Chronicle 1999; 12(3): 19-21
Cfr. :
- http://www.immed.org/illness/fatigue_illness_research.html
- http://www.rain-tree.com/mycoresearch.htm

Identification of mycoplasma fermentans in synovial fluid samples from arthritis patients with inflammatory disease
Johnson S, Sidebottom D, Bruckner F, Collins D - Journal of Clinical Microbiology 2000; 38: 90-3
Cfr. : http://jcm.asm.org/cgi/content/abstract/38/1/90

Illness, cytokines and depression
Yirmiya R, Pollak Y, Morag M, Reichenberg A, Barak O, Avitsur R, Shavit Y, Ovadia H, Weidenfeld J, Morag A, Newman ME, Pollmächer T, Department of Psychology, Hebrew University, Hadassah Hospital, Jerusalem, Israel : msrazy@mscc.huji.ac.il - Ann N Y Acad Sci. 2000;917:478-87 - PMID: 11268375
Various medical conditions that involve activation of the immune system are associated with psychological and neuroendocrine changes that resemble the characteristics of depression.
In this review we present our recent studies, designed to investigate the relationship between the behavioral effects of immune activation and depressive symptomatology.
In the first set of experiments, we used a double-blind prospective design to investigate the psychological consequences of illness in two models : (1) vaccination of teenage girls with live attenuated rubella virus and (2) lipopolysaccharide (LPS) administration in healthy male volunteers.
In the rubella study, we demonstrated that, compared to control group subjects and to their own baseline, a subgroup of vulnerable individuals (girls from low socioeconomic status) showed a significant virus-induced increase in depressed mood up to 10 weeks after vaccination.
In an ongoing study on the effects of LPS, we demonstrated significant LPS-induced elevation in the levels of depression and anxiety as well as memory deficits.
These psychological effects were highly correlated with the levels of LPS-induced cytokine secretion.
In parallel experiments, we demonstrated in rodents that immune activation with various acute and chronic immune challenges induces a depressive-like syndrome, characterized by anhedonia, anorexia, body weight loss and reduced locomotor, exploratory and social behavior.
Chronic treatment with antidepressants (imipramine or fluoxetine) attenuated many of the behavioral effects of LPS, as well as LPS-induced changes in body temperature, adrenocortical activation, hypothalamic serotonin release and the expression of splenic
TNF-alpha mRNA. Taken together, these findings suggest that cytokines are involved in the etiology and symptomatology of illness-associated depression.
Cfr. : http://www.ncbi.nlm.nih.gov/pubmed/11268375

Immune cell apoptosis and chronic fatigue syndrome
Frémont M, D'Haese A, Roelens S, De Smet K, Herst CV, Englebienne P – In : 'Chronic Fatigue Syndrome - A biological approach' - Englebienne P, De Meirleir K, editors - Boca Raton: CRC Press 2002, p. 131-74
Cfr. : http://www.ncf-net.org/forum/TotalExposure.htm

Immunology of chronic fatigue syndrome – Review
R. Patarca et al. - J. Chronic Fatigue Syndr. 2000; 6(3/4): 69-107
Cfr. : http://www.immed.org/illness/fatigue_illness_research.html

Immunophenotyping predictive of mycoplasma infection in patients with chronic fatigue syndrome
Nijs J, Coomans D, Nicolson GL, De Becker P, Demanet C, De Meirleir K - J Chronic Fatigue Syndr 2003; 11(2):51-70
Cfr. : http://www.cfids-cab.org/cfs-inform/Mycoplasma/nijs.etal03.txt

In fibromyalgia antibiotic therapy is not indicated
Dtsch Med Wochenschr. 2002 Jun 7; 127(23):1273-4
Cfr. : http://www.ncbi.nlm.nih.gov/pubmed/12053289

Increased rates of fibromyalgia following cervical spine injury - A controlled study of 161 cases of traumatic injury
Dr. D. Buskila (1997)
Cfr. :
- http://www.ncbi.nlm.nih.gov/pubmed/9082932
- http://www3.interscience.wiley.com/journal/112213094/abstract?CRETRY=1&SRETRY=0

Interferon-alpha-induced changes in tryptophan metabolism - Relationship to depression and paroxetine treatment
Capuron L, Neurauter G, Musselman DL, Lawson DH, Nemeroff CB, Fuchs D, Miller AH, Department of Psychiatry and Behavioral Sciences, Emory University School of Medicine, Atlanta, Georgia 30322, USA - Biol Psychiatry. 2003 Nov 1;54(9):906-14 - PMID: 14573318
Background - Tryptophan (TRP) degradation into kynurenine (KYN) by the enzyme, indoleamine-2,3-dioxygenase, during immune activation may contribute to development of depressive symptoms during interferon (IFN)-alpha therapy.
Methods - Twenty-six patients with malignant melanoma were randomly assigned in double-blind fashion to receive either placebo or paroxetine, beginning 2 weeks before IFN-alpha treatment and continuing for the first 12 weeks of IFN-alpha therapy.
At treatment initiation and at 2, 4, and 12 weeks of IFN-alpha treatment, measurements of TRP, KYN and neopterin (a marker of immune activation), were obtained, along with structured assessments of depression, anxiety and neurotoxicity.
Results - Regardless of antidepressant treatment status, all patients exhibited significant increases in KYN, neopterin and the KYN/TRP ratio during IFN-alpha therapy.
Among antidepressant-free patients, patients who developed major depression exhibited significantly greater increases in KYN and neopterin concentrations and more prolonged decreases in TRP concentrations than did nondepressed, antidepressant-free patients.
Moreover, in antidepressant-free patients, decreases in TRP correlated with depressive, anxious and cognitive symptoms, but not neurovegetative or somatic symptoms.
No correlations were found between clinical and biological variables in antidepressant-treated patients.
Conclusions - The results suggest that reduced TRP availability plays a role in IFN-alpha-induced depressive symptoms, and paroxetine, although not altering the KYN or neopterin response to IFN-alpha, attenuates the behavioral consequences of IFN-alpha-mediated TRP depletion.
Cfr. : http://www.ncbi.nlm.nih.gov/pubmed/14573318

Interrelations between fibromyalgia, thyroid autoantibodies and depression
Ribeiro LS; Proietti FA, Department of Rheumatology, Governador Israel Pinheiro Hospital, Belo Horizonte, Brazil : luizseveriano@brfree.com.br - J Rheumatol. 2004 Oct;31(10):2036-40 - PMID :15468372
Objective - To detect and quantify the association between fibromyalgia (FM) and thyroid autoimmunity.
Methods - This cross-sectional study comprised 146 women with FM and 74 case-controls, all 18 years of age or older.
FM was diagnosed according to the American College of Rheumatology 1990 classification criteria.
The Mini-International Neuropsychiatric Interview (MINI) was applied for the diagnosis of depression, previously considered as an important confounding factor.
Thyroid autoimmunity was defined as the occurrence of detectable antithyroid peroxidase antibodies and/or antithyroglobulin antibodies by the immunometric assay.
Cases of diffuse connective tissue diseases and thyroid dysfunctions (hypo or hyperthyroidism) were excluded in both groups.
Results - Univariate analysis detected an association between FM and thyroid autoimmunity (odds ratio, OR = 3.87, 95% confidence interval, CI = 1.54-10.13), depression (OR = 3.94, 95% CI = 1.97-7.93) and age (OR = 1.04, 95% CI = 1.01-1.07).
In the final logistic regression model, after adjustment for depression and age, the association between FM and thyroid autoimmunity was strengthened (OR = 4.52, 95% CI = 1.86-11.0).
Conclusion - Our results suggest an association between FM and thyroid autoimmunity.
Cfr. : http://www.uptodate.com/patients/content/abstract.do;jsessionid=21CED400A6252607545D
B5AC431EF284.1102?topicKey=~IVIndOU9abHZK_&refNum=12

Interviewing Prof. Garth Nicolson - CFS National Radio Program
Dr. Roger G. Mazlen interviewing Prof. Garth Nicolson, 11/21/00
Cfr. : http://www.immed.org/whatsnew/CFSRadioProgNov99.html

Is RA27/3 rubella immunization a cause of chronic fatigue ?
Allen AD, Biomedical Sciences Division, Algorithms, Incorporated, Northridge, California 91325 - Med Hypotheses. 1988 Nov;27(3):217-20 - PMID: 3211019
Patients with chronic fatigue syndromes (primary fibrositis syndrome, major affective disorder etc) have elevated IgG serum antibodies to multiple common viruses.
Only IgG rubella antibodies are positively correlated with the intensity of symptoms and have a height that is clearly significant compared to healthy controls.
The lymphotropic properties of the rubella virus could account for the multiple elevated antibodies.
Adult women are over-represented in the population of patients with chronic fatigue and are especially susceptible to developing such symptoms following exposure to attenuated rubella virus.
A new more potent strain of live rubella vaccine (strain RA27/3) was introduced in 1979.
Within three years reports of patients with chronic fatigue began surfacing in the literature.
Considering all this, the possible role of rubella immunization in the etiology of chronic fatigue syndromes deserves further study.
Cfr. : http://www.ncbi.nlm.nih.gov/pubmed/3211019?ordinalpos=1&itool=EntrezSystem2.PEntrez.Pubmed.Pubmed_ResultsPanel.Pubmed_SingleIt
emSupl.Pubmed_Discovery_RA&linkpos=1&log$=relatedarticles&logdbfrom=pubmed

Is there a biologic connection between inflammatory disease and depression ?
Colby Stong - NeuroPsychiatry Reviews, September 2004, Vol. 5, No.7
Nearly a third of patients with an inflammatory disease may develop depression, which until recently has been attributed to their inability to cope with the disease.
However, research on patients who are aided via immunotherapy has challenged this theory.
Robert Dantzer, DVM, PhD, and Keith Kelley, PhD, believe that they have found strong evidence of a relationship between a molecular pathway in the brain and development of psychopathology.
"Depression is a risk factor for a bad outcome," said Dr. Dantzer in an interview with Neuropsychiatry Reviews : "What our research is showing is that you have to put everything in a different perspective. The idea is that the depression is linked biologically to the disease. It is not just the way that the molecules are involved in the disease process but [that] the physiology of the disease acts on the brain and is responsible for depression. Actually, the severity of the disease will result in a higher risk for depression. So it's a mirror image of the usual interpretation that people give of the association between depression and disease".
Dr. Dantzer is an Adjunct Professor of Psychoneuroimmunology in the Department of Animal Sciences, University of Illinois at Urbana–Champaign and Director of the Laboratory of Integrative Neurobiology at the University of Bordeaux, France.
The prevalence of depression in the general population is about 3% to 5%.
In patients with chronic inflammation—such as occurs with coronary heart disease or type 2 diabetes mellitus—the prevalence of depression increases to between 12% and 30%.
Immunotherapy, which involves the injection of cytokines, also causes depression in about a third of patients, noted Dr. Dantzer. Symptoms of depression begin within days to weeks of treatment and disappear when the treatment ends.
Thus, Dr. Dantzer wanted to help patients avoid depression while they still benefited from the immune-boosting effects of cytokine treatments.
Tryptophan, cytokines and depression
Drs. Dantzer and Kelley conducted a series of experiments on mice to show how cytokine treatment causes serotonin depletion.
They hypothesized that cytokines suppress serotonin by activating the enzyme indoleamine-2,3-dioxygenase (IDO) that catabolizes tryptophan.
Dr. Dantzer explained that in the brain, IDO prevents tryptophan from being turned into serotonin, which causes decreased levels of serotonin and leads to the symptoms of depression.
"From clinical studies, we have learned that depressed patients either suffering from chronic inflammatory disorders or who are treated with cytokines have decreased plasma levels of tryptophan," he said : "Second, we have observed that the enzyme responsible for that is induced not only at the periphery but in the brain".
Dr. Dantzer pointed out that his current research is built on a concept that he had ignored a few years ago, which is the fact that the brain is representing what is going on in the body—"what we already knew for quite a long time, but in terms of inflammation and it is doing that with the same molecules as the ones that are promoting inflammation at the periphery. If you have an inflammatory response in your body, it will be represented in the brain with exactly the same molecules that in your body are responsible for inflammation. This normally is responsible for what we call sickness behavior—why you feel sick and behave in a sick way when you are ill".
On target for new treatments
Dr. Dantzer said that if his hunches are correct, then logical targets for decreasing the risk of depression in patients with inflammatory disorders are the cytokine system or the IDO enzyme to avoid both the decrease in serotonin and the generation of neuroactive compounds derived from tryptophan.
For example, he said, antioxidants may be used in an effort to decrease free radicals, which may enhance the IDO activation.
By suppressing the IDO activity, more tryptophan should be available to be converted to serotonin, he theorized.
If antioxidant treatment proves effective in the mice, then humans eventually may benefit from the approach.
"The main potential of clinical application is the discovery of new targets for drugs aiming at decreasing the risk of developing mood disorders when you are sick," he said.
Treating all patients who will undergo interferon therapy with an antidepressant is not necessarily the right preventive solution, stressed Dr. Dantzer.
It is not yet known whether antidepressant treatment will affect interferon treatment for the disease, he said—"in this case, the immune cells of the body and their ability to kill tumor cells. You are preventing the occurrence of depression with an antidepressant treatment, but at the same time this antidepressant treatment could also act on immune cells so that they are less able to do what they are supposed to do. My own advice would be to tell the clinician to try to identify those patients who are at risk for developing depression. We know that patients who are at risk for developing depression are already high in terms of depressed moods".
Suggested reading
- Interferon-alpha-induced changes in tryptophan metabolism - Relationship to depression and paroxetine treatment - Capuron L, Neurauter G, Musselman DL et al. - Biol Psychiatry. 2003;54:906-914 at : http://www.ncbi.nlm.nih.gov/pubmed/14573318
- Baseline mood and psychosocial characteristics of patients developing depressive symptoms during interleukin-2 and/or interferon-alpha cancer therapy - Capuron L, Ravaud A, Miller AH, Dantzer R - Brain Behav Immun. 2004;18:205-213 at : http://www.ncbi.nlm.nih.gov/pubmed/15050647 -.
Cfr. : http://www.neuropsychiatryreviews.com/sep04/sep04_npr_inflammatory.html

Lack of association of fibromyalgia with hepatitis C virus infection
Narváez J, Nolla JM, Valverde-García J, Department of Rheumatology, Hospital Universitario de Bellvitge-IDIBELL, Barcelona, Spain : 31577edd@comb.es - J Rheumatol. 2005 Jun;32(6):1118-21 - PMID: 15940777
Objective - An association between chronic hepatitis C virus (HCV) infection and fibromyalgia (FM) remains controversial, mainly because previous studies were based on prevalent case series or comparisons with less than optimal control groups.
We investigated whether there might be an association between chronic HCV infection and FM.
Methods - We prospectively investigated the prevalence of HCV infection in a series of 115 patients with FM and compared it with the prevalence in the general population of our community reported in the same period.
Anti-HCV antibodies were determined by ELISA.
In positive cases, infection was confirmed by recombinant immunoblot assay and HCV-RNA was detected by PCR using sera samples.
Differences between prevalence rates were assessed by chi-square test.
Results - : HCV infection was confirmed in 3 of 115 patients with FM (2.6%).
Two of these patients (1.74%) had active HCV infection shown by the presence of viral RNA in serum, whereas HCV RNA was undetectable in the third patient.
In these cases, liver disease had previously been undiagnosed and HCV infection manifested itself by extrahepatic symptoms.
Although the prevalence of HCV infection was slightly higher in patients with FM than in the general population in the age groups 25-44 and 45-64 years, when we compared prevalence rates in the total group and the different age groups, no statistically significant differences were found.
Conclusion - From our results, it seems unlikely that HCV infection plays a pathogenic role in FM.
Cfr. : http://www.ncbi.nlm.nih.gov/pubmed/15940777

Lipid replacement and antioxidant nutritional therapy for restoring mitochondrial function and reducing fatigue in chronic fatigue syndrome and other fatiguing illnesses
Nicolson and Ellithorpe - Journal of Chronic Fatigue Syndrome 2006; 13(1): 57-68
Cfr. : http://www.informaworld.com/smpp/content~content=a902814046~db=all~jumptype=rss

Lipid replacement as an adjunct therapy in chronic fatigue, anti-aging and restoration of mitochondrial function
Nicolson GL - JANA 2003; 6(3):22-28
Cfr. : http://www.ntfactor.com/our-science/lipid-replacement-therapy/

Management of post-viral fatigue syndrome
Wessely S, David A, Butler S, Chalder T - Br J Gen Pract. 1990 Feb;40(331):82-3 - PMID: 2107860
Cfr. : http://www.ncbi.nlm.nih.gov/pubmed/2107860?ordinalpos=1&itool=EntrezSystem2.PEntrez.Pubmed.Pubmed_ResultsPanel.Pubmed_SingleIt
emSupl.Pubmed_Discovery_PMC&linkpos=2&log$=citedinpmcarticles&logdbfrom=pubmed
This article is a comment on:
Patient management of post-viral fatigue syndrome
Ho-Yen DO, Raigmore Hospital, Inverness - Br J Gen Pract. 1990 Jan;40(330):37-9 - PMID: 2107839
A case definition for post-viral fatigue syndrome is proposed within which various subgroups of patients exist.
Any one treatment may not apply to all the subgroups.
In particular, patients' experiences do not show that avoidance of exercise is maladaptive.
It is proposed that the recently ill often try to exercise to fitness whereas the chronically ill have learnt to avoid exercise.
Recovery is more likely to be achieved if patients learn about their illness and do not exhaust their available energy.
Cfr. : http://www.ncbi.nlm.nih.gov/pubmed/2107839?itool=EntrezSystem2.PEntrez.Pubmed.Pubmed_ResultsPanel.Pubmed_RVAbstract

Melatonin as antioxidant under pathological processes
Cristina Tomás-Zapico, Ana Coto-Montes, Departamento de Morfología y Biología Celular, Facultad de Medicina, Universidad de Oviedo, 33006 Oviedo, Spain - Recent Patents on Endocrine, Metabolic & Immune Drug Discovery 2007, 1, 63-82 63 - © 2007 Bentham Science Publishers Ltd.
Many are the diseases which course with free radical formation.
These disorders cover a great range of fields such as neurodegenerative, immune, inflammatory and mitochondrial-related diseases.
Melatonin is the main pineal gland product and it functions as "time-giver" in the regulation of circadian rhythms, among others.
But the actions of melatonin are not only restricted to the neuroendocrine physiology.
In fact, it has been known as a radical scavenger, a role that has been deeply studied in all those conditions where free radicals are generated.
Furthermore, melatonin has been shown to act as an indirect antioxidant, since it is able to increase the activity and expression of the main antioxidant enzymes, the machinery for the glutathione synthesis and many others direct or indirectly implicated in the free radical removal.
Melatonin can also diminish the activity or expression of enzymes or factors that are considered as prooxidants.
Thus, researchers have paid attention to the possible actions of melatonin in the attenuation of those processes where free radical overproduction is implicated.
This review summarizes some of the proposed melatonin mechanisms for different free radical-dependent pathological situations, as well as some patents on melatonin significance recently reported for the treatment of attention deficit, hyperactivity disorders, stress-related diseases, chronic fatigue syndrome, diabetes, Parkinson's disease.
Alzheimer's disease, age associated cognitive dysfunction and cancer.
Full text at : http://www.bentham.org/emi/samples/emi1-1/Tom%E1s-Zapico.pdf

Melatonin inhibits expression of the inducible NO synthase II in liver and lung and prevents endotoxemia in lipopolysaccharide-induced multiple organ dysfunction syndrome in rats
Elena Crespo,* Manuel Maci´as,* David Pozo,† Germaine Escames,* Miguel Marti'n,* Francisco Vives,* Juan M. Guerrero,† and Dari'o Acun˜ A-Castroviejo*,1 - *Departamento de Fisiologı´a, Instituto de Biotecnologı´a, Universidad de Granada, Spain - †Departamento de Bioquı´mica Me´dica y Biologı´a Molecular, Facultad de Medicina, Universidad de Sevilla, Spain - FASEB J. 13, 1537–1546 (1999)
We evaluated the role of melatonin in endotoxemia caused by lipopolysaccharide (LPS) in unanesthetized rats.
The expression of inducible isoform of nitric oxide synthase (iNOS) and the increase in the oxidative stress seem to be responsible for the failure of lungs, liver and kidneys in endotoxemia.
Bacterial LPS (10 mg/kg b.w) was i.v. injected 6 h before rats were killed and melatonin (10–60 mg/kg b.w.) was i.p. injected before and/or after LPS.
Endotoxemia was associated with a significant rise in the serum levels of aspartate and alanine aminotransferases, g-glutamyl-transferase, alkaline phosphatase, creatinine, urea, and uric acid and hence liver and renal dysfunction.
LPS also increased serum levels of cholesterol and triglycerides and reduced glucose levels.
Melatonin administration counteracted these organ and metabolic alterations at doses ranging between 20 and 60 mg/kg b.w.
Melatonin significantly decreased lung lipid peroxidation and counteracted the LPSinduced NO levels in lungs and liver.
Our results also show an inhibition of iNOS activity in rat lungs by melatonin in a dose-dependent manner.
Expression of iNOS mRNA in lungs and liver was significantly decreased by melatonin (60 mg/kg b.w., 58–65%).
We conclude that melatonin inhibits NO production mainly by inhibition of iNOS expression.
The inhibition of NO levels may account for the protection of the indoleamine against LPS-induced endotoxemia in rats.
Fullt text at : http://www.fasebj.org/cgi/reprint/13/12/1537.pdf

Migraine - A chronic sympathetic nervous system disorder
Perouta SJ - Headache. 2004 Jan;44(1):53-64 - © 2004 Blackwell Publishing
Objective - To determine the degree of diagnostic and clinical similarity between chronic sympathetic nervous system disorders and migraine.
Background - Migraine is an episodic syndrome consisting of a variety of clinical features that result from dysfunction of the sympathetic nervous system.
During headache-free periods, migraineurs have a reduction in sympathetic function compared to nonmigraineurs.
Sympathetic nervous system dysfunction is also the major feature of rare neurological disorders such as pure autonomic failure and multiple system atrophy.
There are no known reports in the medical literature, however, comparing sympathetic nervous system function in individuals with migraine, pure autonomic failure and multiple system atrophy.
Methods - A detailed review of the literature was performed to compare the results of a wide variety of diagnostic tests and clinical signs that have been described in these 3 heretofore unrelated disorders.
Results - The data indicate that migraine shares significant diagnostic and clinical features with both pure autonomic failure and multiple system atrophy, yet represents a distinct subtype of chronic sympathetic dysfunction.
Migraine is most similar to pure autonomic failure in terms of reduced supine plasma norepinephrine levels, peripheral adrenergic receptor supersensitivity and clinical symptomatology directly related to sympathetic nervous system dysfunction.
The peripheral sympathetic nervous system dysfunction is much more severe in pure autonomic failure than in migraine.
Migraine differs from both pure autonomic failure and multiple system atrophy in that migraineurs retain the ability, although suboptimal, to increase plasma norepinephrine levels following physiological stressors.
Conclusions - The major finding of the present study is that migraine is a disorder of chronic sympathetic dysfunction, sharing many diagnostic and clinical characteristics with pure autonomic failure and multiple system atrophy.
However, the sympathetic nervous system dysfunction in migraine differs from pure autonomic failure and multiple system atrophy in that occurs in an anatomically intact system.
It is proposed that the sympathetic dysfunction in migraine relates to an imbalance of sympathetic co-transmitters.
Specifically, it is suggested that a migraine attack is characterized by a relative depletion of sympathetic norepinephrine stores in conjunction with an increase in the release of other sympathetic cotransmitters such as dopamine, prostaglandins, adenosine triphosphate and adenosine.
An enhanced understanding of the sympathetic dysfunction in migraine may help to more effectively diagnose, prevent and/or treat migraine and other types of headache.
Cfr. : http://www.medscape.com/viewarticle/466937

Multiple co-infections (mycoplasma, chlamydia, human herpes virus-6) in blood of chronic fatigue syndrome patients - Association with signs and symptoms
Nicolson GL, Gan R, Haier J, The Institute for Molecular Medicine, Huntington Beach, California 92649, USA : gnicolson@immed.org - APMIS. 2003 May;111(5):557-66 - PMID: 12887507
Previously we and others found that a majority of chronic fatigue syndrome (CFS) patients showed evidence of systemic mycoplasmal infections and their blood tested positive using a polymerase chain reaction assay for at least one of the four following Mycoplasma species : M. fermentans, M. hominis, M. pneumoniae or M. penetrans.
Consistent with previous results, patients in the current study (n=200) showed a high prevalence (overall 52%) of mycoplasmal infections.
Using forensic polymerase chain reaction we also examined whether these same patients showed evidence of infections with Chlamydia pneumoniae (overall 7.5% positive) and/or active human herpes virus-6 (HHV-6, overall 30.5% positive).
Since the presence of one or more infections may predispose patients to other infections, we examined the prevalence of C. pneumoniae and HHV-6 active infections in mycoplasma-positive and -negative patients.
Unexpectedly, we found that the incidence of C. pneumoniae or HHV-6 was similar in Mycoplasma-positive and -negative patients, and the converse was also found in active HHV-6-positive and -negative patients.
Control subjects (n=100) had low rates of mycoplasmal (6%), active HHV-6 (9%) or chlamydial (1%) infections and there were no co-infections in control subjects.
Differences in bacterial and/or viral infections in CFS patients compared to control subjects were significant.
Severity and incidence of patients' signs and symptoms were compared within the above groups.
Although there was a tendency for patients with multiple infections to have more severe signs and symptoms (p<0.01), the only significant differences found were in the incidence and severity of certain signs and symptoms in patients with multiple co-infections of any type compared to the other groups (p<0.01).
There was no correlation between the type of co-infection and severity of signs and symptoms.
The results indicate that a large subset of CFS patients show evidence of bacterial and/or viral infection(s), and these infections may contribute to the severity of signs and symptoms found in these patients.
Cfr. : http://www.ncbi.nlm.nih.gov/pubmed/12887507

Multiple mycoplasmal infections detected in blood of Chronic Fatigue and Fibromyalgia Syndrome patients
Nasralla M, Haier J, Nicsolosn GL - European Journal of Clinical Microbiology and Infectious Diseases 1999; 18: 859-65
Cfr. : http://www.ncbi.nlm.nih.gov/pubmed/10691196

Multiplex PCR for the detection of Mycoplasma fermentans, M hominis and M penetrans in patients with Chronic Fatigue Syndrome, Fibromyalgia, Rheumatoid Arthritis and Gulf War Syndrome
Vojdani A, Franco AB - Journal of Chronic Fatigue Syndrome Chronic Fatigue Syndr 1999; ¾ : 187-97
Cfr. : http://www.thearthritiscenter.com/pub_multiplex.htm

Multiplex PCR for the detection of Mycoplasma fermentans, M. hominis and M. penetrans in cell cultures and blood samples of patients with Chronic Fatigue Syndrome
Choppa PC, Vojdani A, Tagle C et al. - Mol Cell Probes 1998; 12: 301-308
Cfr. : http://www.ncbi.nlm.nih.gov/pubmed/9778455

Mycoplasma infection and rheumatoid arthritis - Analysis of their relationship using immunoblotting and an ultrasensitive PCR
Hoffman RW, O'Sullivan FX, Schafermeyer KR, Moore TL, Roussell D, Watson-McKown R et al. - Arthritis and Rheumatism 1997; 40: 1219-28
Cfr. : http://compkarori.com/arthritis/pi16004.htm

Mycoplasmal Infections and Chronic /Fatigue Illness (Gulf War Illness) Associated with Deployment to Operation Desert Storm
GL Nicholson, NL Nicholson, M Nasralla - Int J Med, 1997
Cfr. : http://www.immed.org/illness/gulfwar_illness_research.html

Mycoplasmal Infections in Blood from Patients with Chronic Fatigue Syndrome, Fibromyalgia Syndrome or Gulf War Illness
G.L. Nicolson et al. - International CFS Congress, Sydney, Australia, 1998
Cfr. : http://www.immed.org/illness/fatigue_illness_research.html

Mycoplasmal infections in chronic illnesses - Fibromyalgia and Chronic Fatigue Syndromes, Gulf War Illness, HIV-AIDS and Rheumatoid Arthritis
Nicolson GL, Nasralla M, Haier J, Erwin R, Nicolson NL, Ngwenya R - Med Sentinel 1999; 4:172-176
Cfr. : http://www.immed.org/illness/fatigue_illness_research.html

Mycoplasmal infections in fatigue illnesses - Chronic Fatigue and Fibromyalgia Syndromes, Gulf War Illness and Rheumatoid Arthritis
Nicolson GL, Nasralla M, Franco AR, De Meirlier K, Nicolson NL, Ngwenya R, Haicr J - J. Chronic Fatigue Syndr, 2000;6(3):23-39
Cfr. : http://www.immed.org/illness/fatigue_illness_research.html

Mycoplasmal infections--Diagnosis and treatment of Gulf War Syndrome/CFIDS
Nicolson GL, Nicolson NL - CFIDS Chronicle 1966; 9(3):66-69
Cfr. : http://www.immed.org/illness/fatigue_illness_research.html

Mycoplasmas - The Missing Link in Fatiguing Illnesses
Michael Guthrie - Alternative Medicine; 2001; Sept: 60-70
Cfr. : http://www.prohealth.com/library/showarticle.cfm?id=3066&t=CFIDS_FM

Myofascial trigger points in intercostal muscles secondary to herpes zoster infection of the intercostal nerve
Shu-Min Chen MD, Jo-Tong Chen MD, Ta-Shen Kuan MD and Chang-Zern Hong MD, Department of Physical Medicine and Rehabilitation, National Cheng-Kung University Hospital, Tainan, Taiwan - Archives of Physical Medicine and Rehabilitation, Volume 79, Issue 3, March 1998, Pages 336-338 - © 1998 Published by Elsevier Science (USA)
Cfr. : http://www.ncbi.nlm.nih.gov/pubmed/9523788

Neuroendocrine mechanisms in fibromyalgia–chronic fatigue
Best Practice & Research Clinical Rheumatology, Volume 15, Issue 5, Pages 747-758 - © 2009 Elsevier B.V.
Fibromyalgia and chronic fatigue syndrome are poorly understood disorders that share similar demographic and clinical characteristics.
Because of the clinical similarities between both disorders it was suggested that they share a common pathophysiological mechanism, namely, central nervous system dysfunction.
This chapter presents data demonstrating neurohormonal abnormalities, abnormal pain processing and autonomic nervous system dysfunction in fibromyalgia and chronic fatigue syndrome.
The possible contribution of the central nervous system dysfunction to the development and symptomatology of these conditions is discussed.
The chapter concludes by reviewing the effect of current treatments and emerging therapeutic modalities in fibromyalgia and chronic fatigue syndrome.
Cfr. : http://linkinghub.elsevier.com/retrieve/pii/S1521694201901913

New Treatments for Chronic Infections Found in CFS, Fibromyalgia Syndrome and Gulf War Illnesses
Prof. Garth Nicolson - American Academy of Environmental Medicine Newsletter (Winter 1997)
Cfr. : http://www.prohealth.com/library/showarticle.cfm?libid=1189

No serological evidence that fibromyalgia is linked with exposure to human parvovirus B19
Narváez J, Nolla JM, Valverde J - Joint Bone Spine. 2005 Dec;72(6):592-4. Epub 2005 Mar 22 - PMID: 16376806
Cfr. : http://www.ncbi.nlm.nih.gov/pubmed/16376806

Olanzapine for the treatment of fibromyalgia symptoms
Kiser RS, Cohen HM, Freedenfeld RN, Jewell C, Fuchs PN, Texas Pain Medicine Clinic, 5327 N. Central Expressway, Dallas, TX 75205, USA - J Pain Symptom Manage. 2001 Aug;22(2):704-8
Cfr. : http://www.ncbi.nlm.nih.gov/pubmed/11495717

Patients with rheumatoid arthritis are more tender than those with psoriatic arthritis
Buskila D, Langevitz P, Gladman DD, Urowitz S, Smythe HA, University of Toronto Rheumatic Disease Unit, Wellesley Hospital, ON, Canada - J Rheumatol. 1992 Jul;19(7):1115-9 - PMID: 1512768
Articular and nonarticular tenderness was examined in 51 patients with rheumatoid arthritis (RA) and 50 patients with psoriatic arthritis (PsA) by scored palpation and dolorimeter readings.
Fifty-seven percent of patients with RA had 10 or more tender fibrositic points vs 24% of patients with PsA (p = 0.0008).
Thresholds of tenderness measured by dolorimetry of 6 fibrositic point sites were 3.97 (1.99) [mean (SD)] for RA vs 5.95 (2.28) for PsA (p less than 0.0001).
Thresholds over actively inflamed joints were 4.19 (1.53) for RA vs 6.78 (2.55) for PsA (p less than 0.0001).
In both RA and PsA, fibrositic sites were more tender than actively inflamed joints (p less than 0.0001).
Nonarticular control sites were also more tender in subjects with RA with dolorimeter thresholds at 5.99 (1.96) in RA vs 7.58 (1.60) in PsA (p less than 0.0001).
These data demonstrate that actively inflamed joints, fibrositic and control nonarticular sites were all more tender in patients with RA than PsA.
Both groups were similar in their disease duration and clinical assessments of joint inflammation and damage.
We suggest that there may be a disease specific diffuse increase in tenderness in patients with RA, which is not related to joint inflammation.
Similarly, the severity of articular inflammation may be underestimated in subjects with PsA.
Cfr. : http://www.ncbi.nlm.nih.gov/pubmed/1512768?ordinalpos=1&itool=EntrezSystem2.PEntrez.Pubmed.Pubmed_ResultsPanel.Pubmed_SingleIt
emSupl.Pubmed_Discovery_RA&linkpos=1&log$=relatedarticles&logdbfrom=pubmed

Go to Part VIII



18-11-2009 om 02:16 geschreven door Jules
0 1 2 3 4 5 - Gemiddelde waardering: 0/5 - (0 Stemmen)
Tags:pain, pesticides, poor memory, salmonella infections, sepsis, sleep disorders, trauma, upper respiratory infections, viral (HHV-6) co-infections, viral infection, XMRV virus



Infection as one possible cause of fibromyalgia - Part VIII
Infection as one possible cause of fibromyalgia

Part VIII
Persistent active human herpesvirus six (HHV-6) infections in patients with chronic fatigue syndrome
Knox KK, Brewer JH and Carrigan DR - J Chron Fatigue Syndr 1999;5:245-246
Cfr. : http://www.ncf-net.org/library/Knox-Carrigan-1998.htm

Persons with chronic conditions - Their prevalence and costs
Hoffman C, Rice D, Sung H-Y - JAMA 1996; 276:1473-1479
Cfr. : http://www.ncbi.nlm.nih.gov/pubmed/8903258
Also read the comment on this article :
The high cost of lost opportunities for prevention
Havas S - JAMA. 1997 Feb 5;277(5):375-6 - PMID: 9010165
Cfr. : http://www.ncbi.nlm.nih.gov/pubmed/9010165?itool=EntrezSystem2.PEntrez.Pubmed.Pubmed_ResultsPanel.Pubmed_RVAbstract

Phagocytes transmit Chlamydia pneumoniae from the lungs to the vasculature
Gieffers J, van Zandbergen G, Rupp J, Sayk F, Krüger S, Ehlers S, Solbach W, Maass M, Institute for Medical Microbiology and Hygiene, University of Lübeck, Ratzeburger Allee 160, 23538 Lübeck, Germany : jens.gieffers@hygiene.ukl.mu-luebeck.de - Eur Respir J. 2004 Apr;23(4):506-10 - PMID: 15083745
Chlamydia pneumoniae, a major cause of community-acquired pneumonia, primarily infects the respiratory tract.
Chronic infection of nonrespiratory sites, such as the vascular wall, the brain or blood monocytes, requires evasion from the lungs and spreading via the bloodstream.
The cell types involved in dissemination are insufficiently characterised.
In this study, New Zealand White rabbits were infected intratracheally with C. pneumoniae, and lung manifestation and systemic dissemination were monitored by polymerase chain reaction and immunohistochemistry.
Infection of the lungs was characterised by an early phase dominated by granulocytes and a late phase dominated by alveolar macrophages (AM). Granulocytes, AM and alveolar epithelial cells acted as host cells for chlamydiae, which remained detectable for up to 8 weeks.
AM transported the pathogen to the peribronchiolar lymphatic tissue and subsequently C. pneumoniae entered the spleen and the aorta via dissemination by peripheral blood monocytes.
In conclusion, Chlamydia pneumoniae-infected alveolar macrophages transmigrate through the mucosal barrier and give the pathogen access to the lymphatic system and the systemic circulation.
Infected peripheral blood monocytes are the vector system within the bloodstream and transmit the infection to the vascular wall.
This is the first description of granulocytes acting as a reservoir for Chlamydia pneumoniae early in infection.
Cfr. : http://www.ncbi.nlm.nih.gov/sites/entrez?db=pubmed&uid=15083745&cmd=showdetailview&indexed=google
Also read the comment on this article :
Chlamydia pneumoniae - Crossing the barriers ?
Blasi F, Centanni S, Allegra L - Eur Respir J. 2004 Apr;23(4):499-500 - PMID: 15083742
Cfr. : http://www.ncbi.nlm.nih.gov/pubmed/15083742?itool=EntrezSystem2.PEntrez.Pubmed.Pubmed_ResultsPanel.Pubmed_RVAbstract

Pioneering fibromyalgia doctor continues to advance understanding
The MiFio Network
Fibromyalgia, a chronic, widespread pain in muscles and soft tissues accompanied by fatigue, is a fairly common condition that does not manifest any structural damage in an organ.
Twenty-five years ago, Muhammad B. Yunus, MD and colleagues published the first controlled study of the clinical characteristics of fibromyalgia syndrome.
That seminal article, published in Seminars in Arthritis and Rheumatism, led directly to formal recognition of this disease by the medical community.
In the June 2007 issue of Seminars in Arthritis and Rheumatism, Dr. Yunus once again makes an important contribution to the field of chronic pain and fatigue by meticulously synthesizing and interpreting the extensive body of scientific literature on fibromyalgia and his own insights into the concept of central sensitivity syndromes (CSS).
Fibromyalgia, affecting approximately 2% of the US population, is an example of a class of maladies called CSS.
These diseases are based on neurochemical abnormalities and include irritable bowel syndrome, migraine and restless legs syndrome.
Incorporating a critical review of over 225 publications and the author's broad experience in fibromyalgia and related diseases, Dr. Yunus describes 13 separate conditions that are related to central sensitization (CS), where the central nervous system (spinal cord and brain) becomes extremely sensitized on certain parts of the body, so that even mild pressure or touch would cause much pain.
Such hypersensitivity may also be associated with other symptoms such as poor sleep and fatigue.
According to Dr. Yunus : "CSS are the most common diseases that are based on real neurochemical pathology and cause real pain and suffering. In some patients stress and depression may contribute to the symptoms but they are all based on objective changes in the central nervous system".
Dr. Norman L. Gottlieb, Editor of Seminars in Arthritis and Rheumatism, believes that this article "advances our understanding of fibromyalgia, unifies and advances concepts and suggests that this and several other common disorders have much in common in terms of their biopsychosocial development. This, hopefully, will expand both clinical and research interest in this group of diseases and lead to advances in therapy for many of them".
In an accompanying editorial John B. Winfield, MD, comments : "Without question, Muhammad Yunus is the father of our modern view of fibromyalgia.... Yunus, who took a rather more biological approach to fibromyalgia in the past, now emphasizes a biopsychosocial perspective. In my view, this is tremendously important because it is the only way to synthesize the disparate contributions of such variables as genes and adverse childhood experiences, life stress and distress, posttraumatic stress disorder, mood disorders, self-efficacy for pain control, catastrophizing, coping style and social support into the evolving picture of central nervous system dysfunction vis-a-vis chronic pain and fatigue ....Science and medicine now have a rational scaffolding for understanding and treating chronic pain syndromes previously considered to be 'functional' or 'unexplained.' ...Neuroscience research will continue to reveal the mechanisms of CS, but only if informed through a biopsychosocial perspective and with the interdisciplinary collaboration of basic scientists, psychologists, sociologists, epidemiologists and clinicians".
Dr. Yunus concludes that CSS is an important new concept that embraces the biopsychosocial model of disease.
He advocates further critical studies to fully test this concept which seems to have important significance for new directions for research and patient care involving physician and patient education.
"Each patient, irrespective of diagnosis," says Dr. Yunus, "should be treated as an individual, considering both the biological and psychosocial contributions to his or her symptoms and suffering".
The article is "Fibromyalgia and overlapping disorders - The unifying concept of central sensitivity syndromes" by Muhammad B. Yunus, MD, Professor of Medicine, Section of Rheumatology, The University of Illinois College of Medicine at Peoria, Peoria, Illinois (cfr. : http://cat.inist.fr/?aModele=afficheN&cpsidt=18834754 -).
The accompanying editorial is "Fibromyalgia and related central sensitivity syndromes - Twenty-five years of progress" by John B. Winfield, MD, University of North Carolina School of Medicine. Both appear in the June issue of Seminars in Arthritis and Rheumatism, Vol. 36:6, published by Elsevier (cfr. : http://www.ncbi.nlm.nih.gov/pubmed/17303220 -).
Cfr. : http://cache.mifio.com/healthmatters006.html

Population study of tender point counts and pain as evidence of fibromyalgia
Croft P, Schollum J, Silman A, Arthritis and Rheumatism Council Epidemiology Research Unit, University of Manchester - BMJ. 1994 Sep 17;309(6956):696-9 - PMID: 7950521
Objective - To determine the relation between tender points, complaints of pain and symptoms of depression, fatigue and sleep quality in the general population.
Design - Two stage cross sectional study with an initial questionnaire about pain to classify those eligible for an examination of tender points.
Setting - Two general practices in north west England.
Subjects - Stratified random sample of adults from age-sex registers.
Of the responders, 250 were selected for examination of tender points on the basis of their reported pain complaints; 177 subsequently participated.
Main outcome measures - Tender point count (0 to 18) grouped into four categories with the highest (> or = 11) corresponding to the criteria of the American College of Rheumatology for fibromyalgia.
Assessment of pain (chronic widespread, regional, none).
Measures of depression, fatigue and difficulty with sleeping.
Results - Women had a higher median tender point count (six) than did men (three).
Counts were higher in those with pain than in those who had no pain and in those with widespread compared with regional pain.
Most subjects with chronic widespread pain, however, had fewer than 11 tender points (27/45; 60%).
Two people with counts of 11 or more were in the group reporting no pain.
Mean symptom scores for depression, fatigue and sleep problems increased as the tender point count rose (P value for trend < 0.001).
These trends were independent of pain complaints.
Conclusions - Tender points are a measure of general distress.
They are related to pain complaints but are separately associated with fatigue and depression.
Sleep problems are associated with tender points, although prospective studies are needed to determine whether they cause tenderness to develop.
Fibromyalgia does not seem to be a distinct disease entity.
Cfr. : http://www.ncbi.nlm.nih.gov/pubmed/7950521?ordinalpos=1&itool=EntrezSystem2.PEntrez.Pubmed.Pubmed_ResultsPanel.Pubmed_Single
ItemSupl.Pubmed_Discovery_RA&linkpos=3&log$=relatedarticles&logdbfrom=pubmed
Also read the comment ons this article :
Chronic fatigue syndrome and fibromyalgia
Ho-Yen DO - BMJ. 1994 Dec 3;309(6967):1515 - PMID: 7804073
Cfr. : http://www.ncbi.nlm.nih.gov/pubmed/7804073?itool=EntrezSystem2.PEntrez.Pubmed.Pubmed_ResultsPanel.Pubmed_RVAbstract

Positron emission tomography in patients with fibromyalgia syndrome and healthy controls
Muhammad B. Yunus 1 *, Carter S. Young 2, S. Atezaz Saeed 1, James M. Mountz 3, Jean C. Aldag 1 - 1University of Illinois College of Medicine at Peoria - 2Methodist Medical Center of Illinois, Peoria, Illinois - 3School of Medicine, University of Pittsburgh, Pittsburgh, Pennsylvania - E-mail : Muhammad B. Yunus : Yunus@uic.edu - *Correspondence to : Muhammad B. Yunus, Department of Medicine, University of Illinois College of Medicine at Peoria, PO Box 1649, Peoria, IL 61656
Objective - Abnormal brain findings have previously been described in fibromyalgia syndrome (FMS) by single-photon-emission computed tomography.
Our goal was to investigate change in regional cerebral glucose metabolism in people with FMS by positron emission tomography (PET) using 18F-fluorodeoxyglucose (FDG).
Methods - Twelve patients with FMS and no comorbid psychiatric diagnosis and 7 healthy pain-free controls were studied with FDG-PET in a blinded manner.
Those with a psychiatric diagnosis were excluded.
Brain scans were obtained using a PET scanner.
Semiquantitative analysis of regional 18F-FDG uptake was performed in both cortical and subcortical brain structures.
Results - In the resting state, there were no significant differences in 18F-FDG uptake between patients and controls for all brain structures measured.
Conclusion - FDG-PET scan findings in FMS were not significantly different from healthy controls.
Normal results in our study may be explained by discordance between regional cerebral blood flow and regional cerebral glucose metabolism.
Cfr. : http://www3.interscience.wiley.com/journal/109582522/abstract?CRETRY=1&SRETRY=0

Reactive Fibromyalgia Syndrome"
Dr. S. Greenfield (1992)
Cfr. : http://www.ncbi.nlm.nih.gov/pubmed/1599521

Research Overview - Professor Garth Nicolson's Studies and Treatments Explained
Deborah Cooper - ImmuneSupport.com Treatment & Research Library, November 14, 2000
Cfr. : http://www.prohealth.com/library/showarticle.cfm?id=2891&t=CFIDS_FM

Review of juvenile primary fibromyalgia and chronic fatigue syndrome
Breau LM, McGrath PJ, Ju LH, Department of Psychology, Dalhousie University, Halifax, Canada - J Dev Behav Pediatr. 1999 Aug; 20(4):278-88 - PMID: 10475602
This article reviews the current literature on childhood fibromyalgia and chronic fatigue syndrome.
In doing so, it questions assumptions about the presumed nature of the disorders-that they are distinct from each other and are duplicates of their adult counterparts.
It also attempts to synthesize the available data to reach some preliminary judgments about these disorders : that fibromyalgia and chronic fatigue syndrome may be related in children and may not be duplicates of the adult disorders; that psychological and psychosocial factors are unlikely contributors to the etiology of these disorders; and that the evidence is increasingly pointing to a role for genetic factors in their etiology.
A discussion of the research into treatments for childhood fibromyalgia and chronic fatigue syndrome highlights the lack of well-designed, controlled studies.
Finally, directions for future research are offered where results of the current literature are unclear.
Cfr. : http://www.ncbi.nlm.nih.gov/pubmed/10475602?ordinalpos=1&itool=EntrezSystem2.PEntrez.Pubmed.Pubmed_ResultsPanel.Pubmed_SingleIt
emSupl.Pubmed_Discovery_RA&linkpos=4&log$=relatedreviews&logdbfrom=pubmed

Role of Mycoplasmal infections in Fatigue Illnesses - Chronic Fatigue and Fibromylagia Syndromes, Gulf War Illness and Rheumatoid Arthritis
Nicolson GL, Nasralla MY, Franco AR, De Meirleir K, Nicolson NL, Ngwenya R, Haier J - Journal of Chronic Fatigue Syndrome 2000; 6: 23-39
Cfr. : http://books.google.be/books?id=53aPzoF2a_0C&pg=PA23&lpg=PA23&dq=Role+of+Mycoplasmal+infections+in+Fatigu
e+Illnesses+-+Chronic+Fatigue+and+Fibromylagia+Syndromes,+Gulf+War+Illness+and+Rheumatoid+Arth
ritis&source=bl&ots=bSPXgey0MM&sig=VIwqfvOHKXdM5VMDk8vPWwBQv8w&hl=nl
&ei=x_oCS9mDO4ze-Qal7PkE&sa=X&oi=book_result&ct=result&resnum=4&ved=0CB4Q6AEwAw#v=onepage
&q=&f=false

Studying Tenderness - A Clue to Understanding Fibromyalgia
P Langevitz, D Buskila - Isr J Med Sci, 1992; 28:" 41-42
Cfr. : http://www.ncbi.nlm.nih.gov/pubmed/1733898

The "Chronic Active Epstein-Barr Virus Infection" Symdrome and Primary Fibromyalgia
D Buchwald, DL Goldenberg, JL Sullivan, AL Komaroff - Arth & Rhu, 1987; 30:10, 1132-1136
Cfr. : http://www.ncbi.nlm.nih.gov/pubmed/2823835

The chlamydia pneumoniae handbook
Cpnhelp.org
This "Handbook" is an attempt to organize and pull together information on Chlamydia pneumoniae, it's impact on human diseasesi and it's treatment via combined antibiotic protocolsi into a more easily accessible, organized and up to date format.
Some of the material has already been posted on www.cpnhelp.org - website and is simply linked here in a more organized way.
Some of the material in this handbook is new and represents the most current, state of the art information on Cpn, CAPi, and the various supplementsi which have been found helpful in clinical experience.
We will endeavor to update and expand the Cpn Handbook as new information becomes available.
Cfr. : http://www.cpnhelp.org/book/export/html/408

The chronic fatigue syndrome - A return to common sense
Denman AM, Division of Immunological Medicine, Northwick Park Hospital, Harrow, Middlesex, UK - Denman AM. Postgrad Med J. 1990 Jul; 66(777):499-501 - Postgrad Med J. 1990 Jul;66(777):499-501 - PMID: 2217006
Cfr. : http://www.ncbi.nlm.nih.gov/pubmed/2217006?ordinalpos=1&itool=EntrezSystem2.PEntrez.Pubmed.Pubmed_ResultsPanel.Pubmed_SingleI
temSupl.Pubmed_Discovery_PMC&linkpos=1&log$=citedinpmcreviews&logdbfrom=pubmed

The chronic fatigue syndrome - Definition, current studies and lessons for fibromyalgia research
Komaroff AL, Goldenberg D, Department of Medicine, Brigham and Women's Hospital, Harvard Medical School, Boston, MA 02115 - J Rheumatol Suppl. 1989 Nov;19:23-7 - PMID: 2691680
Chronic fatigue syndrome (CFS) is characterized by chronic, debilitating fatigue lasting greater than 6 months.
Frequent chronic and recurrent findings include fever, pharyngitis, myalgias, adenopathy, arthralgias, difficulties in cognition and disorders of mood.
In the majority of patients, the illness starts suddenly with an acute, "flu-like" illness.
The following laboratory abnormalities are seen with some frequency, although none are seen in all patients: lymphocytosis, atypical lymphocytosis, monocytosis, elevation of hepatocellular enzymes, low levels of antinuclear antibodies, varying levels of antithyroid antibodies, partial hypergammaglobulinemia, elevated CD4:CD8 ratio, decreased cytolytic activity of natural killer cells and low levels of immune complexes.
Clinical and serologic studies suggest an association of CFS with all of the human herpesviruses, particularly Epstein-Barr virus (EBV) and the recently discovered human B lymphotropic virus (HBLV) or human herpesvirus 6; neither EBV nor HBLV has yet been shown to play a causal role in the illness.
Preliminary evidence suggests that many of these features of CFS also are seen in patients with fibromyalgia.
Cfr. : http://www.ncbi.nlm.nih.gov/pubmed/2691680

The fibromyalgia spectrum - Part of the big picture in understanding fibromyalgia
Excerpted from 'Fibromyalgia - Up close and personal' by Mark J. Pellegrino, MD - July 29, 2009 - © 2009 ProHealth, Inc.
As a senior resident at The Ohio State University in 1988, I gave a lecture on fibromyalgia at the Physical Medicine Grand Rounds.
One of my lecture slides was entitled "Fibromyalgia - A spectrum of conditions ?".
I discussed how Fibromyalgia appears to be a "broader" condition with specific subsets.
Fibromyalgia was in that area between normal and disease – the "gray" area.
Some of the subsets were closer to normal, involving regional pain only or milder symptoms without numerous associated conditions.
Some subsets were closer to abnormal, with some features of connective tissue or rheumatic diseases, but were not quite "there."
Today I'm convinced fibromyalgia is indeed a "broader" condition with various subsets.
I believe this information is helpful in explaining why everyone's symptoms are different even though they all have fibromyalgia.
This chapter addresses how the fibromyalgia spectrum is part of the big picture in understanding fibromyalgia.
Fibromyalgia is a distinct medical entity and appropriately so
We have long recognized, however, that many conditions overlap it and various conditions exist that can lead to secondary fibromyalgia.
Dr. Muhammad Yunus, MD, [a professor and FM specialist at the University of Illinois College of Medicine] has developed the concept of Dysregulation Spectrum Syndrome (DSS) to describe how conditions overlap.
--- Mohammad B. Yunus, a professor at the University of Illinois College of Medicine, was the first to publish a study describing FM's clinical characteristics 25 years ago.
In 2000 he published the article "Central Sensitivity Syndromes: A unified concept for Fibromyalgia and other similar maladies" (cfr. : http://medind.nic.in/imvw/imvw4222.html -). And recently in June 2007, Yunus et al. published a report in the journal Seminars in Arthritis and Rheumatism suggesting that fibromyalgia and overlapping disorders be categorized as "Central Sensitivity Syndromes" (CSS), based on "mutual associations" and evidence for central sensitization (hypersensitization of the central nervous system) among several of the disorders (cfr. "Fibromyalgia and Overlapping Disorders - The Unifying Concept of Central Sensitivity Syndromes" at : http://www.ncbi.nlm.nih.gov/pubmed/17350675 -) ---
Dr. Yunus describes DSS as representing various associated conditions that share similar clinical characteristics and pathologic mechanisms with fibromyalgia.
Ten conditions are in the DSS umbrella : fibromyalgia, chronic fatigue syndrome, irritable bowel syndrome, tension headaches, migraine headaches, primary dysmenorrhea, periodic limb movement disorder, restless leg syndrome, temporomandibular pain syndrome and myofascial pain syndrome.
He predicts other entities will be added to this list in the future.
According to Dr. Yunus, conditions in DSS share a number of characteristics
- Patients with different conditions sharing similar profiles;
- Common shared symptoms, such as pain, poor sleep, fatigue and female predominance.
- Hypersensitivity to pain;
- No "diagnostic" pathology that can be measured;
- Shared psychological complaints such as depression and anxiety;
- Shared common genetic factor likely;
- Common neurohormonal dysfunctions;
- Treatments directed at the central nervous system leading to improvement;
- TMJ [temporomandibular joint] dysfunction.
I have discussed the fibromyalgia spectrum with my patients to help them understand the various subsets possible.
I do not see fibromyalgia as a member of a bigger family, but as the main condition.
It is the "founding father" and keeps its name.
If fibromyalgia is the founding father, then the various overlapping conditions and subsets become the children.
The name 'fibromyalgia' remains, but different subsets have unique characteristics and together they become the fibromyalgia spectrum.
This diagram shows the concept of the Fibromyalgia spectrum.
The fibromyalgia entity partially overlaps with the normal entity on one side and the disease entity on the other side.
Within the fibromyalgia entity are 8 subsets.
The first subset is in the most "normal" portion of fibromyalgia and the 8th subset is in the most "diseased" portion of fibromyalgia.
Each number represents a distinct subset with distinct characteristics.
--- Cfr. : http://www.immunesupport.com/library/images/8221_chart.gif ---
The eight subsets of the fibromyalgia spectrum
- Predisposed state;
- Prodromal [preceding] state;
- Undiagnosed fibromyalgia;
- Regional fibromyalgia;
- Generalized fibromyalgia.
- Fibromyalgia with particular associated conditions;
- Fibromyalgia with coexisting mild disease;
- Secondary fibromyalgia reactive to disease.
An individual can move up this spectrum – from a lower numbered subset to a higher numbered subset, but once in a particular subset, she/he does not return to a lower numbered subset.
One can achieve a remission, but stays in that subset.
In other words, there is no going back.
Let's review the features of each subset.
Subset 1: Predisposed state
The individual is asymptomatic.
Clinical fibromyalgia is not present in this state.
The individual is at risk for developing fibromyalgia due to hereditary factors, which may include one or both parents with fibromyalgia or a rheumatic/connective tissue disease or a sibling or first-degree relative with fibromyalgia.
Subset 2 - Prodromal state
Prodromal means preceding or the state leading to the condition.
Clinical fibromyalgia is still not present.
There is no widespread pain or painful tender points.
The individual is not asymptomatic, however.
Associated conditions common with fibromyalgia may be present in this stage, such as headaches, restless leg syndrome, fatigue or irritable bowel syndrome.
Pain may be present at times, but intermittently (not chronic, persistent pains).
Even though the individual may have one or more associated condition(s), widespread persistent pain is not present, so therefore Fibromyalgia is not yet present.
Typical fibromyalgia pain must be present before we can diagnose clinical fibromyalgia, no matter how many associated conditions may be present, but those who have numerous associated conditions are at risk.
Subset 3 - Undiagnosed fibromyalgia
Chronic pain is now present, either regional or generalized in nature.
This is the point of no return.
The person has painful tender points which may or may not meet the American College of Rheumatology-defined 11 of 18 criteria.
The person in this stage usually has milder symptoms and has not yet seen a doctor or been officially diagnosed with fibromyalgia.
If this individual were to see a knowledgeable physician, that diagnosis would be made.
Subset 4 - Regional fibromyalgia
Individuals in this stage have been diagnosed with fibromyalgia, but not generalized.
Chronic pain is limited to one or a few areas such as the upper body or the low back.
The symptoms may wax and wane.
Usually, this subset is triggered by a trauma.
I believe myofascial pain syndrome is part of this regional fibromyalgia and both terms are essentially synonymous.
Myofascial pain syndrome has become familiar through the work of the late Dr. Janet Travell, MD and Dr. David Simons, MD.
--- Drs. Travell and Simons are authors of the two-volume set 'Travell & Simons' Myofascial Pain and Dysfunction - The Trigger Point Manual' – cfr. : http://www.amazon.com/Travell-Simons-Myofascial-Pain-Dysfunction/dp/0683307711 ---
Myofascial pain syndrome is defined by painful muscles and the presence of triggerpoints and taut bands of muscle fibers which are ropey and painful when palpated.
An involuntary shortening of the fibrous muscle band can create a local twitch response.
Some of those who work with myofascial pain syndrome will argue that it is a separate distinct entity from fibromyalgia.
I disagree.
The similarities between myofascial pain syndrome and fibromyalgia are far greater than their differences.
They both have trigger points, tender points, ropey muscles, sympathetic nerve dysfunction, ATP abnormalities, peripheral and central mechanisms, regional and generalized versions and associated conditions.
Sound familiar ?
The treatments are essentially the same.
As our clinical experience has evolved and our knowledge and research have become more refined, I think it is clear that myofascial pain syndrome is a part of the overall fibromyalgia spectrum.
Individuals with regional fibromyalgia, over time, often develop generalized fibromyalgia.
Or they can remain in this stage indefinitely.
Identifying the regional stage early and treating it can definitely help to prevent progression.
Subset 5 - Generalized fibromyalgia
Individuals in this stage have widespread pain and tender points.
They will usually meet the American College of Rheumatology-defined 11 of 18 criteria, but as previously explained, one can still have generalized fibromyalgia with fewer tender points.
Various associated conditions seen with fibromyalgia can be present – sleep disorder, irritable bowel syndrome, depression, fatigue and so on.
These associated conditions are not taking on a life of their own, so to speak, but are part of the whole and managed with the overall fibromyalgia treatment.
Regional fibromyalgia can progress to this subset.
Various causes of generalized fibromyalgia include genetic factors, trauma, infections and more, but secondary fibromyalgia from a primary disease is not included in this subset.
Subset 6 - Fibromyalgia with particular associated conditions
People in this group have developed associated conditions that are giving them particular problems which appear as "separate" entities requiring separate attention.
Some of these particular associated conditions include irritable bowel syndrome, chronic fatigue syndrome [ME/CFS], fatigue, tension/migraine headaches and depression.
None of these conditions in themselves have "classic" disease laboratory markers or cause tissue destruction, yet they may require treatments in addition to the overall fibromyalgia treatment.
Another associated condition is dysautonomia (dysfunction of the small nerves), which can cause abnormalities such as hypoglycemia [low blood sugar], hypotension [low blood pressure], cardiac arrhythmia, irritable bowel syndrome and vascular headaches.
Subset 7 - Fibromyalgia with coexisting disease
Individuals in this category have a specific disease and also have fibromyalgia.
The disease doesn't necessarily cause fibromyalgia, but can aggravate it if it's already present.
Examples of diseases that can be present and worsen the fibromyalgia symptoms include :
- hormonal problems (hypothyroidism, low estrogen, low growth hormone and low cortisol);
- infectious problems (yeast, parasite or viral infections);
- low grade rheumatic or connective tissue disease (lupus, autoimmune disorders, dry eyes syndrome described by Dr. Don Goldenberg, MD, [Chief of Rheumatology at Newton-Wellesley Hospital and Professor of Medicine at Tufts University School of Medicine] may be part of a low grade Sjogren's syndrome);
- arthritic conditions (cervical spinal stenosis, osteoarthritis, osteoporosis, scoliosis);
- neurological conditions (multiple sclerosis, polio sequelae, neuropathy, head injury residuals), for example, people who have both diabetes and fibromyalgia will often have more painful fibromyalgia because the diabetes caused the nerves to be more sensitive (diabetes is a common cause of neuropathy or damage to the small nerves, which is painful in itself and even more so with fibromyalgia; one needs to keep the diabetes under good control to help the pain);
- lung conditions (I see a number of people who have fibromyalgia along with a lung problem such as emphysema, asthma, chronic bronchitis, or heavy tobacco use; cigarette smoking can increase fibromyalgia pain; the nicotine in the smoke causes constriction of the blood vessels, decreasing blood flow, oxygen and nutrients to the muscles, thereby increasing pain and spasms; also, carbon monoxide in smoke enters the bloodstream and binds to the hemoglobin molecules in the blood. this blocks oxygen from binding to the hemoglobin, further decreasing oxygen availability to the muscles (and increasing pain); stop smoking and your muscles will feel better !
These diseases exist concurrently with fibromyalgia but probably do not cause it.
Any of these diseases can progress from a mild to a more severe state and fibromyalgia worsens as the disease worsens.
The physician determines if the disease is coexisting with and aggravating fibromyalgia (subset 7) or if a disease caused the fibromyalgia (subset 8).
Subset 8 - Secondary fibromyalgia reactive to disease
Individuals in this category have secondary fibromyalgia.
They have a primary disease (for example lupus, rheumatoid arthritis) - and fibromyalgia developed as a result of this disease.
People in this subset probably wouldn't have fibromyalgia if they never had the primary disease.
The primary disease requires treatment and Fibromyalgia may improve with this treatment.
However, the fibromyalgia often requires its own treatment and can continue to be a major problem even when the primary disease is treated or is in remission.
Overall - A useful explanatory model
I find that the fibromyalgia spectrum provides a useful clinical model for me when evaluating and treating my patients.
It helps me to "organize" them better !
When I diagnose fibromyalgia, I try to be as specific as possible about what the cause is and what subset it fits.
This helps me to better explain fibromyalgia to the patients and to individualize their treatment programs.
Of course, if I've diagnosed fibromyalgia it would be subset 4 or greater.
The patient wouldn't be seeking a medical consultation for subsets 3, 2 or 1.
If possible, I note the cause.
Each subset can have flare-ups or remissions within it and I note that as well, if appropriate.
Subsets 1, 2 and 3 [predisposed state, prodromal state, undiagnosed fibromyalgia] are useful in appreciating the progression of fibromyalgia through the spectrum and can be helpful when advising patients and family members who have specific concerns and questions.
Let's review some patient profiles to determine the subset they fit into in the fibromyalgia spectrum
Patient #1
Mary is a 25-year-old receptionist with severe neck and shoulder pain.
She had always been very active with aerobics and bicycling and had never had any pain requiring treatment until after a motor vehicle accident… when she was rear-ended and suffered a whiplash injury.
The pain never went away and when I saw her I found numerous painful tender points and trigger points with localized spasms in the neck and shoulder muscles.
Mary has regional fibromyalgia (subset 4).
She was most likely predisposed to fibromyalgia and a traumatic event triggered the development of her regional fibromyalgia.
She "leaped" from predisposed state (subset 1) to regional fibromyalgia (subset 4).
Patient #2
Martha is a 30-year-old housewife.
She was diagnosed with Fibromyalgia 5 years ago and she was at a stable baseline with her home program of stretches, exercises and using a hot tub.
In the past year, she has been having increasing pain and fatigue and difficulty managing her fibromyalgia.
She reports that in the past year she has been getting frequent yeast infections.
She is on birth control pills and has had a couple of bladder infections requiring antibiotics in the past year.
Her more recent history is otherwise unremarkable.
Martha has fibromyalgia with a coexisting disease - chronic yeast infection (subset 7).
Her birth control pills, antibiotic treatment and perhaps fibromyalgia have contributed to the chronic yeast infection.
In turn, the yeast infection has aggravated her fibromyalgia (cfr. also Dr. Pellegrino's explanation of "Candidiasis – Yeast infection and nutritional repair" at : http://www.prohealth.com/library/showarticle.cfm?id=7553&t=CFIDS_FM -].
Patient #3
Jamie is a 38-year-old school teacher.
She has lupus, diagnosed when she was 13 years old and has been on various medications since then.
She has been in remission for a number of years, but has developed widespread pain.
Her sedimentation rate is not elevated to suggest active inflammation.
Her clinical exam does not reveal any joint inflammation or active lupus findings, but she does have 16 of 18 painful tender points.
Jamie has secondary fibromyalgia from a disease (subset 8).
In her case, the lupus is in remission, but her fibromyalgia is causing her problems and needs to be treated.
Patient #4
Jamie's 12-year-old son has been complaining of leg pains.
The pains occur at nighttime and Jamie has to rub the legs and use warm compresses.
The pediatrician told her his pains were growing pains.
Jamie's son gets occasional headaches and sometimes he feels exhausted.
He plays many sports and if he works out a lot his muscles are very sore for several days.
On exam, there are no areas of pain or painful tender points.
Jamie's son is probably in a prodromal state (subset 2).
He is at risk because his mother has fibromyalgia and a connective tissue disease and he has some associated conditions with intermittent pains, but has not developed the persistent widespread pain or painful tender points yet.
Patient #5
Bob is 42 years old and has an awful lot of pain for his age.
His pains are more severe than everyday pain and sometimes he has had to miss work.
He is an assembly line worker.
He mentions this to his primary care doctor when he is there for his yearly physical.
He is examined and found to have 12 of 18 positive painful tender points.
Bob had undiagnosed Fibromyalgia (subset 3) until he became official, "entering the books" with generalized fibromyalgia (subset 5) after he saw his primary care doctor.
In conclusion
There is much disagreement and controversy among medical professionals and patients about categories and subsets of fibromyalgia or similar conditions.
I'm not attempting to stir the waters with my version of the fibromyalgia spectrum - rather I'm trying to help you understand the fairly complicated nature of the condition and the different types I see.
I find this model useful and practical in my everyday clinical practice.
Remember one of my mottos : keep things as simple as possible and make sure they make sense !
--- This chapter of 'Fibromyalgia - Up close and personal' also offers a "Fibromyalgia spectrum test" that outlines several cases, posing questions about them and provides the answers ---
Cfr. : http://www.prohealth.com//library/showArticle.cfm?libid=13042

The Fibromyalgia Syndrome, Primer on the Rheumatic Diseases
B Freundlich, L Leventhal - Arthritis Found, 1993; 247-249

The immune system, atherosclerosis and persisting infection
Pigarevskii P V; Mal'tseva S V; Seliverstova V G, Vestnik Rossiiskoi akademii meditsinskikh nauk - Rossiiskaia akademiia meditsinskikh nauk 2005;(2):17-22
The paper demonstrates that lymph nodes situated in the vicinity of magistral blood vessels are the source of immune and inflammatory response to LDL as the main pathogenetic factor in atherosclerosis.
The activation of T-cell-mediated immunity takes place in them at the very early stages of the disease, resulting in forming of CD4+T-lymphocytes, activated mononuclear cells and immunostabilizing B-lymphocytes.
The cell changes in lymph nodes correlate with the severity of atherosclerotic lesions in the vessel intima and closely reflect the peculiarities of immune inflammation development in fatty streaks and atherosclerotic plaques in human atherogenesis.
A paradoxical reaction was observed in cases with Chlamydia pneumoniae found in the wall of aorta and paraaortal lymph nodes.
No evident immune response on the part of immunocompetent cells took place, but, on the contrary, the function of mononuclear cells, including T-lymphocytes, was suppressed.
This phenomenon may be explained by the fact that intracellulari localization of Chlamydia pneumoniae hides it from immune system control or by the possible microorganism capability of direct immunosuppressive influence on lymphoid cells both in the blood vessel wall and in regional lymph nodes.
Cfr. :
- http://www.cpnhelp.org/?q=node/129
- http://www.biomedexperts.com/Abstract.bme/15776961/The_immune_system_atherosclerosi
s_and_persisting_infection

The importance of B-cells and ecto-5'nucleotidase in Mycoplasma fermentans infection and the relevance to rheumatoid arthritis
Johnson SM, Department of Basic Medical Sciences, St. George's University of London, London, UK : sjohnson@sgul.ac.uk - Immunology. 2008 Feb;123(2):187-96. Epub 2007 Aug 4 - PMID: 17680797
The aim of this work was to discover if Mycoplasma fermentans, which is known to infect B cells, could be the cause of the raised ecto-5'-nucleotidase observed in the synovial fluid of rheumatoid arthritis patients.
The ecto-5'-nucleotidase activity in the patients' serum has been shown to correlate with the erythrocyte sedimentation rate and DNA from the mycoplasma has been found in the synovial fluid.
B lymphoblastoid cell lines were exposed to 16 strains of Mycoplasma fermentans and their ecto-5'-nucleotidase, CD73, was measured both biochemically and by mouse antibodies to human ecto 5'-nucleotidase using the fluorescence activated cell sorter.
The type strain, PG 18, did not grow with the B cells.
Some of the mycoplasma strains (9/15) increased the cellular ecto-5'-nucleotidase activity from twice to 17 fold, and usually showed 5'-nucleotidase activity themselves.
At least one strain, M106, induced human 5'-nucleotidase on the normally 5'-nucleotidase negative Daudi and Raji Burkitt's lymphoma cell lines, and increased sevenfold the 5'-nucleotidase on the monocyte/macrophage cell line THP-1.
Growing the cells in aged medium increased the level of mycoplasma infection.
This mycoplasma-induced enzyme showed a conformational change and an increase in activity with a glycosylation change involving mannose groups.
The other group of strains, mostly of respiratory or cell culture origin, usually did not have any 5'-nucleotidase of their own and decreased the B-cell enzyme activity by about half.
Electron microscopy and flow cytometry showed that the strain M106 was filamentous and could be found inside the B-cells.
The 5'-nucleotidase-inducing strains of M. fermentans may be important in the aetiology of rheumatoid arthritis.
Cfr. : http://www.ncbi.nlm.nih.gov/pubmed/17680797?ordinalpos=1&itool=EntrezSystem2.PEntrez.Pubmed.Pubmed_ResultsPanel.Pubmed_Single
ItemSupl.Pubmed_Discovery_PMC&linkpos=1&log$=citedinpmcarticles&logdbfrom=pubmed

The pathogenesis and treatment of mycoplasmal infections
Nicolson GL, Nasralla M, Nicolson NL - Antimicrob Infect Dis Newsl 1999; 17(11):81-88
Cfr. : http://www.sciencedirect.com/science?_ob=ArticleURL&_udi=B6T47-40JG1BM-1&_user=10&_rdoc=1&_fmt=&_orig=search&_sort=d&_docanchor=&view=c&_searchStrId
=1097545285&_rerunOrigin=google&_acct=C000050221&_version=1&_urlVersion=0&_us
erid=10&md5=6d33da7d0049c59f78f796052e69741b

The prevalence of Mycoplasma incognitus in the peripheral blood mononuclear cells of normal controls or patients with AIDS or Chronic Fatigue Syndrome
Huang W, See D, Tiles J - J Clin Microbiol 1998; 231:457-467
Cfr. : www.immed.org/Fatigue%20Illness/Netal-LymeJCFS_10%5B1%5D.8.rtf

The Role of Chronic Infections in the Maintenance and Progression of Chronic Fatigue Syndrome, Fibromyalgia Syndrome, Rheumatoid Arthritis, Immune Deficiency Syndromes and Gulf War Illness
G.L. Nicolson et al. - ME/CFS Congress, Sydney, Australia, 1999
Cfr. : http://www.immed.org/illness/fatigue_illness_research.html

Go to Part IX



18-11-2009 om 02:15 geschreven door Jules
0 1 2 3 4 5 - Gemiddelde waardering: 0/5 - (0 Stemmen)
Tags:depression, Epstein-Barr virus, fatigue, fatigue, fibromyalgia, genetics, Gulf War Syndrome, headaches, human Herpes Virus 6, infection, infection, influenza virus, joint and muscle pain, Listeria infection, Mycoplasma incognitos, neurotoxic chemicals



Infection as one possible cause of fibromyalgia - Part IX
Infection as one possible cause of fibromyalgia

Part IX
18-11-2009 om 02:15 geschreven door Jules
0 1 2 3 4 5 - Gemiddelde waardering: 0/5 - (0 Stemmen)
Tags:adenoviruses, antibiotic therapy, autoimmune responses, bacterial infection, blood infection, bronchitis. catastrophic stress, chemical exposure, Chlamydia pneumoniae, chronic fatigue syndrome, common colds, connective tissue disease, cytomegalovirus


16-11-2009

Challenges to conventional thinking about mind and body
''When an ordinary person is contacted by a painful feeling,
he feels two feelings — a bodily one and a mental one''


Challenges to conventional thinking about mind and body
Paul Grossman, Freiburg Institute for Mindfulness Research, Konradstrasse 32, 79100, Freiburg, Germany - E-mail address : BreathingSpace@t-online.de - Journal of Psychosomatic Research 55 (2003) 491–492 - D 2003 Elsevier Inc.
The notion that physical symptoms of sane individuals may sometimes bear little or no relationship to measurable physiological functioning is counterintuitive to most us, whether we are lay people, psychologists, physicians or even psychosomatic experts.
Such an idea profoundly violates nearly everyone's ordinary view of reality and challenges our sense of safety in the world : if we cannot trust those filtered cortical transmissions telling us that something is happening to our body, what can we believe ?
If our bodily perceptions are so error-prone, how do we know when we ought to be truly alarmed by somatic symptoms ?
If we possess a nervous or fearful disposition, does this mean we are doomed to 'invent' or 'amplify' physical symptoms and are even more unable than less anxious types to distinguish between genuine physiological alterations and misperceptions ?
Precisely, these kinds of issues are raised by the research in this issue by Houtveen et al.
The authors report that the extent of self-rated somatic symptoms during mental stress and CO2 rebreathing was generally unrelated to a variety of cardiovascular, autonomic and ventilatory measures, but it was, on the other hand, strongly and positively associated with trait anxiety and a history of physical complaints.
These findings correspond to a number of studies that have found no exaggerated physiological reactivity to relevant laboratory stressors among individuals marked by a heightened proclivity to physical complaints and/or chronic anxiety.
However, it remains unclear why still other investigations of anxiety accompanied by extreme physical symptoms, as in panic disorder, sometimes do find concurrent evidence of atypical physiological levels or reactivity.
Do these other findings represent real distinctions between normal individuals and patients with distinct types of anxiety disorder, as suggested by differences in laboratory studies of cardiovascular autonomic control between panic patients and normal controls (e.g., Ref. [1]) or by Klein's suffocation alarm theory of panic disorder [2] in which impaired central regulation of respiration is proposed as a primary cause of the disorder ?
Or could it merely be that most studies have taken place not in the real world, but in a laboratory environment, often without sufficient time for subjects to adapt themselves to the unfamiliar setting and physiological measurement devices.
One might reasonably assume that particularly under nonadapted conditions, chronically anxious patients may display greater laboratory physiological responses than nonanxious controls, but that these variations may not necessarily reflect real-life, neurophysiological differences between the groups, as so often suggested in the literature.
Regarding panic disorder, such laboratory specificity of response is supported by several studies : for example, Stein and Asmundson [3,4] found no autonomic or cardiovascular differences during rest or challenge between panic patients and controls after they employed an extended acclimatization phase.
An ambulatory study of panic disorder patients and healthy controls also found no differences in cardiac activity between groups under reallife conditions [5].
Still other research reviewed by Houtveen et al. indicates that even under typical laboratory conditions, highly relevant stressors, such as public speaking, often produce no exaggerated physiological reactions among social phobics, although somatic symptom reporting and anxiety are greatly elevated.
Furthermore, even when we consider those publications where differences between patient and control groups are reported, there are always large proportions of the patient groups who produce no atypical physiological baseline levels or reactions to stressors, although subjective reports of physical symptoms and anxiety are consistently elevated among these patients.
When such diverse evidence is considered, incongruence between physiology and experience of anxiety and somatic complaints seems very credible.
But how can we understand this lack of concordance between physiology and symptomatology ?
In general, the literature has primarily focused upon the cognitive–behavioral explanation that chronically anxious individuals manifest a tendency toward increased attention to and amplification of bodily symptoms related to consequences of negative, often catastrophic appraisal of somatic sensations.
However, equally plausible is the possibility that states of anxiety actually alter the central nervous system circuitry so that visceral perceptions are, indeed, more unpleasant or painful.
Subsequent negative appraisal and aversive responses to bodily sensation may be epiphenomenal to this altered central processing of somatic sensation.
Increasing support for this second hypothesis has been gathered by imaging and pharmacological studies in recent years, especially by investigations examining relations between pain and anxiety.
Interactions between serotonergic and endorphinic systems and chemical–perceptual mapping of cortical regions, provide evidence of central links between anxiety and interoceptive experience [6,7].
Also, emotion-related limbic functioning has been tied to central sensory up-regulation [8] and specific hippocampal networks that exacerbate pain under anxiety-provoking conditions have been identified [9].
These are just a few examples of the growing body of evidence that indicate that the experience of unpleasant or painful bodily sensations does, in fact, reflect accurate perception during anxious times, despite the lack of heightened peripheral physiological activity.
Should such an intimate connectedness of emotion and somatic experience continue to be supported by future investigation, we may need to rethink current ideas about mind–body relations.
At least in terms of interpreting subjective experience of psyche and soma, it may be useful to reexamine pre-Cartesian, even ancient Buddhist views of an inseparable mind/body, in which emotional state (among other things) centrally conditions our every perception.
For example, the simple wisdom : ''When an ordinary person is contacted by a painful feeling, he feels two feelings — a bodily one and a mental one'' [10].
In this light, one may gain courage to attempt to answer the questions posed at the beginning of this commentary : unpleasant somatic symptoms may always tell us something is awry, but only sometimes is peripheral physiological functioning the problem.
Paying close and impartial attention to our bodies during emotional states may also teach us that we store much of our emotional dysphoria in our bodily sensations, even if these sensations are mainly located at the top of our heads : we ought not to forget that physical symptoms constitute major diagnostic criteria for almost all clinical psychiatric disorders and these symptoms are rarely accompanied by convincing evidence of actual physiological dysfunction.
Studies like that of Houtveen et al. force us to step out of our perhaps dated scientific paradigms and consider other ways of understanding the embodied mind.
References :
16-11-2009 om 19:37 geschreven door Jules
0 1 2 3 4 5 - Gemiddelde waardering: 0/5 - (0 Stemmen)
Tags:5,7-DHT, irritable bowel syndrome, anxiety, autonomic nervous system, central nervous system, hypersensitivity, hyperventilation, IBS, mind and body, pain, panic disorder, physical symptoms, physiology, psychosomatic, serotonin, sleep, somatic symptoms



What is CFS and what is ME ?
What is CFS and what is ME ?

Peter White, October 20th 2009
Abnormal appetite; anorexia; anxiety; ataxia; back pain; benign myalgic encephalomyelitis; bladder dysfunction; brain stem; cardiac arrhythmias; categorizing retrieval; CDC symptoms; central nervous system; CFS; chronic fatigue syndrome NOS; chronic fatigue syndrome; chronic physical disorders; cognitive overload; concentration; confusion; COPD; cranial nerves; Da Costa syndrome; delayed postural hypotension; depression; disabling fatigue; disorientation; dizziness; emotional overload; exertional dyspnoea; extreme pallor; fasciculations; fatigue; fibromyalgia; flu-like symptoms; functional disorders; functional somatic syndromes; general malaise; hypersensitivity to noise; hypnoeic; IBS; ICD-10; inability to focus vision; infections; information processing; insomnia; intolerance of extremes of heat and cold; irritable bowel syndrome; light-headedness; loss of adaptability; loss of thermostatic stability; major depressive illness; marked diurnal fluctuation; marked weight change; ME; migraine; mood disorders; muscle weakness; Myalgic Encephalomyelitis; nausea; nausea; neurally mediated hypotension (NMH); neurasthenia; neurocirculatory asthenia; sensitivity to chemicals; sensitivity to food; sensitivity to medications; obese; orthostatic intolerance; overload phenomena; palpitations; peptic ulcers; perceptual disturbances; photophobia; post-exertional fatigue; post-exertional malaise; postural orthostatic tachycardia syndrome (POTS); postviral fatigue syndrome; recurrent feelings of cold extremities; recurrent feelings of feverishness; recurrent flulike symptoms; recurrent sore throat; regional pain disorders; senile asthenia; sensory disturbances; sensory overload; short-term memory; sleep; somatoform autonomic dysfunction; somatoform disorder; spatial instability; spine; stress; subnormal body temperature; substantial reduction in activity; sweating episodes; tender lymph nodes; undifferentiated somatoform disorder; urinary frequency; word retrieval; XMRV

Cfr. : http://www.unifobhelse.no/upload/Bergen%20What%20is%20CFS%202009.pdf



16-11-2009 om 01:38 geschreven door Jules
0 1 2 3 4 5 - Gemiddelde waardering: 0/5 - (0 Stemmen)
Tags: CFS, chronic fatigue syndrome, disabling fatigue, emotional overload, fibromyalgia, flu-like symptoms, infections, ME, migraine, mood disorders, muscle weakness, Myalgic Encephalomyelitis, post-exertional fatigue, short-term memory, sleep, stress, XMRV


14-11-2009

CVS-Referentiecentra - Opheffing en sluiting



































Michael Maes, M.D., Ph.D.


CVS-Referentiecentra

- Opheffing en sluiting -

Jan van Roijen - Help ME Circle, 13-11-2009
Ook in Nederland is de trukendoos-wetenschap van de nutteloze, geld verslindende CVS-Referentiecentra een doorn in het oog van de 60 a 70 duizend wanhopige patienten.
En ook in ons land is de hier onder vermelde dr. Van Houdenhove een beruchte persoon.
Hij was lid van de 'Commissie CVS' van de Gezondheidsraad.
Aldus was hij mede-auteur van het frauduleuze rapport dat deze commissie in elkaar flansde.
Alle duizenden wetenschapelijke studies waarin wordt aangetoond dat ME/CVS een zeer ernstige, multi-systemische ziekte is bleven onvermeld.
In strijd met de richtlijnen van de WHO, werd ME/CVS als een psychiatrische aandoening bestempeld.
De voorzitter van deze commissie, Mevr. Borst, maakte het zelfs zo bont dat ze tijdens een bijeenkomst een groep ernstig zieke, op brancards liggende patienten toesnauwde : "... ME-patienten kunnen genezen door Graded Exercise... !".

Open brief
Aan :

Dr. Mark Waer, Rector
Katholieke Universiteit Leuven
Oude Markt 13
3000 Leuven

Dr. Guy Mannaerts, Voorzitter Bestuurscomité
Dr. Johan Kips, Gedelegeerd Bestuurder,
Directiecomité
UZ Leuven, Netwerkziekenhuizen
Herestraat 49
3000 Leuven

Antwerpen, 11 november 2009

Re : Eis tot opheffing en sluiting van uw CVS-referentiecentra

Mijnheer de Rector, Mijnheer de Directeur, Mijnheer de Bestuurder,

Uit de evaluaties van het KCE en het Rijksinstituut voor ziekte- en invaliditeitsverzekering blijkt zonneklaar dat de Belgische CVS-referentiecentra hebben gefaald : de CGT/GET-aanpak is niet effectief gebleken.
Ook de vorige Minister van Volksgezondheid Demotte diende toe te geven dat CBT/GET geen
curatieve therapie is (Twisk en Maes, 2009).

Meer nog, de objectieve beoordelingscriteria onderbouwen de stelling dat veel patienten er in uw
CVS-referentiecentra op achteruit gaan : de gemiddelde arbeidsparticipatie van patienten neemt zelfs af na de "rehabilitatiebehandeling" gebaseerd op CGT/GET.

We hebben aangetoond dat patienten die in de CVS-referentiecentra - en derhalve ook die in Leuven - "behandeld" worden met CGT/GET eigenlijk lijden aan een zwaar, invaliderende, organische ziekte, gekenmerkt door talrijke biologische stoornissen vastgesteld in bloed en urine (Maes en Twisk, 2009a).

Uw referentiecentrum slaagt er kennelijk niet in en/of weigert om deze organische afwijkingen op te sporen.

Uit overzichtsartikelen (Twisk en Maes, 2009; Maes en Twisk, 2009a) blijkt dat de aan uw universiteit toegepaste CGT/GET-aanpak elke wetenschappelijke onderbouwing ontbeert en zelfs contraproductief is.

De toestand van veel ME/CVS-patienten verslechtert omdat inspanning en dus zeker uw "revalidatieprogramma's" de pathofysiologische afwijkingen nog verder doen toenemen (Twisk en Maes, 2009).

Niettegenstaande de vaststelling dat U op de hoogte bent of zou moeten zijn van het feit dat de door uw referentiecentrum gepropageerde en toegepaste aanpak van ME/CVS-patienten nutteloos is en vaak zelfs de patient verdere schade toebrengt wordt de CGT/GET-koers gewoon verder voortgezet.

Dit is in flagrante strijd met de deontologie van de geneeskundige codeleer en is zelfs zeer onethisch.

Ondanks dat ww medewerkers, zoals dr. Van Houdenhove, op de hoogte zijn van het gegeven dat
de door hen vurig uitgedragen en toegepaste aanpak nutteloos is en de gezondheidstoestand van veel patienten verder doet verslechteren publiceren ze dat CGT/GET "veelbelovende resultaten" toont en dat CGT/GET de "enige afdoende behandeling" is voor ME/CVS (van Houdenhove and Luyten, 2009).

Dr. Van Houdenhove, de Belgische beleidsmaker, is van mening dat toekomstig onderzoek over ME/CVS zich nog meer moet toespitsen op CGT/GET (Van Houdenhove en Luyten, 2009).

Blijkbaar vindt hij dat er nog niet voldoende overheidsgeld is verspild aan een aanpak die niet
alleen ineffectief is, maar zelfs potentieel schadelijk voor veel patienten.

De zwabberkoers van dr. Van Houdenhove uit zich onder meer in het feit dat hij in hetzelfde jaar als waarin hij CGT/GET voorstelt als de enige ware aanpak voor ME/CVS (Van Houdenhove en Luyten, 2009), hij in een ander tijdschrift aanbeveelt dat onderzoek zich in de toekomst zou moeten
toespitsen op stoornissen in het afweersysteem (Van Houdenhove en Heijnen, 2009).

Hierbij haalt hij zijn inspiratie uit... onderzoek naar ontstekingen bij depressies.
Dr. Van Houdenhove interpreteert de bestaande inzichten verkeerd en misbruikt hierbij de ontstekingstheorie van depressies, zoals ik kan weten, aangezien ik de grondlegger ben van die theorie (Maes et al., 2009; Maes en Twisk, 2009b).

Erger nog, dr. Van Houdenhove "vergeet" te verwijzen naar de meer dan 4.000 studies, waaronder
genexpressie-studies die aantonen dat ontstekingen, immuundysfunctie, infecties, oxidatieve stress, auto-immuniteit, mitochondriale disfunctie etc. de hoofdrol vertolken in de organische verklaring voor ME/CVS (Maes, 2009).

Dr. Van Houdenhove "vergeet" te refereren aan de diermodel-experimenten van ME/CVS die eveneens bewijzen dat ontstekingen en oxidatieve stress veel typische ME/CVS-klachten veroorzaken (Maes, 2009).

Dr. Van Houdenhove "vergeet" te wijzen naar succesvolle medische behandelingen van subgroepen van ME/CVS-patienten (Maes, 2009; Maes en Twisk, 2009b).

Dit soort "citatieamnesie" is niet alleen onwetenschappelijk, maar vormt tevens een vrijgeleide om ME/CVS patienten een biomedische diagnose en behandeling aan uw CVS-referentiecentrum te onthouden (Maes en Twisk, 2009b).

Daarom eis ik dat U :

a) dit CVS-referentiecentrum opheft en voorgoed sluit, dan wel minstens er bij de bevoegde minister op aandringt om het referentiecentrum te sluiten en

b) dr. Van Houdenhove onder curatele plaatst, dan wel hem minstens belet onzin en onwaarheden te
publiceren en mij hierover in te lichten bij gebreke waarvan we U na een maand zullen dagvaarden wegens de medisch-onethische behandelingen van patienten in uw CVS referentiecentrum.

Michael Maes, M.D., Ph.D.
www.michaelmaes.com
crc.mh@telenet.be
Referenties

Een beetje geschiedenis :
14-11-2009 om 23:41 geschreven door Jules
0 1 2 3 4 5 - Gemiddelde waardering: 3/5 - (1 Stemmen)
Tags:CGT/GET, CFS, COX-2, CVS, iNOS, intracellular inflammation, IO&NS, ME, ME/CFS, ME/CVS, mitochondriale disfunctie, Nfkappabeta, O&NS, oxidatieve stress, pain, psychological stress, rehabilitation therapy, sadness, somatization, strenuous exercise


13-11-2009

Heb ik voldoende ontspanning ?






















- Test -

Heb ik voldoende ontspanning ?

Gezondnu.nl.
Met behulp van deze test kunt u erachter komen of u voldoende ontspanning heeft in relatie tot uw werk.
De test is anoniem.
Er wordt niet gevraagd naar uw naam en adresgegevens.

Cfr. : http://www.gezondnu.nl/medisch/test?test=10



13-11-2009 om 18:57 geschreven door Jules
0 1 2 3 4 5 - Gemiddelde waardering: 3/5 - (2 Stemmen)
Tags:ontspanning, stress, werk



7 tips tegen een overactieve blaas
'Als ik ergens naar toe ga, zoek ik eerst de toiletten'
'Ik moet er elke nacht een paar keer uit'
'Mijn moeder had het ook, ik dacht dat het erbij hoorde'
7 tips tegen een overactieve blaas
Jan Willem Wensink - Dokterdokter.nl., 12-11-2009 – Bronnen : NHG, urolog, Elsevier
Ongeveer 8% van de Nederlanders vanaf 20 jaar kampt met plasklachten door een overactieve blaas.
7 tips om je blaas onder controle te houden.
Een blaas is 'overactief' als zij vaak een signaal van aandrang geeft (cfr. 'Incontinentie voor urine' op : http://www.dokterdokter.nl/medisch/folder/view/id/1626/incontinentie-voor-urine/title/wat-is-het -).
Als je vaker dan 8 keer per dag moet plassen en soms last hebt van ongewild urineverlies, dan kun je stellen dat je blaas overactief is.
Een overactieve blaas is een aandoening die ook wel 'aandrangsincontinentie' wordt genoemd.
Het kan zijn dat de spieren in de wand van de blaas snel samentrekken en een ongewilde lediging van de blaas in gang zetten.
Maar het kan ook voorkomen dat ondanks een voortdurend gevoel van aandrang het plassen niet of nauwelijks lukt.
Onzekerheid
Het gevoel van verlies over controle van de blaas geeft veel onzekerheid.
Het kan zelfs leiden tot een sociaal isolement, omdat mensen die er veel last van hebben uit angst voor urineverlies bijeenkomsten, feestjes en dagjes uit gaan mijden.
Een ander veelvoorkomend gevolg is dat mensen minder gaan drinken, zodat ze minder vaak naar de wc hoeven.
Op termijn ligt echter uitdroging op de loer, bovendien nemen de klachten er niet door af.
Een overactieve blaas kan zowel bij mannen als vrouwen voorkomen.
Wie er last van heeft, kan het best met de huisarts overleggen.
Die zorgt voor een behandelplan en kan eventueel medicijnen (cfr. 'Vesicare 10 mg tablet' op: http://www.dokterdokter.nl/medisch/medicijn/view/id/20091/vesicare-10-mg-tablet -) voorschrijven.
Oorzaken van een overactieve blaas
De blaas kan door verschillende oorzaken overactief worden.
Het kan komen door een blaasontsteking (cfr. : http://www.dokterdokter.nl/medisch/folder/view/id/1520/blaasontsteking/title/wat-is-het -) of een verdikking in de blaaswand waardoor spieren en receptoren niet meer goed samenwerken.
Soms zijn er afwijkingen aan de zenuwbanen van de blaas of stoornissen in de hersenen, waardoor controle over de blaas wordt bemoeilijkt.
Bij mannen kan een opgezette prostaat (cfr. 'De gevolgen van een vergrote prostaat' op : http://www.dokterdokter.nl/man/seks-relatie/article/24070/de-gevolgen-van-een-vergrote-prostaat -) de aanleiding zijn voor overactiviteit, bij vrouwen komt het nogal eens voor dat de bekkenbodemspieren (cfr. 'Inspanningsincontinentie' op : http://www.dokterdokter.nl/medisch/folder/view/id/1625/inspanningsincontinentie/title/wat-is-het -) een rol spelen.
Als die onbewust worden aangespand, kan in de blaas aandrang ontstaan.
Maar bekkenbodemspieren kunnen ook verslapt zijn, bijvoorbeeld door een bevalling.
Dan zorgen ze voor een minder goed werkende afsluiting van de blaas.
Een overactieve blaas kan soms ook het gevolg zijn van bijwerkingen van bepaalde medicijnen.
7 Tips om je blaas onder controle te houden
Tip1 - Hou een dagboekje bij
Zorg eerst dat je overzicht krijgt over je blaasproblemen.
Hou een dagboekje bij en zet daarin wat je drinkt, wanneer en hoeveel je drinkt, wanneer je naar de wc gaat en hoeveel je plast, wanneer je plotselinge aandrang hebt en wanneer je eventueel te maken hebt met ongewild urineverlies.
Het dagboekje geeft je inzicht in de ernst van je problemen en is handig als je de huisarts van wat gegevens wil voorzien.
Tip 2 - Blijf voldoende drinken
Mensen die last hebben van plasklachten zijn geneigd minder te gaan drinken (cfr. 'Voedingsstoffen die goed zijn voor je lichaam' op : http://www.dokterdokter.nl/vrouw/eten-drinken/article/5747/voedingsstoffen-die-goed-zijn-voor-je-lichaam ).
Dat is niet alleen voor het hele lichaam ongezond, maar de conditie van de blaas wordt er ook nog slechter van en het kan juist meer plasklachten opleveren.
Uit onderzoek van de Universiteit van Maastricht blijkt dat iets meer water drinken, verspreid over de dag, goed is voor een overactieve blaas.
Het vergroot de capaciteit van de blaas, verbetert de reacties van de blaaswand en de plasklachten nemen op termijn iets af.
Tip 3 - Train je blaas
Door je blaas te trainen leer je de spieren van je blaas om niet meteen gevolg te geven aan de aandrang om te plassen.
Bij een blaastraining leer je om je plas steeds iets verder uit te stellen.
De blaas raakt daardoor gewend om meer urine te kunnen bevatten zonder dat dit meteen tot controleproblemen leidt.
Een plasdagboekje helpt hierbij, omdat je zo kunt bijhouden of je in staat bent om het plassen steeds iets meer uit te stellen.
Uw arts kan u informatie geven over een blaastraining en kan eventueel medicijnen geven.
Tip 4 - Train je bekkenbodemspieren
Over de spieren in je blaas heb je niet veel te zeggen, maar je kunt wel controle hebben over de bekkenbodemspieren waarop je blaas rust.
Leer jezelf hoe je de bekkenbodemspieren kan aanspannen en ontspannen.
Ga op een stoel zitten en span de spieren aan waarmee je een denkbeeldige plas moet ophouden.
Dit zijn je bekkenbodemspieren.
Laat de spieren weer los en span ze weer aan.
Probeer voor voor jezelf duidelijk te krijgen om welke spieren het gaat.
Probeer verspreid over de dag 100 keer de spieren aan te spannen.
Tip 5 - Plas in 'streepjes'
Je kunt de oefening met de bekkenbodemspieren ook op de wc doen, tijdens het plassen.
Het wordt wel 'streepjesplassen' genoemd; probeer het plassen steeds even te stoppen door de bekkenbodemspieren aan te spannen.
Na verloop van tijd worden de spieren sterker en krijg je meer controle.
Tip 6 - Let op koffie en alcohol
Zonder dat je dat misschien beseft kunnen prikkelende stoffen je blaas dwingen tot overactiviteit. Cafeïne (cfr. 'Wat je nog niet wist over koffie' op : http://www.dokterdokter.nl/vrouw/eten-drinken/article/27208/wat-je-nog-niet-wist-over-koffie -) en alcohol (cfr. 'Lekker gesport – Biertje ?' op : http://www.dokterdokter.nl/man/bewegen/article/17/lekker-gesport-biertje -) kunnen de blaaswand irriteren en aanzetten tot overactiviteit.
Tip 7 - Verlies gewicht
Overgewicht kan een overactieve blaas veroorzaken of de bestaande blaasproblemen verergeren.
Een dikke buik kan op de blaas drukken.
Volgens een wetenschappelijk onderzoek kan gewicht verliezen een behoorlijk gunstige uitwerking hebben op problemen met incontinentie.
Hoewel in het onderzoek niet duidelijk werd wat precies de oorzaak was, werkte een combinatie van gezond eten en meer bewegen het beste.
Cfr. : http://www.dokterdokter.nl/man/bewegen/article/27285/7-tips-tegen-een-overactieve-blaas

Blaas is zelfdenkende holle spier
Jan Willem Wensink - Dokterdokter.nl., 12-11-2009 - Bronnen : NHG, Urolog, Elsevier
De blaas lijkt slechts een simpel reservoir dat urine opvangt uit de nieren.
Maar het is een van de meest wonderlijke spieren in je lichaam.
Leeg is je blaas niet veel groter dan een peer.
Vol kan ze wel tot een ruime halve liter urine bevatten.
Een gevoel van aandrang zal je krijgen vanaf het moment dat de blaas voor ongeveer eenderde gevuld is.
De blaas is een holle spier die voorzien is van een soort neurologische tankmeter, waardoor de hersenstam vrij nauwkeurig weet hoe veel urine er in zit.
Dankzij dat in twee richtingen communicerende zenuwnetwerk zijn je hersenen ook in staat om de blaas op commando te legen.
Besturing in de blaaswand
Het laten leeglopen van de blaas is nog niet zo'n eenvoudige taak.
Als je plast zal de blaas zichzelf samenknijpen, terwijl de sluitspier van de blaas, die om de plasbuis heen ligt, zich dan juist moet ontspannen.
Om dat allemaal goed te laten verlopen wordt een deel van de 'besturing' ook in de blaaswand zelf geregeld.
Wetenschappers denken dat bepaalde cellen in de blaaswand zelf processen kunnen aansturen.
Automatisch noodsysteem
De blaas is voorzien van een automatisch noodsysteem dat ingrijpt als je zelf vergeet of weigert te plassen.
Stel dat je in korte tijd veel bier drinkt of in een diepe slaap verkeert, terwijl de blaas overvol raakt.
Dan zorgt het noodsysteem zelf voor aanspanning van spieren en ontspanning van de sluitspier.
Zo werkt het nog niet volledig ontwikkelde besturingssysteem bij babies ook.
Die plassen vanzelf als hun blaas vindt dat dat nodig is.
Het systeem voorkomt zo dat er schade optreedt aan de blaaswand en dat er urine terugvloeit naar de nieren.
Buiten de buikholte
Hoewel je zou denken dat de blaas zich in je buikholte bevindt, is dat niet zo.
Ze ligt onderaan de buik, buiten de buikholte en dus ook niet tussen de darmen.
Bij mannen loopt de endeldarm (laatste deel van de dikke darm) net achter de blaas langs, bij vrouwen zit de baarmoeder daar nog tussen.
De blaas steunt voor een groot deel op de bekkenbodemspieren, die ook een rol spelen bij de afsluiting rond de plasbuis.
Als je je spieren aanspant om sneller te kunnen plassen, dan zet je niet je blaasspieren onder spanning, maar die van je buik.
Deze spieren kunnen juist een deel van de plasbuis dichtknijpen.
Ontspannen plassen is het beste voor blaas en plasbuis.
Blaasproblemen
Als gevolg van zijn bijzondere functie en werking is de blaas een gevoelig orgaan.
Veel mensen, ongeveer 900.000 Nederlanders, ondervinden in de een of andere vorm hinder van hun blaas.
Blaasontstekingen (cfr. : http://www.dokterdokter.nl/medisch/folder/view/id/1520/blaasontsteking -) komen vrij vaak voor, vooral bij vrouwen.
Maar de meest voorkomende blaasproblemen zijn ongewild urineverlies (incontinentie) en een 'overactieve blaas'.
Bij een overactieve blaas lijkt het systeem dat het gevoel van aandrang regelt, in de war te zijn.
Mensen die er last van hebben, moeten per dag minstens 8 keer plassen.
Bovendien hebben ze vaak weinig controle over hun blaas.
Een overactieve blaas wordt ook wel 'aandrangincontinentie' genoemd.
Stress-incontinentie
Er is nog een andere vorm van incontinentie.
Die wordt 'inspanningsincontinentie' of 'stress-incontinentie' genoemd.
Het komt vooral voor bij vrouwen.
Meestal zijn verslapte bekkenbodemspieren de oorzaak, als gevolg van zwangerschap.
Bij stressincontintentie is het moeilijk of onmogelijk om urine op te houden bij lichamelijke inspanning, zoals bij tillen of hoesten.
Cfr. : http://www.dokterdokter.nl/vrouw/bewegen/article/27284/blaas-is-zelfdenkende-holle-spier

Cfr. ook :
13-11-2009 om 11:01 geschreven door Jules
0 1 2 3 4 5 - Gemiddelde waardering: 2/5 - (1 Stemmen)
Tags:aandrangsincontinentie, blaastraining, incontinentiedagboek, inspanningsincontinentie, plasbuis, plasdagboekje, plastuit voor vrouwen, prostaat, streepjesplassen, stress-incontinentie, trigonum, urge-incontinentie, urine-incontinentie, urineverlies


12-11-2009

Wallen en kringen onder de ogen
Wallen en kringen
onder de ogen

Rhijja Jansen – Dokterdokter.nl., 12-11-2009 - Bron : Dr Velthuis - Velthuis Kliniek : http://www.velthuiskliniek.nl/
Stress, vermoeidheid, roken, luchtvervuiling, slecht werkende organen...
Wallen onder de ogen zijn voor veel mensen een bron van irritatie.
Er bestaan ook veel misverstanden over.
Zo worden wallen vaak verward met donkere kringen.
Gelukkig kun je er iets aan doen.
Wallen en kringen onder de ogen klinken hetzelfde, maar zijn twee verschillende dingen.
Dit beaamt ook dermatoloog dr Peter Velthuis, medisch directeur van de Velthuis Kliniek : 'Een wal is een uitbochting onder het oog naar buiten en ontstaat door een te veel aan huid of vet. Het vet onder het oog dient als stootkussentje en zorgt ervoor dat het oog kan draaien ten opzichte van de kas. Bij sommige mensen is de oogkas anatomisch gezien te klein voor het stootkussentje oftewel het vet. Dit is genetisch bepaald. Als je ouders wallen hebben, dan is de kans dus groter dan jij ze hebt of ook zult krijgen.'
Slapper
Ouderdom speelt hierbij ook een grote rol. Velthuis : 'Het vet onder je oog wordt door een bindweefselschotje op zijn plaats gehouden. Dit schotje wordt slapper als je ouder wordt. Tel de zwaartekracht daarbij op en het vet zakt naar voren, wat een wal creëert.'
Kringen
Als mensen klagen over hun wallen, dan hebben ze het meestal eigenlijk over kringen : de donkere kleur onder hun ogen.
Velthuis : 'Bij een kring hebben we het over de groef onder de wal, het greppeltje. Deze is donker van kleur. Deze kleur kan genetisch bepaald zijn, maar ontstaat ook door een gebrek aan vocht onder het oog. Bijvoorbeeld als je een tekort aan vocht in je lichaam hebt. Of doordat je vochthuishouding door een of andere reden in de war is door ziekte of slecht slapen. Hierdoor wordt de huid onder je ogen dunner en kijk je als het ware door de huid heen. Dan zie je de kleur van het grijze botvlies van je schedel, en de blauwige bloedvaten : dat is de kring.'
Vocht
Gelukkig kun je hier iets aan doen: goed slapen, voldoende water drinken en weinig of geen alcohol of cafeïne drinken, zodat je voldoende vocht vasthoudt.
Daarnaast helpt het om niet te roken en gevarieerd en niet te zout te eten.
Compressen
Er zijn op internet veel 'remedies' te vinden die kringen onder de ogen tegen zouden gaan.
Bijvoorbeeld door koude compressen of ijs op je ogen te leggen.
Velthuis : 'Dit zorgt er misschien wel voor dat je kringen door de kou krimpen en dus kleiner lijken. Maar na een kwartier is dat effect weer weg, want dan houd je de kou er niet meer op.'
Komkommer
Ook natte natte theezakjes en komkommers op je ogen zou helpen om vocht in te brengen.
Velthuis zet hier zijn vraagtekens bij : 'Die komkommers zouden misschien kunnen helpen. Maar zover ik weet is hier geen wetenschappelijk bewijs voor. De theezakjes kunnen volgens mij alleen voor irritaties zorgen.'
Aambeienzalf
Koning van de 'wondermiddeltjes' is een opvallende vondst van Hollywood, dat veelvuldig door sterren en topmodellen gebruikt wordt: aambeienzalf.
Volgens Velthuis is dit zeker een manier om je kringen (tijdelijk) tegen te gaan.
Alleen kan dit op de langere termijn de boel alleen maar erger maken.
'Want', zegt Velthuis : 'Aambeienzalf irriteert de huid een beetje. Dat zorgt voor een zwelling onder je ogen, waardoor je huid minder dun is, en de donkere kleur voor een paar uur wegtrekt. Maar als je dit elke dag gebruikt, krijg je geheid eczeem en gaat de huid schilferen en beschadigen.'
Crèmes
Ten slotte worden we doodgegooid met serums, crèmes en vochtinbrengende sticks van de grote cosmeticamerken die donkere kringen te lijf zouden gaan.
Dit kan helpen, maar ook hier zitten volgens Velthuis haken en ogen aan : 'Doordat in deze middelen een hoge concentratie aan fruitzuren zit, wordt er weefsel aangemaakt waardoor het moeilijker is om door de huid heen te kijken. Maar ik raad af om dit dagelijks te gebruiken, zoals veel mensen doen. Je kunt het eerst een paar keer per maand gebruiken om te zien of je huid ertegen kan. Daarna kun je het vaker gaan gebruiken. Sowieso moet je geen verschillende crèmes door elkaar gaan gebruiken, omdat je hiervan eczeem of een hypergevoelige huid krijgt.'
Wallen bestrijden
Het bestrijden van wallen is een ander verhaal.
In tegenstelling tot wat veel mensen denken, bestaan wallen voor maar 10% uit vocht.
De rest van de wal is gevuld met vet.
Dr. Velthuis : 'Je kunt dit vocht deels weg masseren. Je duwt dan met je vingers van je neus naar je jukbeenderen, in de wal. Op deze manier duw je het vocht in de lymfebanen, die het vervolgens afvoeren.'
Plastische chirurgie
Maar daarmee krijg je de wal dus niet volledig weg.
Er rest dan niet zoveel dan je wallen te accepteren en te weten dat ongelofelijk veel mensen ze hebben.
Kun je ze desondanks niet aanzien, dan zou plastische chirurgie een laatste redmiddel kunnen zijn.
Velthuis : 'Hierbij wordt een klein sneetje net onder de wimpers gemaakt. Dat geeft toegang tot de vetpocket, waaruit het vet verwijderd kan worden. Als de wal uit overtollig huid bestaat, wordt dit verwijderd.'
Restylane
Een kring krijgt een tegenovergestelde behandeling : 'Omdat er hier juist iets ontbreekt, waardoor de huid doorschijnend is, spuiten we op deze plekken Restylane in. Deze behandelingen worden geen van allen vergoed. Chirurgisch verwijderen van het vet geeft een permanente verbetering. Overtollige huid neemt geleidelijk met het ouder worden weer toe. Een middel als Restylane blijft ongeveer 1- 1½ jaar zitten.'
Cfr. : http://www.dokterdokter.nl/vrouw/uiterlijk/article/27289/wallen-en-kringen-onder-de-ogen



12-11-2009 om 19:16 geschreven door Jules
0 1 2 3 4 5 - Gemiddelde waardering: 5/5 - (1 Stemmen)
Tags:aambeienzalf, compressen, cosmetica, donkere kringen, huid, huid, kringen, luchtvervuiling, lymfebanen: masseren, ogen, oog, oogkas, plastische chirurgie, Restylane, roken, slecht werkende organen, stress, vermoeidheid, vet, wallen



Recovered CFS/ME Patient Goes to Washington, D.C.




























Recovered CFS/ME Patient Goes to Washington, D.C.


-

MIke Dessin testifies for the CFSAC about his remarkable recovery -

Planet Thrive, November 7, 2009

Last year around this time, Mike Dessin almost died from severe myalgic encephalomyelitis.
He credits his recovery to a physician in Ohio who treated him with an experimental twist on a time-tested treatment from Germany : neural therapy (cfr. : http://www.neuraltherapybook.com/NTdefined.php -).
Neural therapy usually entails injecting Procaine (Novocain), a common local anesthetic, into certain areas of the body.
This doctor uses homeopathics rather than anesthesia.
The treatment is based on the theory that trauma can produce long-standing disturbances in the electrochemical function of tissues.

MIke's story is well documented on Cort Johnson's excellent new forum "Phoenix Rising" here at New Day Treatment – cfr. : http://forums.aboutmecfs.org/group.php?groupid=3 -.

Since recovering much of his health, one of Mike's goals has been to help educate physicians about CFS/ME through his own experience with this poorly understood disease.
Below is his recent testimony for the Chronic Fatigue Syndrome Advisory Committee (CFSAC) in Washington, D.C.

Here is the transcript of this speech, including the part that he was unable to read at the end due to time limitations :
Cfr. : http://www.me-cvs-stichting.nl/2385
Hi, my name is Mike Dessin,
I've had Myalgic Encephalomyelits for 14 years, a disease that is unjustly named 'Chronic Fatigue Syndrome' in the U.S.
I had one of the most severe cases of ME/CFS ever recorded, with subsequent remission.
At the worst stage of my illness, which was about a year ago, I suffered beyond what most humans can comprehend.
I was completely bedridden and unable to lean up more than a few inches.
I was unable to read, write, understand words when spoken too or complete a thought process.
Even a bit of thinking would hyper stimulate my nervous system too much.
I had severe dementia.
I couldn't see the walls around me.
Neurological dysfunction too obscure to put into words.
In the last month before my recovery I was unconscious an estimated 90% of the time, not sleeping but literally unconscious.
I was basically comatose.
I'm nearly 6'3 and last December I weighed 102 pounds.
I had heart failure, severe pancreatitis and my lungs collapsed.
My body was producing just enough energy to sustain a heartbeat.
To make things even worse, I was confined to a pitch black room isolated from the world.
Unable to tolerate the slightest bit of light or noise much of the time.
I had sensory overload so bad, I couldn't be touched, as it was too stimulating.
The consequences of being over stimulated resulted in further exhaustion and seizures.
In addition, I had EXTREME chemical and Electromagnetic Frequency sensitivities. Needless to say, I had to be in a very special environment to stay alive.
It is painstakingly difficult to care for someone in the condition I was in.
I was as sick as an end stage AIDS and MS patient put TOGETHER.
Immune deficiency similar to what an AIDS patient presents and more nervous system abnormalities than most MS patients.
But I don't have MS or AIDS.
I have a disease called 'Chronic Fatigue Syndrome', which merely describes a symptom these diseases share.
I was left for dead; I was left withering away in my dark room.
I was left to die due to the extreme lack of knowledge, compassion or regard by our medical community.
I had spent 10 years searching for help from doctors.
I would hear, oh it's JUST allergies, it's JUST chronic Epstein Barr, it's JUST depression, oh it's JUST chronic fatigue syndrome and there is nothing we can do.
In the fall of 06' I fell down in a hotel lobby in New York, I was suffering from CFS related exhaustion.
My dad called 911 and the ambulance came to pick me up.
On the way to the hospital, I told the tech "I had severe exhaustion and I had Chronic Fatigue Syndrome," some know the disease as 'Myalgic Encephalomyelitis'.
The tech said there was no such thing as Myalgic Encephalomyelitis.
When I arrived at the hospital they said my vitals were normal and they put me in the psychiatric unit.
I spent 24 hours there, where I was strip searched, repeatedly questioned about my personal life and given a cocktail of psychiatric drugs.
Shortly after, I went into my last relapse that would nearly end my life.
Now who's to blame for all of this ?
Clearly this disease and its millions of sufferers have been shortchanged in an EPIC way over the last 20 years by the government, medical community and the public at large.
There has been a false stigma attached to the disease created by lack of research and inaccurate information disseminated by the CDC.
One major cause in this disease not getting the proper recognition stems from the naming and definition.
The CDC wrongly changed the name of Myalgic Encephalomyelitis to 'CFS', in an attempt to undermine the serious nature of this disease, in favor of politics and economics.
In saying that, I am just one of thousands upon thousands of ME/CFS patients who are currently suffering near the extent I was.
The only difference, they most likely won't live to share their experience, unless things change.
Many ME/CFS patients succumb to cancer, heart failure, pancreatitis and other co-morbid conditions that come along with having this disease.
Many will die from suicide, committing suicide at a rate, double that of MS patients.
They are not committing suicide because of depression or stress.
They are committing suicide for multiple reasons which include.
Suicide from decrease in quality of life, created by this disease.
Their committing suicide because, the medical community, family and friends, don't understand what is happening to them and there is little hope for a cure.
They are committing suicide because they can't bare the extreme physical and neurological dysfunction.
They are committing suicide because many of them are inundated with toxic poisoning.
They are committing suicide because they have dozens upon dozens of infections that human beings are not supposed to get.
They are committing suicide because they have no safe place to go, no special facilities that have staff trained to care for ME/CFS patients.
No special facilities that are free of chemicals or sensory stimulus.
These patients have NO WHERE TO TURN.
So while these patients are being suffocated by toxins and destroyed by viruses, suffering greatly, the CDC's answer, let's spend money to research the effectiveness of cognitive behavioral therapy and graded exercise therapy.
I'm alive and speaking to you today because I got proper treatment.
A treatment that focuses on the true biomedical basis of this disease rather than the MYTHS created surrounding this disease.
Myths, such as treating this disease with cognitive behavioral therapy (CBT) and psychological intervention should be primary treatments and coping mechanisms.
As well as using Graded Exercise Therapy for increased exercise threshold.
These therapies do not even come close to a real cure and can be extremely dangerous UNLESS they are integrated into a therapy that addresses underlying issues.
I realize that this is the easy way out for Reeves and his side kick Simon Wessley in the U.K.
If we think this is an effective treatment, why do I speak with thousands of ME/CFS patients who feel differently ?
Why is there no person in this room with true CFS …..who has been helped by these therapies ?
Why have ME/CFS patients died from extreme relapses brought on by these therapies ?
They die, because if done at times where they have difficulty processing information, cognitive input can put them into extreme relapse.
Yes, it actually progresses the disease.
They die because they think graded exercise is beneficial.
In reality, exercise in many cases can lead to further damages to their body and a downward progression of the disease.
Yes, pacing is a good thing and that is what ME/CFS patients should do….on their own terms.
Blaming stress and depression instead of looking for a legit biomedical explanation of this disease seems to be another easy way out for the CDC.
It's highly unlikely ENTIRE outbreaks have been caused by stress and depression.
Entire towns just suddenly get ME/CFS because there stressed and depressed.
Truth is, due to abnormalities in the nervous system brought on by this disease, stress or depression can cause disease progression, just as with most other diseases.
You've been listening to patient testimony for years.
If you really thought this is a serious issue, why do most doctors still have no idea what CFS is and many have never heard of ME ?
Why have government funds for the study of this disease dwindled over recent years ?
Why is this disease not taken serious by our researchers ?
Why do our peers not take this disease seriously ?
Why hasn't the name chronic fatigue syndrome been changed, to accurately reflect the nature of this disease ?
Why does the U.S have the most watered down definition of Chronic Fatigue Syndrome ?
Why are there no facilities equipped to take care of severely ill ME/CFS patients ?
Why are patients not covered by insurance when they seek the help of alternative minded doctors, when these doctors are the ones saving the lives of ME/CFS patients ?
These issues still remain, because they solely reflect what you are NOT doing for our community.
I nearly lost my life, and many others are suffering and will die prematurely, if we all don't step up and do the right thing.
It's time for a New Day to begin."
Bravo Mike, keep up the great work speaking out for those who are unable !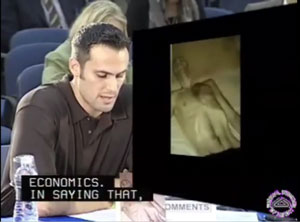 Watch the video
at : http://planetthrive.com/2009/11/recovered-cfsme-patient-goes-to-washington-d-c/



12-11-2009 om 00:00 geschreven door Jules
0 1 2 3 4 5 - Gemiddelde waardering: 0/5 - (0 Stemmen)
Tags:CFS/ME, chronic fatigue syndrome, cognitive behavioral therapy, depression, electromagnetic frequency sensitivities, exhaustion, graded exercise therapy, homeopathics, immune deficiency, ME/CFS, myalgic encephalomyelitis, neural therapy, stress, testimony


11-11-2009

Chronische vermoeidheid zit niet tussen de oren
Chronische vermoeidheid zit niet tussen de oren

Amber van Pinxteren - Gezondheid.Blog, 07-11-2009 – Bron : ME/CVS-Stichting
Het chronisch vermoeidheidssyndroom zit niet – zoals vaak wordt gedacht – tussen de oren.
De kans is groot dat een virus de boosdoener is.
Dat meldt de ME/CVS-Stichting Nederland (cfr. : http://www.me-cvs-stichting.nl/2508 -).
Amerikaanse wetenschappers ontdekten onlangs dat tweederde van de patiënten met het chronisch vermoeidheidsyndroom is besmet met het XMRV-virus.
Hiermee denken de onderzoekers te kunnen bewijzen dat ME/CVS een lichamelijke oorzaak heeft.
De onderzoekers bekeken het bloed van 101 deelnemers met ME/CVS en ruim 200 gezonde proefpersonen.
Bij tweederde van de ME/CVS-patiënten was het XMRV-virus actief, terwijl slechts 4% procent van de gezonde mensen geïnfecteerd was.
Het XMRV-virus blijkt bij mensen met het chronisch vermoeidheidsyndroom eiwitten aan te maken, waardoor het zich kan delen en verspreiden.
Het lichaam schakelt hierop een afweermechanisme in, waarbij heftige reacties optreden.
Bij gezonde mensen produceert het virus geen eiwitten en is er daarom ook geen reactie van het lichaam.
De ontdekking roept echter ook vragen op, want het is niet bekend of virus de aanstichter van het vermoeidheidssyndroom is of een gevolg ervan.
Om daar antwoord op te krijgen is verder onderzoek nodig.
Lees ook :
Verband tussen chronische vermoeidheid en virus
Amber van Pinxteren - Gezondheid.Blog, 08-10-2007
Er is een veelbelovende stap gezet in de zoektocht naar de oorzaken van het chronische vermoeidheidssyndroom (CVS).
De aandoening houdt mogelijk verband met een virus in de maag.
In een Belgisch onderzoek werd bij 80% van 154 onderzochte patiënten sporen van virussen aangetroffen die tot darmontstekingen leiden.
Van de gezonde mensen beschikte slechts 7% over de virussen.
Professor Kenny De Meirleir van het Universitair Ziekenhuis Brussel waarschuwt wel dat de ontdekking slechts het topje van de ijsberg is.
Er is nog veel aanvullend onderzoek nodig.
Cfr. : http://gezondheid.blog.nl/actualiteiten/2007/10/08/verband-tussen-chronische-vermoeidheid-en-virus
Cfr. : http://gezondheid.blog.nl/actualiteiten/2009/11/07/chronische-vermoeidheid-zit-niet-tussen-de-oren


Chronisch vermoeidheidsyndroom niet tussen de oren
- Virus in bloed mogelijk bewijs lichamelijke oorzaak -
ME/CVS-Stichting
Persbericht - Hilversum, 5 november 2009
Een doorbraak in het onderzoek naar het Chronisch Vermoeidheidsyndroom (ME/CVS) : Amerikaanse wetenschappers ontdekten onlangs dat tweederde van de patiënten met het chronisch vermoeidheidsyndroom is besmet met het XMRV-virus.
Hiermee denken de onderzoekers te kunnen bewijzen dat ME/CVS, in tegenstelling tot wat vaak wordt gedacht, niet tussen de oren zit maar een lichamelijke oorzaak heeft.
Onderzoekers Vincent Lombardi van het Whittemore Peterson Institute (Verenigde Staten) en zijn collega's zijn verantwoordelijk voor deze interessante ontdekking.
Zij bekeken het bloed van 101 deelnemers met ME/CVS en ruim 200 gezonde proefpersonen.
Bij tweederde van de ME/CVS-patiënten was het XMRV-virus actief, terwijl slechts vier procent van de gezonde mensen geïnfecteerd was.
Virus actief in lichaam patiënten
De onderzoekers zagen dat het XMRV-virus bij gezonde mensen geen eiwitten produceert.
Daarom reageert het afweersysteem van deze personen ook niet op de indringer.
Bij mensen met het chronisch vermoeidheidsyndroom ligt dat anders.
Bij hen maakt het virus actief eiwitten aan en deelt en verspreidt het zich.
Het lichaam reageert hierop door een specifieke afweer tegen XMRV in te schakelen.
Met heftige lichamelijke afweerreacties en besmetting tot gevolg.
Het XMRV-virus is dus aanwezig en actief in het lichaam van ME/CVS-patiënten, dat is wat dit onderzoek uitwijst.
Maar het roept ook nieuwe vragen op.
Want is dit virus misschien niet de aanstichter en profiteert het alleen maar van het verzwakte afweersysteem van patiënten ?
Om daar antwoord op te krijgen is verder onderzoek nodig.
Dit onderzoek geeft echter wel een duidelijke lichamelijke afwijking aan bij ME/CVS-patiënten en het bevestigt ook andere onderzoeken die lichamelijke afwijkingen laten zien bij mensen met ME/CVS.
Steeds meer onderzoek wijst er bijvoorbeeld op dat ook ontregelde mechanismen in het centrale zenuwstelsel een grote rol spelen bij het veroorzaken van geestelijke en lichamelijk uitputting bij ME/CVS.
CDA Kamerlid Ans Willemse-Van der Ploeg
De ME/CVS-Stichting Nederland heeft alle onderzoeken die er de afgelopen jaren zijn gedaan gebundeld in een patiëntengids.
Ook het laatste onderzoek van de Amerikaanse wetenschappers staat hierin vermeld.
De informatiegids wordt op woensdag 11 november aanstaande overhandigd aan CDA kamerlid Ans Willemse-Van der Ploeg tijdens een symposium van de Stichting in het kader van de "Week Chronisch Zieken".
U ben van harte welkom om het symposium bij te wonen.
Het middagsymposium is van 13.30 tot 16.30 uur in het Beatrixgebouw van de Jaarbeurs, Jaarbeursplein 6 te Utrecht (naast het NS-station van Utrecht).
Parkeermogelijkheid : Parkeergarage Jaarbeursplein.
Naar schatting één procent van de wereldbevolking lijdt aan het chronisch vermoeidheidsyndroom.
De ziekte kenmerkt zich door een slopende vermoeidheid die vele jaren kan aanhouden.
De ziekte is lastig te behandelen zolang de oorzaak onduidelijk blijft.
De ME/CVS-Stichting Nederland is de patiëntenorganisatie voor mensen met het chronisch vermoeidheidsyndroom (ME/CVS).
Cfr. : http://www.me-cvs-stichting.nl/2508



11-11-2009 om 13:32 geschreven door Jules
0 1 2 3 4 5 - Gemiddelde waardering: 1/5 - (3 Stemmen)
Tags:chronisch vermoeidheidssyndroom, chronische vermoeidheid, CVS, ME/CVS, virus, XMRV-virus, XMRV



Dr. Bauer heeft mijn leven gered

Dr. Bauer heeft mijn leven gered
Joke Mot – Gastenboek,.10-11-2009
Hallo,

Ik heb waarschijnlijk sinds mijn derde jaar FMS.
Ik had altijd pijn in mijn benen en later ging dat over naar mijn nek, handen en rug.
Op een gegeven moment ben ik gewoon van school gestuurd omdat de opleiding door deze ziekte voor mij te zwaar werd.
In 2004 ontmoette ik bij toeval een thuishulp die me erop wees dat ik waarschijnlijk fibromyalgie had .
Ik heb mij er toen op laten onderzoeken en het bleek inderdaad FMS te zijn.
Wat later leerde ik iemand kennen die toevallig ook FMS had.
Ze had toen al van Dr. Bauer had gehoord.
Eerst dacht ik : 'Ja hoor, 't zal wel weer de zoveelste zijn die denkt dat hij mensen kan genezen...' : ik had al zoveel onderzoeken, behandelingen en therapieen ondergaan dat ik er gewoon niet meer in geloofde.
Totdat ze zich liet opereren en ik zag hoe goed ze vooruitging.
Ik begon er zowaar in te geloven !
In Januari 2009 ben ik naar Dr Bauer gegaan.
Nadat hij mij onderzocht had bevestigde ook hij dat ik FMS had, in alle vier de quadranten.
Ik kreeg van hem een lijst met alle mogelijke klachten die je zo kan hebben als FMS patient... en dat waren er best veel !
Ik schrok : er was maar één klacht waarvan ik niet zeker was dat ik ze ook had.
Ik was flink van slag omdat ik nu met de neus op de feiten werd gedrukt van hoe ziek ik eigenlijk wel was.
Ik wist dat ik ziek was, maar zó ziek, dat besefte ikzelf niet : in december, de maand vóór de operatie, had ik zelfs een afscheidsbrief klaar omdat ik gewoon niet meer wist hoe het verder moest.
Het was gewoon niet meer te dragen : ik kon niet meer liggen, zitten en staan, alles deed pijn en slapen kon ik daardoor ook niet meer.
Het was écht héééél erg !
Tegen mijn huisarts had ik gezegd dat als ik niet wist dat ik in januari geopereerd zou worden ik niet meer zou willen verder leven.
Zij sprak me evenwel moed in : 'Dan moet je tóch een weg zien te vinden om door te gaan'.
Mensen begrijpen niet hoeveel pijn FMS patienten eigenlijk allemaal moeten doorstaan.
Doordat ik zo een vertrouwen gekregen had in Dr Bauer heb ik die afscheidsbrief verscheurd : in je binnenste wil je immers helemaal niet dood, maar op het einde zie je gewoon geen uitweg meer !
Gelukkig vond ik Dr. Bauer...
Ik ben dan ook blij dat ik op 13 januari 2009 geopereerd ben, aan mijn rechterarm.
Ik voelde al meteen verbeteringen !
Ik sliep meteen na de operatie goed en dat na jaren niet goed kunnen slapen.
Als ik s'morgens wakker werd rende ik naar de kraan om mijn handen onder warm water te houden want die voelden zeer verdoofd aan, alsof ze heel erg sliepen en dat deed pijn en door de warme water ging die weg.
Ik had ook altijd al last van mijn stuitje.
Ook die pijn is weg en dat was natuurlijk ook een hele verbetering !
Op 20 oktober 2009 ben ik voor de 2e operatie bij Dr Bauer geweest.
Nu was mijn rechterenkel aan de beurt.
Ik ben zo blij dat ik geopereerd ben.
Ik had sinds Pinksteren heel veel last van spierkrampen/ spasmes.
Ik ben daarvoor een aantal keer naar het ziekenhuis gebracht omdat ik gewoon dreigde te stikken.
Maar in het ziekenhuis namen ze me niet serieus.
Ze hebben me zelfs op een gegeven moment het ziekenhuis uitgezet !
Tot mijn vriendin me weer haar een CVT-apparaat (cfr. : http://www.medisan.nl/heelniag.htm -) te leen gaf (ik had het namelijk al eerder geprobeerd) : toen ze eens bij me was en ik weer last kreeg van spierkrampen/ spasmes stelde ze voor het CVT-apparaat opnieuw te gaan gebruiken en – ja hoor – door de trillingen verdwenen ze.
We stonden beiden versteld : ook hier was er beterschap !
Ondanks alles wilde Dr Bauer toch dat ik neurologisch onderzocht zou worden.
In afwachting annuleerde hij een eerder gemaakte afspraak (die in juni gepland was), want mochten de klachten inderdaad een neurologische oorzaak hebben dan bestond de kans dat ik tijdens de operatie zo een aanval zou krijgen en dat kon natuurlijk niet !
Ik was wel erg teleurgesteld...
Maar ik heb zijn raad opgevolgd en onderzoek wees uit dat het allemaal helemaal niet neurologisch was en dus kon ik (op 20 oktober) geopereerd worden.
Al ging die operatie bijna toch niet door : er was een administratieve fout !
Gelukkig hebben we dat recht kunnen zetten, mede dankzij de bereidwillige inzet van George en mijn vriendin.
Ik kreeg een injectie in mijn been, maar ik viel niet meteen in slaap zoals bij de eerste operatie.
Ik ben zelfs de ganse tijd bij bewustzijn gebleven !
Ik weet nog dat de vrouw van Dr Bauer zei dat als ik pijn voelde ik dat maar moest aangeven.
Dat deed ik ook en dan kreeg ik meteen weer een kleine prik en voelde ik meteen niets meer.
Ze zei ook nog : 'Ja, wie beter wil worden moet pijn lijden'.
Ik antwoordde dat het niks was in vergelijking met wat wij FMS-patienten dágelijks voelen.
We moesten er alle drie om lachen en ze bevestigde het : 'Ja, dat is waar, dus kunnen we rustig doorgaan...'
Na de operatie ben ik - na een afspraak gemaakt te hebben voor controle de volgende dag - richting hotel gegaan en daar heb ik heerlijk geslapen.
Vóór de operatie had ik nog altijd een heel strak gevoel rond mijn vingers, maar dat was na deze operatie meteen weg.
Ook kon ik weer met mijn handen onder mijn hoofd liggen.
Dat kon ook al jaren niet meer, want dan begonnen ze pijn te doen.
Nu kon dat meteen al, zonder er last van te krijgen !
Er waren dus weer verbeteringen voelbaar...
De volgende dag, toen ik voor controle moest komen, kreeg ik net weer last van die spierspasmes/ krampen.
Mijn vriendin zei : 'Laat ze nu maar komen : dan kan Dr. Bauer ze ook zien !'.
Toen konden beiden, Dr. Bauer en zijn echtgenote, vaststellen dat die spierspasmes/ krampen helemaal niet neurologisch waren, maar Dr. Bauer dacht wel aan een medicatievergiftiging.
Hij zei me meteen te stoppen met o.a Tramadol (ook met alle andere medicatie trouwens !).
Mocht blijken dat de spierspasmes/ krampen daarna nog blijven bestaan, dan moet één en ander verder onderzocht worden, maar – zo zei hij - Tramadol kán inderdaad spierkrampen/ spasmes opwekken, net als Tramagetic (ik vermeld dit als waarschuwing voor anderen met dezelfde problemen).
Voor mij is het nu dus afwachten...
Ik heb – sinds mijn thuiskomst in Nederland - geen spierkrampen/ spasmes meer gehad.
Toevallig vandaag heb ik echter weer een aanval gekregen, maar door de medicatie is die gelukkig weer onder controle (sinds de operatie gebruik ik eigenlijk alleen maar zonodig Paracetamol, wat op zich al een hele grote verbetering is als je weet wat ik vroeger aan medicatie gebruikte !).
Nu dus afwachten wat het resultaat van de operatie in de loop der maanden zal zijn voor mijn lichaam...
Maar ik ben zo blij !
Dr Bauer heeft écht mijn leven gered en ik ben hem zeer dankbaar.
Ook George wil ik heel hartelijk bedanken !
Dank je, Georges, voor de tijd en de energie die jij besteed hebt opdat de operatie kon doorgaan.
Ik hoop dat er meer mensen de weg naar Dr Bauer zullen gaan maken, want écht het werkt.
Succes !
Groeten, Joke.



11-11-2009 om 05:06 geschreven door Jules
0 1 2 3 4 5 - Gemiddelde waardering: 4/5 - (4 Stemmen)
Tags:Bauer Dr., CVT-apparaat, cycloïde vibratie therapie (CVT), FMS, medicatie, medicatievergiftiging, operatie, pijn, quadranten, slapen, spierkrampen, spierspasmes



Has your marriage been damaged by fibromyalgia or chronic fatigue syndrome ?
Has your marriage been damaged
by fibromyalgia or chronic fatigue syndrome ?
Adrienne Dellwo, About.com Guide to Fibromyalgia & CFS – About.com, November 7, 2009
I recently came across a poll on the impact fibromyalgia (FMS – cfr. : http://chronicfatigue.about.com/od/whatisfibromyalgia/a/what_is_fms.htm -) has on marriage and I asked if I could share the results here (thanks, Ray !).
It's not a scientific poll, but it shows some interesting trends, so I wanted to ask some of the same questions here and also broaden it to include chronic fatigue syndrome (CFS or ME/CFS – cfr. : http://chronicfatigue.about.com/od/whatischronicfatigue/a/what_is_CFS.htm -& - http://chronicfatigue.about.com/od/cfsglossary/g/MECFS.htm -).
Of the participants, 96% were women, and the vast majority were under 40 both at the time of diagnosis and when the poll was taken.
Just over 60% said they were either married or in a long-term committed relationship when their symptoms appeared.
When asked if the symptoms and limitations changed their relationship, here's what they said :
It's certainly not surprising that a major, life-changing illness can damage a relationship, but it's especially disturbing to me that more than a quarter of respondents said it ended their relationship.
Also, it caused a strain in more than double the relationships it changed for the better.
It's sad that 65% of these people have had to deal with relationship problems and/or divorce on top of being sick.
I have to wonder if a more widely accepted diagnosis makes a difference in how well our spouses, as a whole, would be able to accept the changes forced upon them.
What has your illness done to your relationship(s) ?
Did the length of time you'd been together make a difference ?
Share your stories and take the polls at : http://chronicfatigue.about.com/b/2009/11/07/has-your-marriage-been-damaged-by-fibromyalgia-or-chronic-fatigue-syndrome.htm

Living with someone who has fibromyalgia or chronic fatigue syndrome
- Bridging the gap between your old life and your new one -
Adrienne Dellwo – About.com, (updated) February 20, 2009 (reviewed by the Medical Review Board)
Living with someone who has fibromyalgia1 (FMS) or chronic fatigue syndrome2 (CFS or ME/CFS3) is a tough job, whether that person is completely disabled, 50% functional or goes through occasional flares.
In all likelihood, having a chronically ill person in your household will impact your life.
You can, however, take steps to make things easier for yourself.
Do you feel guilty for even wanting that ?
You're not alone -- a lot of people in your situation feel like they should be worried about the sick person and not themselves.
My husband has struggled with that, and we've both had to learn that it's OK for him to be frustrated with the situation.
Your first step is to accept that living with someone who has fibromyalgia or chronic fatigue syndrome doesn't mean you forfeit your right to feelings of your own.
But let's be completely honest here : those of us with FMS or ME/CFS can be difficult people to deal with at times.
When you're feeling especially burdened by housework, financial matters and caretaking, a sharp tongue or blank stare doesn't help matters at all.
You may not be able to discuss your feelings with the sick person in your life as she might not be in a place to accept that your feelings are directed at the situation and not at her.
It's a good idea to find support from other places to get you through this.
Feeling the loss of "how things were"
Both you and your loved one will have to come to terms with changes in your life.
FMS and ME/CFS are chronic conditions, which means your life is not likely to ever be what it was before.
That's a tough thing to accept and you'll each need to reach acceptance in your own way and in your own time.
Essentially, you need to grieve for what you've lost.
The stages of grief are :
denial : a refusal to accept what is happening.

anger : feeling like it's not fair or being angry in general.

bargaining : promising something such as being a better person if the situation goes away.

depression : giving up, not caring what happens.

acceptance : coming to terms with the situation and being ready to move forward.
Where are you in the grief process ?
Identify it now, and look at what the next stages are likely to bring.
If you feel like you've been stuck in one stage, find someone to talk to about it.
If you feel like you need a professional counselor to help you, don't be ashamed of that and talk to your doctor.
If you become clinically depressed or simply cannot accept your new situation, you won't be doing any good for yourself or for the sick person in your life.
Managing your expectations - Three steps
Part of accepting the situation is managing your expectations.
For example, my husband and I used to go for bike rides, do some hiking, maybe take a canoe out on the river.
He's had to change his expectations about how we will spend our time together.
I also left my career and my income behind and hoped that I'd be able to find something I could do from home.
That meant he had to change expectations about our financial future as well.
Step #1
The first step toward managing your expectations is to take an honest look at your situation and ask yourself : "What do I know about the circumstances ?".
Taking a little time to learn about and understand the condition will help you deal with the reality it creates.
What do you know about your loved ones illness ?
Do you really understand it ?
Here are resources that can help :
Step #2
Second, take a long-term look at things.
Think : "If things stay just as they are now for a year or longer, how will that impact me, my family, and the person who is sick ?".
This can be an overwhelming question, when you consider financial, emotional, social and emotional issues.
Approach them one at a time and try to stay logical.
Once you've identified what is likely to change, allow yourself to grieve for the things that have to fall by the wayside (at least for now) and let them go.
Then focus on the areas where you foresee big problems and work toward realistic solutions.
Step #3
Don't feel like you're alone in finding solutions.
Involve your sick loved one as much as possible, call on friends, family, doctors, clergy, social services, your insurance company and anyone else who may be able to help you find ways to get through this.
Moving on with your life
Once you've gone through the stages of grief and the steps outlined above for changing your expectations, you'll likely be better equipped to move forward with your life and to be supportive of the sick person in your life.
On behalf of that person, I thank you for taking the time to care.
Sources
Cfr. : http://chronicfatigue.about.com/od/forfriendsfamily/a/lifeafterfmscfs.htm



11-11-2009 om 00:00 geschreven door Jules
0 1 2 3 4 5 - Gemiddelde waardering: 0/5 - (0 Stemmen)
Tags:chronically ill, acceptance, anger, caretaking, CFS, chronic conditions, chronic fatigue syndrome, denial, depression, divorce, fibromyalgia, financial matters, FMS, grief, housework, ME, ME/CFS, moving on with you live, relationship, sick, support


10-11-2009

Vijf grootste bedreigingen gezondheid
Vijf grootste bedreigingen gezondheid
Vijf factoren spelen een rol bij ongeveer een kwart van de sterfgevallen wereldwijd.
Het gaat om :
onveilige seks,

overmatig alcoholgebruik,

ondervoeding bij kinderen,

slechte hygiëne en

hoge bloeddruk.
Door die aan te pakken kan de gemiddelde levensverwachting met vijf jaar worden verhoogd.
Dat zegt de Wereld Gezondheidsorganisatie (WHO) na onderzoek naar 24 belangrijke gezondheidsrisico`s.
Ondervoeding bij kinderen in ontwikkelingslanden is een probleem, maar overgewicht in rijkere landen evenzeer.
In de nabije toekomst zou de situatie kunnen ontstaan dat vroegtijdig overlijden als gevolg van te veel eten meer voor komt dan overlijden door ondervoeding, zeggen de onderzoekers.
Cfr. : http://www.consumed.nl/dagnieuwtjes/4686/Vijf_grootste_bedreigingen_gezondheid



10-11-2009 om 20:04 geschreven door Jules
0 1 2 3 4 5 - Gemiddelde waardering: 4/5 - (2 Stemmen)
Tags:gemiddelde levensverwachting, gezondheidsrisico`s, hoge bloeddruk, ondervoeding bij kinderen, ondervoeding, ontwikkelingslanden, onveilige seks, overgewicht, overlijden, overmatig alcoholgebruik, slechte hygiëne, te veel eten, vroegtijdig overlijden



Onbegrepen lage rugpijn beter te behandelen
Onbegrepen lage rugpijn beter te behandelen

Gezondheidsnet.nl, 09-11-2009 – Bron : Erasmus MC (cfr. : http://www.erasmusmc.nl/ -)
ROTTERDAM - Op dit moment richt de behandeling van onbegrepen lichamelijke klachten zich met name op de psychosociale kant van het probleem.
Volgens promotie-onderzoek van Jan-Paul van Wingerden aan het Erasmus MC zou een combinatie van behandelingen beter zijn.
Van Wingerden vindt het belangrijk dat de fysieke aspecten weer worden bekeken bij het begrijpen en behandelen van chronische rugklachten (cfr. : http://www.gezondheidsnet.nl/last-van-rugpijn -).
Tegenwoordig is bekend dat spieren zich bij klachten anders en niet optimaal gaan gedragen.
Gewone dagelijkse activiteiten, zoals lopen, staan, bukken of tillen, leveren hierdoor sneller overbelasting op.
Met zijn combinatietherapie bekeek Van Wingerden ook hoe mensen in het dagelijks leven zich bewegen en hielp ze aan een gezondere houding.
Zo kunnen zij hun dagelijkse activiteiten uitbreiden zonder terugval.
Van de 245 uitbehandelde patiënten met chronische lage rugklachten heeft 53 procent met deze therapie minder last van pijn en kan 62 procent zich vrijer bewegen.
Lage rugpijn
Bijna een derde van de Nederlandse bevolking van 25 jaar en ouder heeft langer dan drie maanden last van rug of nek.
Meer dan 3 miljoen mensen hebben chronische lage rugklachten (cfr. : http://www.gezondheidsnet.nl/last-van-rugpijn/artikelen/2026/lage-rugpijn-komt-veel-voor-).
Van Wingerden promoveert woensdag op zijn onderzoek.
Cfr. : http://www.gezondheidsnet.nl/last-van-rugpijn/nieuws/3706/onbegrepen-lage-rugpijn-beter-te-behandelen



10-11-2009 om 19:04 geschreven door Jules
0 1 2 3 4 5 - Gemiddelde waardering: 2/5 - (3 Stemmen)
Tags:bewegen, bukken, chronische rugklachten, lage rugpijn. Lopen, nek, onbegrepen lichamelijke klachten, overbelasting, pijn, rug, spieren, staan, tillen



Je beste antistresstip
Mijn moeder is een stresskip

Kinderen Voor Kinderen

Het is weer eens zo'n dag
Dat ik niks van mijn moeder mag
Ik weet het is weer mis,
als ze zo chagarijnig is.
Hoe dat komt dat weet ik wel
ze doet alles veel te snel
relexe toch eens
denk ik dan
daar wordt je minder gestressd van

Refrein :

M'n moeder is een stresskip (ojeh)
M'n moeder is een stresskip (ojeh)
M'n moeder is een stresskip (ooohjehh)

Zit ik op mn kamer
Lekker niks te doeoen
Dan hoor ik haar weer.
Ik erger me geel en groen
Naar beneden komen ruim je rommel op
of ik het doe of niet
ik krijg toch op mn kop
Ze is wel lief maar soms zit ze erdoorheen
Komt ze ver uit de hoek
en doet ze best gemeen

Refrein :

M'n moeder is een stresskip (ojeh)
M'n moeder is een stresskip (ojeh)
M'n moeder is een stresskip (ojehhhh ooojehjehjehjeh)
M'n moeder is een stresskip ( is ene stresskip)
M'n moeder is een stresskip ( zo'n stresskip)
M'n moeder is een stresskip (oooojehh)

Ik hou me rustig en gedijst
tot ze zoveel van me ijst
dat ik uit m'n vel spring
uit m'n vel spring

Refrein :

M'n moeder is een stresskip (is een stresskip)
M'm moeder is een stresskip (zo'n stresskip)
M'n moder is een stresskip (ooojehhh oohhhjehjehjehjeh)
M'n moeder is een stresskip (is een stresskip)
M'n moeder is een stresskip (zo'n stresskip)
M'n moeder is een stresskip (ooojehhh oooohhjehjehjehjeh)
(M'n moeder, m'n moeder ) ongeloffelijke stresskip
(M'n moeder, m'n moeder) een super duper stresskip
(m'n moeder m'n moeder)wat een stresskip

M'n moeder !
Cfr. : http://www.songteksten.be/songteksten/66394/Kinderen-Voor-Kinderen/Mijn-moeder-is-een-stresskip.htm

Geef een gouden tip
Gezondheid.be, 10-11-2009 - Artikelnummer 6923

Ben jij een echte stresskip of kun je net heel gemakkelijk de knop omdraaien ?
Wat doe jij om te ontstressen ?


Post je beste antistresstip

via : www.doejemee.be

of lees er de
tips van anderen

Stem op de beste tip en bepaal wie kans maakt op een mooie prijs.
Elke week is er een Bongobon ter waarde van 50 euro te winnen en op het einde van de rit wordt de beste tip beloond met een vakantiecheque van 1 500 euro.

Doe je mee ?

Deze stresstip van Pascale Roskam uit Sint-Gillis-Waas haalde vorige week de meeste stemmen bij de actie 'Doejemee.be van CM' :
'Luister eens naar de stilte'.

Cfr. : http://www.gezondheid.be/index.cfm?fuseaction=art&art_id=6923&daginfo=m1877

En...
Doe de stresstest

- http://www.gezondheid.be/index.cfm?fuseaction=art&art_id=306 -
10-11-2009 om 11:00 geschreven door Jules
0 1 2 3 4 5 - Gemiddelde waardering: 3/5 - (1 Stemmen)
Tags:ontstressen. stress, stresskip, stresstest



Sufferers of chronic fatigue see life as a balancing act
Janet Krause (Lebanon Township) suffers from chronic fatigue syndrome and
fibromyalgia, which force her to spend a lot of her time resting on the couch
- John C. Whitehead, The Patriot-News -


Sufferers of chronic fatigue see life as
a balancing act
Body and Mind staff - PennLive.com, November 08, 2009
Janet Krause keeps a set of golf clubs in her Lebanon Township home even though it's been 10 years since she has swung one.
They represent hope to her — hope that one day she will have the stamina to play golf and not be limited by the effects of the chronic fatigue and immune dysfunction syndrome that marks her daily life.
Commonly called 'chronic fatigue syndrome' (cfr. : http://www.mayoclinic.com/health/chronic-fatigue-syndrome/DS00395 -), it is a debilitating and complex disorder characterized by profound fatigue that is not improved by bed rest and that may be worsened by physical or mental activity, according to the Centers for Disease Control (cfr. : http://cdc.gov/ -).
People with CFS suffer from fatigue often accompanied by insomnia, weakness, muscle pain, impaired memory and/or mental concentration, a chronic sore throat and irritable bowel syndrome, among other symptoms.
"Life for us is different. We have to constantly balance what we can do and people don't understand that. That's why a lot of relationships and friendships break up," said Krause, 58, who suffered from the disorder for at least 15 years before receiving a diagnosis.
Not only is CFS hard to diagnose — labeled as such only after tests come back negative for other things such as lupus, Lyme disease, multiple sclerosis or various cancers — it also carries a stigma of being more mental than physical, a challenge for sufferers to overcome.
"The 'It's all in your head' comments ? I get those from everybody, even my family," said Krause, who leads the Chronic Fatigue and Immune Dysfunction Syndrome Support Group of Lebanon County : "When I say I'm tired, I hear : 'Well I'm tired, too. All you need is a little extra sleep.' That's a slap in my face. Tired is one thing, but body systems breaking down is another."
"Chronic fatigue syndrome is a viable medical condition. It's not 'all in your head,'" said Dr. Robert Matsko Sr., a physician at Broad Street Family Health Center in Marysville, part of the Holy Spirit Health System : "The problem is that there's no specific test for CFS, and symptoms can be transitory."
Studies have shown that between 1 million and 4 million Americans suffer from CFS, but less than 20 percent have been diagnosed and about half of the sufferers haven't even consulted a doctor.
"The symptoms are nonspecific and so people don't come in because of this," Matsko said : "They think they'll just live with it, but it only gets worse. There are many different levels of it, from people still being able to work to people who can't get out of bed."
There's no known cause for CFS, however, a recent study published in the journal Science, pinpointed a newly discovered virus, called xenotropic murine leukemia virus-related virus or XMRV, as a possible cause of CFS.
Researchers from the National Cancer Institute and the Cleveland Clinic said XMRV affects the immune system, might cause a variety of illnesses and could join with other viruses to initiate CFS.
Krause, who began having symptoms in her 20s, has suffered from skin rashes, breathing trouble, sinus problems, chemical sensitivity, migraines (cfr. : http://www.pennlive.com/bodyandmind/index.ssf/2009/01/americans_with_debilitating_mi.html -), sore throats, eye focus problems, arthritic pain and crushing fatigue.
She also has fibromyalgia, a similar condition that some experts think is another variant of CFS.
Generally, CFS patients experience severe fatigue, while fibromyalgia patients experience more pain.
Realizing that she might have to quit her job in hospital food service, Krause began going to night school to learn medical transcription.
It was then that she began learning about a condition she recognized in herself — chronic fatigue.
"I put all this together before I got an accurate diagnosis," she said. "It was a great relief to have a diagnosis, but it was also somewhat devastating because as you read about all the things it can affect, you begin to live under this fear of : What might it do to me ?"
In 2005, when she began dropping boxes at work, couldn't hold a pencil and was ready to sleep at 3 p.m., Krause knew she had to quit her job.
Now on disability, she has good days — which she defines as feeling almost like a normal person — and bad days where she has to take a rest after any small excursion.
"Twenty years ago, no one had heard of CFS, but today doctors are better at recognizing it and treating it," Matsko said.
"There's no catch-all remedy, so doctors might prescribe a combination of medications to treat inflammation, pain, sleep problems and depression as well as recommend lifestyle changes such as not overexerting oneself, reducing stress (cfr. : http://www.pennlive.com/bodyandmind/index.ssf/2009/02/stress_itself_is_not_so_bad_it.html -), eating a diet rich in fresh rather than processed foods, weight control and light exercise," he said.
The sooner a person is diagnosed and begins treatment, the more favorable his or her long-term outcome.
However, probably only 5 percent to 10 percent of people fully recover from CFS, studies state.
"A positive attitude is crucial," Krause said.
"I try to help our support group people be as independent as possible, to trust themselves to go out there and do as much as they can without overdoing," she said : "Having a can-do attitude and having things to look forward to helps offset the sadness of all you've lost."
To learn more
Join the Chronic Fatigue and Immune Dysfunction Syndrome Support Group of Lebanon County by calling Janet Krause at 273-9036.
The group meets the second Thursday of every month from 3 p.m. to 5 p.m. at Philhaven, 283 S.
Butler Road in Mount Gretna.
The group welcomes anyone in the south-central Pennsylvania area.

Visit the CFIDS Association of America Web site at : www.cfids.org -.
Cfr. : http://www.pennlive.com/bodyandmind/index.ssf/2009/11/sufferers_of_chronic_fatigue_s.html



10-11-2009 om 09:54 geschreven door Jules
0 1 2 3 4 5 - Gemiddelde waardering: 0/5 - (0 Stemmen)
Tags:chronic fatigue syndrome, depression, fibromyalgia, immune system, inflammation, insomnia, pain, positive attitude, sadness, sinus problems, skin rashes, sleep problems, sore throats, stress, virus, weakness, weight control, XMRV


08-11-2009

Te hard gewerkt...
08-11-2009 om 23:39 geschreven door Jules
0 1 2 3 4 5 - Gemiddelde waardering: 1/5 - (3 Stemmen)



Prof. Dr. Johann Brauer op mijn blog
Prof. Dr.
Johann Brauer
op mijn blog :
(om een artikel te lezen geef je de titel ervan in in het vakje 'Zoeken' rechtsboven)
08-11-2009
Geopereerd Prof. Johann Bauer

24-06-2009
Fibromyalgie Vlaanderen Nederland - De website door en voor (ex-) fibromyalgie patiënten

15-12-2008
Het Fibromyalgie Syndroom (FMS) - De patiëntengids

13-11-2008
Operatie door Prof. Dr. Johann Bauer in Zwitserland

15-12-2007
Prof. Dr. Bauer - Alle informatie over Prof. Dr. Bauer is welkom !

19-05-2007
Het Fibromyalgie Syndroom (FMS)

19-05-2007
Prof. Dr. J. Bauer - Fibromyalgie - Questions and answers

14-05-2007
Prof. Dr. Johann Bauer - Het verhaal van een patiënte

17-04-2007
Healing fibromyalgia - The operation

15-04-2007
Geopereerd door Prof. Dr. Bauer (Anneke)

08-04-2007
Geopereerd door Prof. Dr. Bauer (vervolg)

14-03-2007
Geopereerd door Prof. Dr. Bauer – Een verslag

16-01-2007
Nóg meer info over Prof. Dr. Johann Bauer

15-01-2007
Meer info over Prof. Dr. Johann Bauer

22-12-2006
Graag meer informatie over Prof. Dr. Johann Bauer...

18-12-2006
Prof. Dr. Johann Bauer

18-12-2006
Staar je niet blind op die ene patiënt die geluk heeft...

18-12-2006
Dr. Bauer : "Fibromyalgie is te genezen"
08-11-2009 om 22:00 geschreven door Jules
0 1 2 3 4 5 - Gemiddelde waardering: 4/5 - (1 Stemmen)



Geopereerd Prof. Johann Bauer
Geopereerd Prof. Johann Bauer

.../... fibromyalgie komt voort van negatieve stress : telkens je negatieve stress hebt legt zich een eiwitlaag of glazuurlaag op de accupunctuurpunten, die gaan verkleven .../...

Greta schreef in mijn gastenboek
(dd. 08-11-2009) :
Graag laat ik jullie weten dat ik op 21 oktober 2009 geopereerd ben door Prof. J. Bauer in Zwitserland.
Voor mij was het nog mijn enige hoop, ik heb CVS, fibromyalgie, spasmofilie en het sydroom van Raynaud, ook piriformissyndroom en syndroom van Tiëtze (deze twee laatste horen bij fibro).
Ik leef al 5 jaar op 300 mg morfinepleisters.
Ik weeg nog maar 52 kg omdat ik niet meer kon eten door de vele pijn.
Via het internet hoorde ik van Prof. J. Bauer.
Ik bestelde zijn boek (de mensen die het voor België vertaalden hebben het me gebracht toen ik met morfineverstopping in de kliniek lag).
Ik heb het helemaal gelezen, begreep wat de Prof. deed bij zo'n operatie en wist meteen : als ik dit doe worden het - gezien de ernst van mijn toestand - vier operaties !
De heer Georges Pierrard hielp me mijn ganse probleem naar het Duits te vertalen (waarvoor nogmaals dank !) en in mei maakte ik een afspraak en 21 oktober trok ik naar Baar (in het gezelschap van mijn man en van mijn nicht).

We werden er heel vriendelijk ontvangen, hadden ongeveer een gesprek van meer dan 1,5 uur.
Dan volgende een grondig onderzoek.
Prof. Vertelde me dat ik zeker fibro had en al die andere aandoeningen !
Gelukkig had ik bij mijn eerste contact al meteen ook een afspraak gemaakt voor een eventuele operatie en dus kon Prof. Bauer onmiddellijk aan de slag.
Hij opereerde mijn rechterarm.
Ik moet nog 3 operaties ondergaan en dit binnen het jaar, gezien de ernst van mijn pijn (ondraaglijk is ondanks de morfine !).

Sinds mijn thuiskomst voel ik me al minder gestresseerd, ben ik opgewekter, krijg ik weer zin om iets te doen en is de pijn in mijn kaken en gezicht reeds verdwenen, ook mijn darmen zijn veel verbeterd.
Voor mij is dat reeds een grote stap vooruit en dus ga ik met volle moed door met de volgende operaties.

De professor is een man met het hart op de juiste plaats !
Ik heb 4 mensen leren kennen die door hem geopereerd zijn.
Een dame – die nog deze maand voor de 4e keer geopereerd wordt - zei me dat ze zich al 80 % beter voelde.
Ze kan alweer 25 km fietsen, haar huishouden doen en de tuin onderhouden !

Ik dank Onze Lieve Heer dat ik deze professor mocht leren kennen, want ik hield het niet meer uit, mijn leven had geen zin meer, ik kon niks meer of het was de ganse dag in bed liggen, zat in een zeer diepe depressie.
Natuurlijk ben ik absoluut nog niet genezen.
Ik heb nog een lange weg af te leggen, maar ik voel duidelijk verandering en wil nu mijn morfine afbouwen (min 12,5 mg), want het is de hoogste tijd !
Ik geef toe, de behandeling is duur, maar wat heb je aan centen op de bank die niks opbrengen terwijl je ligt af te zien...
Bovendien mag men niet vergeten dat deze ziekte ons sowieso al jarenlang heel heel veel geld heeft gekost aan dokters en medicatie !
Rijk ben ik helemaal niet : ik ben nu aan het sparen voor mijn 2e operatie.

Erg jammer toch dat fibromyalgie dan nog vaak gezien wordt als iets dat tussen de oren zit !?
Zélf doe ik geen moeite meer om het nog proberen uit te leggen aan mensen die niet eens naar je luisteren.
Fibromyalgie is de meest frusterende ziekte die er is.
Iedereen die het heeft weet dit maar al tegoed !
Als ik eerlijk ben moet ik toegeven dat ik zélf voor een deel schuld heb : ik heb - door de ganse tijd maar door te werken en iedereen te helpen, hoe ziek ik ook al was - nooit naar de signalen van mijn lichaam geluisterd, waardoor wat een burnout en depressie was heel erg is geworden.
Nu pas ken ik mijn ware vrienden... ik heb geen twee handen meer nodig om ze te tellen !
Maar ik heb steun van mijn man en van mijn kinderen.
En moeilijk gaat ook hoor...
Het moét, want als mijn operaties slagen komt dat iedereen ten goede : ik doe dit voor mezelf, voor mijn man, mijn kinderen en omdat ik hoop nog van mijn kleinkinderen te mogen genieten.

Ik maak geen reclame, maar ik zou iedereen aanraden – die de mogelijkheid heeft - naar hem te gaan.
Prof. Bauer is een eerlijk man.
Zijn vier kinderen leren zelf allen voor dokter om hem later op te volgen zodat zijn werk wordt verdergezet.
De mensen komen er van overal.
Ik heb er mensen leren kennen van Nederland, Italië en Israël.
Zijn kantoor ligt er trouwens vol met boeken met brieven van allemaal mensen die door hem geopereerd zijn en weer beter werden, weer een leven met kwaliteit hebben !
Het is van het grootste belang dat je je na de operatie aan de regels houdt en de oefeningen doet.
Zo mag je na elke operatie 3 maanden niet met de auto rijden (een vrouw vertelde me dat ze het - na 2 maanden - toch had gedaan en het zich heel erg beklaagde).

Kijk, aan alle mensen die dit lezen : dit is in alle oprechtheid en waarheid geschreven.
Ik kan jullie heel andere verhalen vertellen... over de vele dokters die ik hier heb bezocht en over wat ik uitgaf aan bloedonderzoeken (zo kostte een bloedonderzoek (22 tubes !) me destijds 70.000 BEF), medicatie , behandelingen (zoals met antibiotica (waar ik niet eens tegen kan !)) en dure ziekenhuzen (o.a. opnames met zware depressies) waarvan ik bovendien vaak geen frank terugbetaald kreeg van de mutualiteit.
Allemaal weggesmeten geld !

Ik hoop dat Prof Bauer me nog met de andere 3 operaties een heel stuk kan verbeteren...
Fibromyalgie komt voor van negatieve stress : telkens wanneer je negatieve stress hebt legt zich een eiwitlaag of glazuurlaag op de accupunctuurpunten, die gaan verkleven.
Dit werd afgeschraapt in mijn arm (behoorlijk veel vond Prof. Bauer).
Ik heb het 'afschraapsel' meegekregen naar huis in een buisje op sterk water.
Fibromyalgie begint ook in je darmen.
Dit is voor mij zeker waar : het begon al op mijn 5e, op mijn 15e begon ik overal pijn te krijgen en zo ging het steeds van kwaad naar erger.
Ik ben driekeer aan mijn rug geopereerd.
Mijn rug werd vastgezet, het staartebeen verwijderd...
Ik had 2 nierblokkades.
Ik ben tweemaal gereanimeerd moeten worden na mijn zware rugoperaties...
Prof Bauer zei me : "Ze hebben nazipraktijken gebruikt op jou ! Waarom lag je niet eens in de I.C. !?"
"Er was geen plaats...", probeerde ik.
Hij antwoordde verbaasd : "Hier in Zwitserland (en in Duitsland) zou men dan een dergelijk operatie niet eens mógen uitvoeren !!"

Beste mensen, ik hou jullie op de hoogte van mijn toestand in alle eerlijkheid !
Lees gerust eens het boek van Prof. Johann Bauer - het kost 18 euro (verzendingskosten inbegrepen) - dan begrijp je heel goed wat hij precies doet !
Het is alleen jammer dat er maar één arts is die dit doet en dat men zover moet rezien.
Ik heb het er in ieder geval voor over, hoe ver het ook is en hoe ziek ik ook ben : het beetje verschil die ik nu al voel, is niet te beschrijven, na 2 weken ál !
Mvg van Greta.


08-11-2009 om 13:08 geschreven door Jules
0 1 2 3 4 5 - Gemiddelde waardering: 3/5 - (18 Stemmen)



| | |
| --- | --- |
| | |

Gastenboek


Druk op onderstaande knop om een berichtje achter te laten in mijn gastenboek